Upland Game and Waterfowl Recipes
Capt. Louis
Saturday September 21st 1805
We killed a few Pheasants, and I killd a prarie woolf which together with the ballance of our horse beef and some crawfish which we obtained in the creek enabled us to make one more hearty meal, not knowing where the next was to be found.
*
Most upland hunting is done for various species of birds including pheasants, Chukar partridge, forest grouse, doves, quail and turkeys.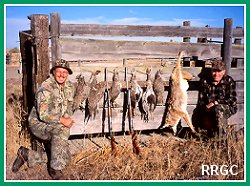 Young pheasants can be roasted, but older birds need moist heat because their flesh is drier and leaner. Quail are usually roasted and served whole - their meat is dark but mild flavored. With the abundance of turkeys they now can be hunted in the Spring and on a selected basis in the Fall. Wild turkeys are leaner, less meaty, not as tender and have stronger flavor than domestic birds. Young ducks have dark, tender meat and weight 3 to 5 pounds and mature duck 6 months or older have tougher meat. The same is true for geese.
When preparing your meal it is essential to following safe food handling practices. For more information click here to go to the section on
Food Safety.
| | | |
| --- | --- | --- |
| Upland Birds | Waterfowl | Small Game Animals |
| | | |
| | | |
| | | |
| | | |
| | | |
| | | |
| | | |
| | | |
| | | |
| | | |
| | | |
| | | |
| | | |
| | | |