Number of Servings: 4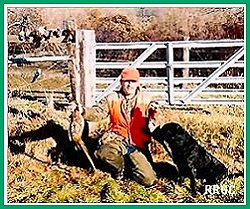 Ingredients:
6 skinless, boned upland bird breast, cut into bite size pieces
3 large bell peppers (1 green, 1 red, 1 yellow) seeded and cut into 1 inch chunks
1 large onion (Walla Walla Sweet is best) coarsely chopped
1/4 pound bacon, cut into 1 inch squares
1/2 gallon fresh-frozen or canned tomatoes, pour off liquid
4 fresh tomatoes, peeled, cut into bite sized wedges
1/2 pound button mushrooms
8 ounce can tomato paste
1/2 pound mozzarella cheese
1/2 pound parmesan cheese, grated
1 bunch fresh basil, chopped or torn
Salt and pepper
3 tablespoons flour
Directions:
In a deep 12 inch Dutch over fry bacon, saute lightly the onions and peppers in bacon grease. Add upland bird pieces, preserved tomatoes, and basil.
Salt and pepper to taste, cover and add charcoal to top of Dutch oven. Stir oven contents occasionally.
Mix tomato paste and flour and set aside.
After about 1/2 hour, add mozzarella and 1/2 of the parmesan and continue cooking.
When the birds are done, about 45 minutes, thicken juices with tomato paste and flour mixture ( the amount will vary with juiciness of peppers, onions and tomatoes), stirring until completely mixed in.
Add fresh tomatoes and mushrooms and lightly turn over the mixture.
Sprinkle remaining parmesan over the top.
Cover and cook for additional 5 minutes then serve.
Notes & Variations:
Maintain the Dutch oven at a temperature of 350 degrees F. For more information on cooking with a Dutch oven go to
Cooking/Dutch Oven.
Contributor: Dave Myers, RRGC