Number Served: 14-16
Ingredients: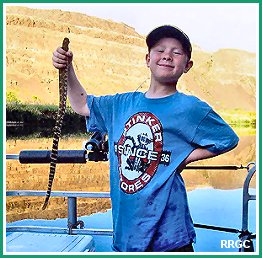 2 tablespoons olive oil
2 tablespoons butter
1 medium onion, dice
10 cloves garlic, coarse chop
1 bay leaf
3 sprigs of thyme
5 jalapenos seeded and de-veined, small dice
2 teaspoons cumin
1 tablespoon dried oregano
1/2 cup flour
3 cups chicken stock
2 pounds of rattlesnake cut into small 1/4 inch pieces
1 can (12.5 ounces) hominy, rinsed and drained
1 can (12.5 ounces) pinto beans, rinsed and drained
1 can (12.5 ounces) cannellini bean, rinsed and drained
1 cup frozen corn
2 (4.5 ounce) can chopped green chilies, rinsed and drained
1 small can pimentos, rinsed and drained
1 bunch cilantro, chopped coarse
2 cups heavy cream
Salt and pepper to taste
Directions
In a large heavy-bottomed saucepan or pot, add olive to coat the bottom and add 2 tablespoons of butter over medium-high heat. Add onions and garlic with oil by mixing with a wooden spatula.
When they start to brown, add bay leaf, thyme, jalapenos, cumin, oregano, couple turns of fresh cracked black pepper and poached rattlesnake. Stir to coat.
After 2 minutes turn down heat and add flour and stir until the flour starts to smell nutty.
Add COLD chicken stock and keep stirring until flour mixes with stock without any lumps.
Add remaining ingredients, except white beans, reduce heat and simmer, uncovered, for 45-50 minutes. Gently stir in beans and cook for another 30 minutes. Add Kosher salt to taste.
Garnish individual bowls with optional toppings. You can reserve some cilantro for the garnish, homemade croutons, or grated Jalapeno Jack cheese and add a slab of garlic bread to the side.
Notes & Variations:
If you harvested or purchased your rattlesnake meat on the bone, you will need to poach the meat. This will make the meat easier to remove from the bone. To poach, place the rattlesnake in simmering water and lemon juice for one hour and remove meat from bone. Then chop into small dice.
If you prefer you can make Rattlesnake Stock:
In a large sauce pan add 2 tables olive oil over high heat. Add 4 cloves garlic, 1 med onion small dice, Stir to coat with oil after one minute add 2 bay leaves, 2 sprigs of thyme, 2 large carrots small dice, 1 celery stock small dice. Stir and caramelize vegetables move vegetables to the edges and add more oil,if needed. Add 5 pounds of rattlesnake on bone and quickly sear. Add 4 cups of water and using a wooden spatula scrap all the caramelized flavor off the bottom of the pan and add one lemon half. Turn down heat and let simmer for one hour. Remove Rattlesnake and remove meat from the bone and reserve meat and strained stock for above recipe.
As variations, you can use raw turkey cutlets, and also boneless chicken thighs diced up for this recipe. You can add diced can tomatoes, green, red and yellow peppers.
All recipes are able to be changed and modified. If you do not like garlic you could sear the cloves at the beginning and then discard or delete them altogether. If your chile is to thin you can slow cook it longer or make a roux and place in refrigerator until cold then add to the hot chile to thicken it up. Roux need to be cooked out so if you decide to go this route you will want to simmer for an addition 30 minutes. If it is too thick add more stock to thin it down.
Contributor: Chris Wyer, ACF
Anecdotes:
This chile was made for some functions at the Westin hotel in Tucson, Arizona.