Number Served: 6-8
Ingredients: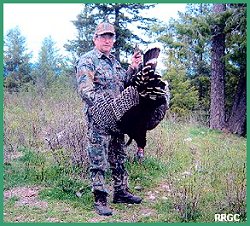 1 wild turkey (breast, thighs and legs)
1 can whole cranberry sauce (15 ounces)
1 can orange juice concentrate (12 ounces)
1/4 cup honey
2 cups Chardonnay wine or apple juice
2 teaspoons old bay
2 tablespoons curry powder
1/2 to 1 teaspoons non-iodized salt
1/4 teaspoon white pepper
1/2 teaspoon ground black pepper
1/2 -1 tablespoon grated ginger
4-5 cloves
1 onion, coarsely chopped
Directions:
Clean turkey breast and/or thighs and legs.
Mix liquids together.
Place onions, garlic and ginger in slow cooker layer turkey over vegetables.
Sprinkle spices over turkey and add liquid to cover.
Cook on low until turkey is tender. 6 hours is probably adequate for breast, legs and thighs will take longer.
Remove meat from sauce and set aside.
Blend the sauce to incorporate the onion and garlic. Reduce volume of sauce to thicken. Cut turkey into serving size pieces and reintroduce into sauce and cook for about one hour on high.
Serve over plain or fruited basmati rice.
Notes & Variations:
Fruited Basmati Rice Recipe
1 cup basmati rice - rinsed to remove some of the starch
2 cups liquid(1 can coconut milk remainder water)
1/4 cup diced dried apricots
1/4 cup dried cranberries
1/4 cup golden raisins
1/2 teaspoon salt
1/2 teaspoon cardamom
Place in a tightly covered ovenproof baking dish and bake for 30-45 minutes in a 350 degree F oven. Fluff with a fork and serve with curried turkey, or as a side dish.
Contributor: Marilyn Steele, RRGC