Number Served: 4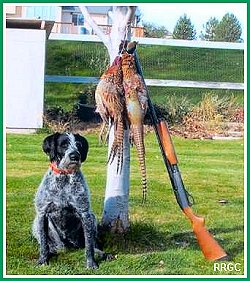 Ingredients:
2 skinned and quartered pheasant
1 can (16 ounces) canned peaches
1 tablespoon vegetable oil
1/4 cup orange juice concentrate, thawed
1/4 cup malt vinegar
1 tablespoon brown sugar
1 teaspoon dried basil
1/2 teaspoon Kosher salt
1/4 teaspoon ground cloves
1/4 teaspoon ground nutmeg
1/8 teaspoon black pepper
2 tablespoons corn starch
2 cups rice
Directions:
Brown pheasant pieces in skillet using the vegetable oil.
Drain peaches, reserving liquid.
Combine peach liquid with orange juice, malt vinegar, brown sugar, basil, salt, cloves, nutmeg and pepper.
When pheasant is browned, pour liquid over the browned pheasant and return to a simmer, cook 25-30 minutes or until pheasant is cooked.
Add peaches and continue cooking until warm.
Remove pheasant from skillet and set aside.
Mix corn starch with cold water and add to the broth, stir until thickened.
Cook the rice.
Serve the pheasant and broth over rice.
Notes & Variations:
Figure each pheasant will serve two people.
Skin and cut pheasant into quarters, discard back and neck.
Cinnamon may be substituted for nutmeg.
Contributor: Dave Myers, RRGC