Number Served: 4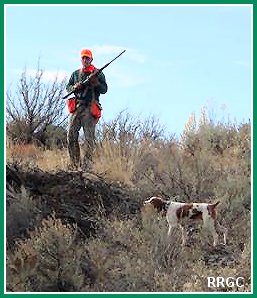 Ingredients:
1 pheasant cut up
1/4 cup olive oil
1 medium onion chopped
2 cloves minced garlic
1 large can crushed tomatoes
1 small can tomato sauce
1 bay leaf
1 teaspoon salt
1 teaspoon pepper
1/2 teaspoon celery seed or fresh celery
1 teaspoon crushed oregano
1 teaspoon crushed basil
1 cup chopped green bell pepper
1/2 cup sliced mushrooms
Pasta egg noodles to serve 4 people
Directions:
Brown pheasant in olive oil and sauté onion until translucent.
Add all ingredients except mushrooms and bell peppers and
simmer very slowly for two hours.
Add bell peppers and mushrooms for the final hour.
Remove bay leaf.
Prepare pasta to tender stage, place in pre-heated plate and top with sauce.
Notes & Variations:
French bead and a green salad complete the meal.
Contributor: Beci Lambert, RRGC