Wild Game Recipes
Capt. Lewis
Friday January 3d 1806 [Fort Clatsop, Oregon]
Our party from necessaty having been obliged to subsist some lenth of time on dogs have now become extreemly fond of their flesh; ------- for my own part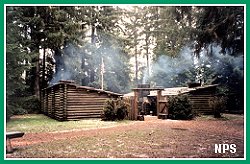 I have become so perfectly reconciled to the dog that I think it an agreeable food and would prefer it vastly to lean Venison or Elk.
Capt. Clark
Friday the 3rd January 1806 [Fort Clatsop, Oregon]
Our party from necescity have been obliged to Subsist Some length of time on dogs have now become extreamly fond of their flesh; --------- as for my own part I have not become reconsiled to the taste of this animal as yet.
*
Everyone has different food interests and tastes which is apparent after reading Capt. Clarks view of eating an unusual animal. A cook must determine the best recipes and select the right kind of game to satisfy the preference of the guests, family and friends. This is especially true for wild game and often requires modification of recipes to meet these needs.
Wild game is high in protein and more nutritious than domentic animals because it has less fat and lower cholesterol levels.
On the other hand it has a different taste and texture than domestic animals.
The fat has a tendency to spoil or become rancid quickly and adds an undesirable taste to the meat.
Marinades and rubs can help tenderize the meat and enhance the taste.
Since marinates are often used for a variety of wild game, a separate section for marinades, rubs, and sauces has been included.
The recipes that have been included here were developed to capture the flavors of wild game and assumes proper handling and care was exercised after harvest. The recipes are categorized into the five game groups which includes most of the wild game species harvested in the Northwest.
Click on the above links to access the recipes.
As a matter of interest, a few recipes for cooking wild game have been included from cookbooks published in 1803, 1857, 1877, and 1909. Caution: Some of the directions in the older recipes do not meet today's safe food handling practices or support a low fat diet.