[ Up ] [ Modesto Feb 2000 ] [ Modesto Apr 2000 ] [ Kathey's Ballfestin' Photos ] [ Rohnert Park 1 ] [ Rohnert Park 2 ] [ SF Regional BF 1 ] [ SF Regional BF 2 ] [ SF Regional BF 3 ] [ SF BF Dinner ] [ SF BF Dinner 2 ] [ SF BF Dinner 3 ] [ SF BF Dinner 4 ] [ Ballfesting with Gail ] [ Ballfesting with Gail Pt 2 ] [ Stagedooring Photos ] [ Letters ]
Modesto - February 2000
Can you believe a 17 Hour Ballfest?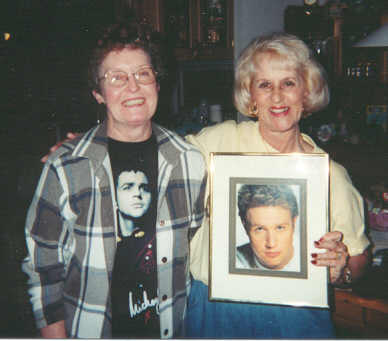 Hi, Jackie!
Well what can I say, we all had a great, great time!! There were 7 of us, Kitty, Joan, Gail, Kathy, Melissa, Nancy and me. Kathy's Mom was unable to come, maybe next time. The Ballfest started at 1:00 PM on Saturday and lasted until Sunday morning 6:00 AM.
Everyone starting arriving and meeting one another and started talking about Michael right away - first a C D was put on then the minute the video was in everyone was laughing and talking and reading all these paper items, pictures, and drooling over Joan's jacket that she got at a Michael Ball concert last year. All these beautiful programs and the photos framed and everyone wanting to see this and that, it was like he was there! We took many pictures and even took Michael off the TV screen and some had their heads next to him when he was singing and someone even kissed him on the TV. What a bunch of fun gals!
My hubby Bob came down to take some group pictures and meet everyone. We had lots of food and drink and everyone was talking about how good looking Michael is and how we all want to meet him and take out dancing, but we had a fun, fun time. Joan has tickets for 3 concerts, did you hear me, 3 concert tickets in October. Lucky, lucky lady and Nancy will be going to a concert also. Everyone had so much to see and hear, we did not get to everything, can you believe that 17 hours just was no enough. Will have to do it again! Michael you have brought 6 of these gals out of 7 who did not know one another 1½ months ago and now we are friends and shared so many things of yours and hope to do it again. I thank everyone for coming and bringing all the wonderful things of Michael's and a bit THANK YOU to my friend Kitty for using her house.
Almost forgot, Bob made a certificate with everyone's name on it and the date and we all signed everyone's and wrote something on each of them for our scrap books.
Till we all meet again, everyone have a MICHAELFUL YEAR,
Always, JEAN VAN BUSKIRK~~~~~~~~~~