....or The Page formerly known as "Automotive News and Views"
Mad Mad Automotive World
------------------



A few links...
































Remember: Rumor and speculation reign supreme on this page!
Now what is GM up to? Part II: Just when GM succeeded in sending the f-body to auto heaven, this ad shows up in the May 2003 issue of Car and Driver. The ad shows the rear end of a 1st generation Camaro SS with oversized rear wheels sitting infront of what appears to be a strip club. There are no words on the ad aside from a little box in the corner with some Ramones song lyrics in it:
Go, li'l Camaro go
Ooh ooh ohh ooh ooh
Go, li'l Camaro go
Ooh ooh ohh ooh ooh
So, GM is spending big bucks to advertise a vehicle that it was more than happy to lead to the gallows pole just last year. Why? To create nostalgia? There's already enough of that without GM's help. Is it an attempt to get America to forgive them for axing one of the most popular GM cars that has ever rolled off the line? Go figure.
IROC Cars stay another year:
IROC
will roll through another year with Pontiac Firebird bodies on its tube-frame stock cars, though it will do so again without any Pontiac support. "We've decided to hang with the car for another year," True Value International Race of Champions series president Jay Signore said. "We'll struggle for a year, but we've raced for the last two years without Pontiac support and I think we still put on an exciting show." Signore said he has talked with GM, Ford and the Chrysler group about potential replacements for the Firebird, which no longer is in production. He suggested the series would be interested in again running with a "concept" body of an upcoming vehicle, much as it did in 1994 when it raced with Dodge Avenger bodies over its tube-frame cars. The Firebird replaced the Avenger as the IROC car in 1996. Signore said Chrysler expressed interest in IROC Vipers, but that the IROC series is "better off if we can run with a higher-volume car." Signore would have liked approval to do a race version of Pontiac's new GTO, but Pontiac officials told him the reborn muscle car is a limited-production vehicle.(
Autoweek
)(1-28-2003)
Marauder ends up a sales flop: Everyone was applauding Ford for bringing back the spirit of the Impala SS with their bad-ass dadmobile, The Mercury Marauder.... until they saw the price tag. OUCH! We here at TCGOB loved the car, but nearly 50 grand for a spiffied-up Grand Marquis?!? No thank you. It seems the car-buying public had the same reaction: Mercury estimated it would sell 12 to 18 K Marauders in 2002. However, they sold just 2,910 of them, and that was with a 3k rebate. Our suggestion to Mercury is: Price the car in the mid 30s, sit back, and watch 'em go. Our advice to anyone looking to buy a Marauder: We think there will be some VERY motivated sellers out there. (C/D)
What a bunch of portholes!: Apparently sensing that the car-buying public didn't buy the "we're putting portholes on our boring sedans because Harley Earl would have wanted it that way" advertising campaign, GM has envisioned a new future for Buick. They want Buick to become to GM what Lexus is to Toyota-- a "luxury" division. This transformation will begin with the release of the Rainier SUV, sister to the GMC Envoy, Chevy Trailblazer, and Olds Bravada. (AW)
Chevy SSR to serve as official "Pace Vehicle" at Indy: Chevrolet's newest vehicle, the car/truck hybrid SSR will pace the field for the 87th running of the 500 on May 25th, 2003. (AW)
GTO purists are calling the 2004 GTO "Austrailian sucked caramel".
GTO purists slaughter the new "goat":
Popular GTO enthusiast website "Ultimate Pontiac GTO Picture Site" (
www.ultimateGTO.com
) has officially thumbed it's nose at the 2004 GTO. Instead of featuring a Pontiac on the main page from March 23rd to March 29th, the site featured pics of the 2004 Mustang concept, a car that more lived up to it's heritage. Site owner Sean Mattingly says that the new GTO lacks "signature elements like hood scoops, GTO badging, and tough styling." and that "GM has just hijacked the GTO name to sell some other car." GM product vice chairman Bob Lutz says that what GM really wants is to attract new buyers, not pacify traditionalists. (AW)
(Perhaps GTO purists should think back to the early 80s, when GM really "hijacked" car names, like Nova and LeMans. These much-beloved boy racer cars from the 70s were resurrected in the 80s as ulta-ugly econo boxes. Now that's what I call "hijacking". I also think that GTO purists are missing something here... no, the car is not a pure GTO-inspired form, yes it does look like a gussied-up Grand Prix, but the important thing is this: GM is taking a positive step in new car development-- they're producing a V8, rear engined car again just one year after killing off the f-body. It gives this musclecar fan hope that the f-body may actually make a return.)--Ed.
Isn't that a bit excessive? Word has it that Bentley is working on a W16 motor for a 2006 Arnage replacement. The 8.0 liter16 cylinder engine is expected to pull 700 hp assisted by quad turbohargers. Bentley intends for this machine to go head-to-head with the Maybach... talk about excessive. (AW) Get to the country club or Rodeo Drive in record time, no doubt.--Ed.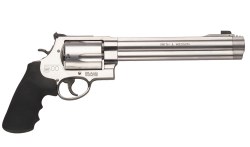 Isn't that a bit excessive? Part II: Not car news, but related to the last bit. Smith and Wesson has just introduced the model 500 Magnum, a .50 revolver. The new gun dwarfs the .44mag, and .500mag cartridges are slightly smaller than a nuclear submarine. The recoil is hard enough to register on the Richter scale, the muzzle flash sets the grass on fire, and one shot can knock a DC10 out of the air. And you just thought the W16 was excessive. We'll take two.
2003 The Car Guy of Benchfield. This site is not affiliated with NASCAR, GM, Ford, Satan, Penthouse Magazine, Betty Crocker, Neopets.com, Britney Spears, or anyone else for that matter. This site is best viewed in 800x600 screen resolution with Internet Explorer 5.x and up. Other browsers may not show proper page construction and could cause blindness, famine, or rabies.
2003 Car Guy of Benchfield