TCGOB "Staff"

TCGOB Main Site Directory







































From the webmaster:
I've finally decided that I've had enough of NASCAR. I've barely watched any this year, and don't plan on watching any more this year. My heart just isn't in it anymore for a number of reasons. I was glad to see the sport I loved grow, but that growth has taken on a life of it's own, and I'm just not happy with some of the directions it has taken in the past 3 or 4 years. I'm not going to elaborate any further because what I have to say has been said already by countless other internet columnists, so I won't bore you with the details.
The current content of TCGOB NASCAR will remain on Tripod for as long as they allow it to, but there will be no more added.
I am moving my base of operations to
www.modernmuscle.net
, where I will continue to write humor columns and automotive commentary and add to my list of driving songs. I want to thank all of you who have written me over the years and encourage you to visit my new home on the web and maybe drop me a line or something.
Steve Wingate, August 12th, 2004
last updated 12-13-03
New at TCGOB NASCAR
Exciting News at TCGOB
TCGOB columnists
Steve Wingate
and
Jan Bazen
will be appearing in the upcoming book
Chicken Soup for The NASCAR Soul
to be released in April of 2003. Both Steve and Jan have two stories in the publication, which marks the first time that either one of them have been "in print". The book features 101 stories of "courage, speed, and overcoming adversity." Also look for stories by Ned Jarrett, Jeff Gordon, Bobby Labonte, and Robby Gordon. You can buy this book at most major online booksellers
(i.e. Amazon, Barnes and Noble, etc.,)
or at your local bookseller or retail chain store. Steve and Jan would like to thank everyone at Chicken Soup for this awesome opportunity. Steve Wingate had seven stories in the original manuscript, but the manuscript consisted of 200 stories which had to be whittled down to 101 stories (per the Chicken Soup formula for success). You can read the five rejected stories here, but to read the two that were accepted, you need to buy the book.(Click on the book cover above.) The rejected stories are:
"Still Playing With Cars After All These Years"
,
"Bristol: Stick With What Works"
,
"Local Boys"
,
"Talladega in October Is No Sweat"
, and
"The Autograph"
.
New feature:
The Race Car in Your Driveway
This new feature will look at the street cars that inspired the NASCAR racers. This update, the 1984 Pontiac Trans Am and it's pace car counterpart.
photo scanned from Car and Driver
The ideal race day seat? Merchandising gone too far? You decide. We were wondering... will the roof of a U-Haul support this thing?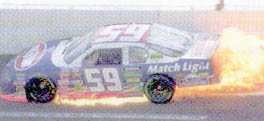 A little too much truth in advertising?
photo scanned from Autoweek
Check out all the latest on this hot new racing series!

2003 Car Guy of Benchfield