Bookmark this URL http://brianwilson.cjb.net
The Imagination Mailing List.
Celebrating our 5th Anniversary, the internet's best mailing list to ask questions, give answers, get and discuss the latest news and information about Brian Wilson and the Beach Boys before it hits other lists and websites.
CLICK HERE TO JOIN!
CHAT ROOM
Now you can chat about Brian and the Beach Boys with other fans in the Imagination Chat Room

Looking for some hard to find Beach Boys items? Have some to sell? Want to make a trade? Place a free ad on our Trading Post page


Beach Boys Timeline And Discography
Ever want to know when a particular album was released, or ever wonder what happened on a particular day in Beach Boys history, but couldn't find the information anywhere? To find out, visit the new site by noted Beach Boys authority Andrew G. Doe, who has compiled both
a"Beach Boys Timeline" and USA Discography


NEWS
10/10/2008
Brian On NPR World Cafe
Here is an interview with David Dye on NPR World Cafe ,that
includes some live performances of TLOS material.
http://www.npr.org/templates/story/story.php?storyId=95599899
==========================
8/19/2008
MORE THAT LUCKY OLD SUN BONUS TRACKS!
In addition to Best Buy having two exclusive bonus tracks, two different songs will be available through i_Tunes. Clips can be heard at I-Tunes for two new songs titled "Oh Mi Amor" and "Message Man". Best Buy will feature two exclusive songs, both recorded by Brian with Carole King. One is an alternate version of Good Kind Of Love. The other is rumored to be a new recording by Brian and Carole of the old Herman's Hermits song, I'm Into Something Good. THIS HAS NOT BEEN CONFIRMED!
========================================
8/15/2008
TLOS Bonus Tracks
Best Buys stores will feature an exclusive version of Brian's upcoming CD, That Lucky Old Sun that will contain two bonus tracks that won't be available anywhere else. No word yet on what those two tracks will be. Also, apparently there is some sort of mistake on the Best Buy website where it says they have an exclusive DVD. According to Brian's management, this is not accurate.
=========================================
6/23/2008
Good Vibrations: Brian Wilson Joins Newport Lineup
NEWPORT, R.I. (AP) — The Newport Folk Festival is picking up good vibrations.
The festival producers plan to announce Monday that Brian Wilson, founding member of the Beach Boys, is joining the festival's lineup. He'll headline an evening performance on Aug. 1 at the International Tennis Hall of Fame.
The festival continues Aug. 2-3 at Fort Adams State Park.
Wilson is the latest big-name act added to the festival, which already includes Jimmy Buffett, Trey Anastasio, the Black Crowes and reggae artists Stephen and Damian Marley.
The festival is under new management and has branched out beyond more traditional folk this year. Organizers are hoping their roster of popular performers can produce a sellout.
The festival marks its 50th anniversary next summer.
=========================================
6/11/2008
Rare Unheard Beach Boys Recordings To Be Released

Thousands of hours of previously-unreleased music from the likes of Coldplay, The Beach Boys and David Bowie is to be made avaiolable to the public.
BBC Worldwide and EMI Music have struck a deal to release the music, stored in an extensive archive of TV and radio recordings, which has been locked away for years at the BBC.
Unheard recordings will be released from EMI-related artists including the aforementioned artists plus Kylie Minogue, Sir Paul McCartney, Lily Allen and Pink Floyd.
The recordings include live radio sessions from Pink Floyd - including songs from their 1967 debut album 'Piper At The Gates Of Dawn', when Syd Barrett, was still in the band and a stripped-down version of Coldplay's 2000 hit 'Shiver'.
The deal will mean EMI can include these BBC recordings from their artists on DVDs, CDs and digital downloads, and will build on recordings from artists already released by the BBC, including Queen and Roxy Music.
There is no word as yet as about when or how the first batch of material will be made available.
====================================
6/08/2008
Listen to a sneak preview of the Beach Boys US Singles Collection!
Listen here!
Check out the set here!
===============================================================
6/03/2008
The Beach Boys: U.S. Singles Collection - The Capitol Years available June 10th

On June 10, Capitol/EMI will release the first complete collection of The Beach Boys' early Capitol Records singles, spanning the years 1962 to 1965. The Beach Boys: U.S. Singles Collection – The Capitol Years (1962-1965) will be released in a highly-collectible, limited edition boxed set of 16 CDs and as a digital collection. Each of the deluxe boxed set's CDs includes an original single's A and B-sides, plus other versions of most tracks, from additional mono and stereo mixes to live recordings. Eight previously unreleased mixes are among the new collection's 66 tracks.
The CD boxed set's lavish packaging includes 16 individual CDs in digipaks with faithfully reproduced original single artwork, plus a 48-page hardbound photo book with faux sand finish, housed in a striking '60s hotrod and surfboard-inspired red and yellow box with wood inlay.
The hit-packed set begins with 1962's "Surfin' Safari" and its B-side, "409," in their original mono mixes, paired with a 1965 concert recording of "409." Also included are The Beach Boys' timeless #1 smash Pop hits "I Get Around" and "Help Me Rhonda," and Top 10 Pop hits "Surfin' USA," "Surfer Girl," "Be True To Your School," "Little Saint Nick," "Fun, Fun, Fun," "When I Grow Up To Be A Man," "Dance, Dance, Dance," "The Man With All The Toys," and "California Girls." The new collection's other hit sides include "Ten Little Indians," "Shut Down," "Little Deuce Coupe," "In My Room," "Why Do Fools Fall In Love?," "Don't Worry Baby," "Wendy," "Little Honda," "Do You Wanna Dance?" and "Please Let Me Wonder."
================================================
5/20/2008
Brian signs with Capitol for release of That Lucky Old Sun!
Brian Wilson shines a light on 'Sun'
Brian Wilson kicks into touring mode this summer with a round of dates supporting his forthcoming new album, which returns him to the record label that launched his career.
The perpetual Beach Boy's outing, which kicks off July 8 in Niagara Falls, Ontario, is highlighted by a three-night engagement (9/12-14) at the Hollywood Bowl in Los Angeles following the album's Sept. 2 release. Dates are below.
Wilson collaborated once again with longtime writing partner Van Dyke Parks and bandmate Scott Bennett on the new set, "That Lucky Old Sun." The album, described by Wilson in a press release as an "interwoven series of 'rounds' with interspersed spoken word," and as an autobiographical travelogue of sorts, was recorded at Capitol Studios in Hollywood.
Wilson debuted "That Lucky Old Sun" last fall during a six-night run at London's Royal Festival Hall.
The set, the singer/songwriter's first studio effort since his 2004 re-recording of the Beach Boys' "Smile," marks Wilson's return to Capitol/EMI, the label that launched the Beach Boys' career with the 1962 hit "Surfin' Safari/409."
"I'm thrilled to be back home with Capitol, and I'm looking forward to sharing 'That Lucky Old Sun' with everyone," Wilson said in a press release. "This music is really special to me."
===================================

3/26/2008
Brian Wilson will be performing at the Belleayre Summer Music Festival
Belleayre Mountain, Highmount, NY in the heart of the Catskill Mountains on July 12. There is no mention on the Belleayre Mountain website of That Lucky Old Sun
=============================================
2/07/2008
Brian To Perform At July 11 Cancer Benefit Concert
Bon Jovi, Jerry Seinfeld, Brian Wilson and Andrea Bocelli, among
others, will perform in various New York City venues throughout
2008 as part of the inaugural Stand Up For A Cure concert
series, designed to raise funds and awareness for lung cancer
research at the Memorial Sloan-Kettering Cancer Center in New
York.
In the week leading up to the U.S. leg of its Lost Highway world
tour, Bon Jovi will launch the series with a sold-out concert on
Feb. 12 at the 3,500-capacity Hammerstein Ballroom in New York.
The intimate show will be dedicated to Bon Jovi guitarist Richie
Sambora's father, Adam Sambora, who received care at Memorial
Sloan-Kettering before passing last year from cancer.
Along with Bon Jovi, confirmed Stand Up For A Cure concerts in
2008 include a stand-up performance from Seinfeld on June 2 at
the 5,600-seat WaMu Theater at Madison Square Garden, a concert
with Brian Wilson and special guests at the Hammerstein Ballroom on
July 11, and a Bocelli performance set for a to-be-determined
date in December
==========================
1/25/2008
Touring Beach Boys To Celebrate 25th Anniversary of Historic Concert on the Beach. Again!
CURTAIN CALL
Surf's up!
The Beach Boys to play July 4 beach concert ... again
by David J. Spatz

The Beach Boys, who made history in 1983 when they drew approximately 300,000 to a twilight July 4th concert on the Atlantic City beach, will celebrate the 25th anniversary of that historic event with another Independence Day beach show here next summer,
Atlantic City Weekly has learned.
Brian Cahill, a spokesman for Colony Capital's two Atlantic City casinos — Resorts and the Hilton — confirmed that the company has an agreement with the band to perform on the beach in front of one of the two properties. He wouldn't say which casino would host the concert.
However, given the narrow beach in front of Resorts — and the fact there will be a high tide at 9:30pm — the Hilton would be the more logical location.
"The concert will be part of a large-scale Fourth of July celebration," Cahill said. "We look forward to working with the city of Atlantic City to create a truly memorable event, one that will put Atlantic City's Fourth of July celebration on a par with major cities like Philadelphia and New York."
The concert, he added, will further enhance Atlantic City's growing reputation as more of a destination resort than just another gaming town. More details about the concert and other holiday events will be announced later, he said.
The 1983 show was a hastily arranged booking with political overtones. The Beach Boys had been scheduled to perform a Fourth of July concert on the National Mall in Washington, D.C., where they had performed the three previous years.
But several weeks before the show, then-U.S. Interior Secretary James G. Watt abruptly cancelled the gig. He said the band attracted an "undesirable element," referring to some fans that smoked pot. Entertainer Wayne Newton was booked to replace the group known as "America's Band."
Caesars Atlantic City, seeing a potential publicity bonanza for both itself and the city, quickly stepped in and signed the band. Within a couple of weeks, it arranged to construct a massive stage on the beach on the east side of the former Million Dollar Pier, which was then known as the Ocean One shopping mall and is now The Pier at Caesars.
On a picture-perfect night, with temperatures in the upper 70s and an armada of private and charter boats anchored just beyond the surf line, more than 300,000 people crammed every inch of sand between Arkansas and Tennessee avenues to watch the Beach Boys' two-hour concert. The show attracted worldwide media coverage.
The physical setup for the concert also created some local folklore. Legend has it many of the boards used to construct the stage were the same planks used on the stage of the Woodstock music festival in 1969.
The show also marked the last July 4 concert the Beach Boys would play with its original lineup (minus Brian Wilson, who hasn't toured with the band since 1965). In December 1983, drummer Dennis Wilson drowned in a California marina.
This year's concert will only feature one original Beach Boy — lead singer Mike Love. The only other member of the group with ties to the 1960s is keyboardist Bruce Johnston, who joined in 1965 as a replacement for guitarist Glen Campbell. Founding member Al Jardine left the band in the mid-1990s following a dispute with Love.
Throughout the years, July 4 has become a premium payday for the Beach Boys. The band commands a hefty price to perform on the holiday, and on several occasions has worked two concerts in different cities.
In 1985, the Beach Boys played an afternoon concert for one million people in Philadelphia and finished the day with a second show for 750,000 people on the National Mall in Washington. One year earlier, President Reagan and his wife Nancy had personally welcomed the band back to Washington.
On July 4, 1989, the band performed an afternoon concert at Great Adventure in Jackson, N.J., then raced to Atlantic City to perform a second show at the Grandstand Under the Stars, a 4,400-seat amphitheater at the former Bally's Grand (now the Atlantic City Hilton).
1/24/2008
Dennis Wilson's 'Ocean' Set For Expanded Reissue


January 24, 2008, 10:25 AM ET
Jonathan Cohen, N.Y. (Billboard.com)
Late Beach Boys drummer Dennis Wilson's cult classic 1977 solo album, "Pacific Ocean Blue," will be released May 13 in an expanded edition by Caribou/Epic/Legacy. The project has been out of print for more than 15 years due to copyright disputes.
Billboard.com has learned that "Pacific Ocean Blue" will be available in a two-CD edition as well as a vinyl version via Sundazed. Disc one of the reissue will include the original 12-track album plus previously unreleased bonus songs which are still being sorted through by label archivists.
Hardcore fans will be delighted with the contents of the second disc, which will make available for the first time songs intended for "Bambu," Wilson's never-released follow-up to "Pacific Ocean Blue."
Liner notes for the album are being penned by Beach Boys scholars such as David Leaf, Jon Stebbins, Ben Edmonds and David Beard, and the package will feature photographs by Wilson's close friend, Jan & Dean's Dean Torrence.
"Pacific Ocean Blue" was the first solo album from a Beach Boys member, and featured Wilson in songwriting collaborations with his brother Carl as well as Beach Boys frontman Mike Love.
The unreleased tracks on the new edition were mixed by Wilson's original engineer, John Hanlon, with "Pacific Ocean Blue" co-writer/producer Gregg Jakobson and Caribou Records owner Jim Guercio.
Wilson drowned on Dec. 28, 1983, in Marina Del Rey, Calif., after struggling with drug addiction for several years.


Updated 11/21/2007
More New Music From Brian
This time Brian performs a song titled "Speed Turtle" for a childrens cd that comes with a book titled "Blue Moo: 17 Jukebox Hits From Way Back Never by Sandra Boynton.
LISTEN
More info at http://www.boyntonfordmusic.com/products.htm
====================================
ENDLESS SUMMER QUARTERLY & OPEN SKY Team Up For New DVD Series

"We knew there was a wealth of untapped history just waiting to be explored in California. That alone was enough to pursue this project."
— David Beard

In the past couple of years, ESQ editor David Beard, along with Open Sky editor Chris Allen, teamed up to produce a series of video interviews with people in the Beach Boys/Brian Wilson universe. Nearly 20 interviews have been conducted to date. They include Van Dyke Parks, Tony Asher, David Leaf, Jeff Foskett, Nick Walusko and Darian Sahanaja, Alan Boyd, Dean Torrence, Matt Jardine, and many others. The series is now underway.

"People opened up to us on a very intimate level."
— Chris Allen

The first DVD features Nick and Darian, who practically interview each other, talking about their earliest musical endeavors as well their experiences working with Brian Wilson. A highlight is Darian talking about the Brian Wilson Presents SMiLE project. Watching Volume One is like sitting in the backyard with these guys and picking their brains about music and growing up in L.A. Additional to the hour and a half of Nick and Darian's interview, there are interviews with Probyn Gregory and Wondermints manager and "Breakfast With The Beatles" radio host, Chris Carter.

"The Wondermints DVD is the tip of the iceberg. Volume Two, featuring Dean Torrence, is absolutely incredible! We plan to follow that with Tony Asher, Van Dyke Parks and Alan Boyd."
— David Beard

Start collecting the series while Volume One is still available. You can order the DVD through PayPal for $13.99 using the seller ID of esvideo@yahoo.com. Add $2.00 ($4.00 overseas) for shipping and handling.

Mail orders are also $13.99 plus $2.00 ($4.00 for overseas) shipping and handling. Send check, m.o. or cash to:
Endless Sky
28 Wilson Road
Lambertville, NJ 08530
USA

Any questions can be directed to Chris Allen at esvideo@yahoo.com

Updated 9/7/2007
FOREVER SHE'LL BE MY SURFER GIRL
Yet another brand new Brian Wilson song debuts at
Brianwilson.com
Updated/8/7/2007
"The Legend: Brian Wilson" Opens At Annenberg Theater
Brian Wilson, legendary writer, producer, arranger and performer
of some of the most unforgettable and inspirational music in
rock history will perform at 6 p.m. on Sunday, November 4, 2007
at the opening night of the Annenberg Theater's 2007-2008 season
at Palm Springs Art Museum.
===============================================
Another Brand New BW Song
This one, a demo from That Lucky Old Sun, called Midnight's Another Day, can be heard at Brianwilson.com
============================
Updated 8/3/2007

McCartney to join Brian on stage?
The rumour that Paul McCartney is set to make a surprise appearance at Brian Wilson's forthcoming London shows has been denied and called untrue by Brians' manager, Jean Sievers. The rumour was started in a story posted by the
Daily Express online.

===================================================
Updated /7/10/2007

Brand New Brian Wilson Song
There is a brand new Brian Wilson song on the soundtrack of the movie,Arctic Tale. You can hear a sample of the song, Live Let Live here.
===============================================
Updated 6/20/2007
HAPPY 65TH BIRTHDAY, BRIAN!!!
May there be many many more happy ones to come, from your fans at Imagination
===============================================
Updated 5/14/2007
A Big Win For Brian
Beach Boys' Brian Wilson Finally Defeats One of Mike Love's Dubious Lawsuits
the four Beach Boys on the roof of Capitol Records, from 2006Two years ago U.S. District Judge Audrey Collins scored a major victory for justice when she ruled portions of the U.S. Patriot Act unconstitutional, but four days ago she may have topped herself by finally throwing out Mike Love's ridiculous lawsuit against Brian Wilson. Love alleged that a 2004 promotional CD of re-recorded Beach Boys songs that was given out free in London with copies of the Main On Sunday newspaper cost him millions of dollars, damaged the reputation of The Beach Boys and violated their "partnership." In a stern, seventeen-page decision Collins rebukes Love and states he and Wilson never had a business partnership to begin with and any partnership they ever had stopped in the 1960s and was merely creative in nature. Love's own quotes in depositions for this very case directly contradict any such claims, such as this one:
Q: And have you and Brian ever had a conversation about what would be done with the songs separate and apart from actually writing them?
Mike Love: I don't — I don't recall any conversation like that.
In Collins' words:
Certainly Plaintiff [Love] and Defendant [Wilson] were collaborators, but Plaintiff's mere "belief" that they had had a legal partnership and his repeated use of the word "partnership" cannot substitute for evidence that a legal partnership existed. Because no jury could reasonably find that…Plaintiff and Defendant were in a legal partnership in 2004, there is no genuine issue of material fact to submit to a jury and Defendant is entitled to summary judgment.
Collins also points out that Love has repeatedly done the very same thing he accuses his cousin of doing. "[Love] also admits that he re-recorded some of the co-authored songs several times between 1996 and 1998 without first informing [Wilson]."
Love has sued Brian numerous times in the past and prior to this has always been successful. In 1994 Love was granted $13 million for songs he claimed to have co-written with Brian in the 1960s.
from rollingstone.com
=========================================
Updated 4/2/2007
Al Jardine Announces Solo CD
According to his new website AlJardine.com, Al will soon release his long awaited first solo cd, titled A Postcard From California. No release date yet.
========================================
Updated 3/28/2007
Brian Wilson Art Exhibit To Open
A new art exhibition exploring the life and music of Brian
Wilson in the 60s is to open at the Tate Gallery in St Ives in
May.
The exhibibition consists of paintings, sculptures,
installations and photo films to explore the genius that drove
the success of the Beach Boys between 1962 and 1967.
The loosely chronological exhibits also helps to explore recent
art development through the works of the thirty-one Southern
Californian artists who help unravel a new perspective of
Wilson's cultural achievements.
Tate St Ives is the perfect setting for the Beach Boys'
exhibition - it's placed by Porthmeor Beach, 'a glorious stretch
of sand where surf is usually up.'
"If Everybody had an Ocean: Brian Wilson: An Art Exhibition"
takes place from May 26 to September 23.
As previously reported, Wilson is also working on a specially
commissioned concert repertoire for the Royal Festival Hall.
Wilson has said that the new piece entitled "That Lucky Old Sun
(A Narrative)" will consist of 'four rounds - interspersed with
spoken word.'
The concert is due to premiere in September.
http://www.uncut.co.uk/news/brian_wilson/news/9631
=======================
Updated 2/7/2007
Brian To Release New Recordings
Brian has recorded a brand new studio version of the Pet Sounds classic God Only Knows and also a new song written with Burt Bacharach called What Love Can Do. The songs will be part of a new cd called New Music From An Old Friend and will be released on February 25 in Target Stores nationwide as part of the "Spotlight Series" for independent label 180 Music.
New Music from an Old Friend Singer Songwriter Legends
Produced by the illustrious Phil Ramone, this album features some of the most prolific singer songwriters of our time including Carole King, Brian Wilson, Burt Bacharach, Kris Kristofferson, Kenny Loggins, Willie Nelson, Richard Marx, and many others. Each artist has recorded two new tracks; a remake of one of their signature songs, plus a brand new song reflecting their artistry today. The songs are fresh and new under the creative genius of Phil Ramone and poignantly reflect the beauty of their artistry – making New Music from an Old Friend a timeless treasure.
=================
Updated 12/4/06
Brian's Co-Manager Passes Away
Condolences go out to the family of Ronnie Lippin.
Publicist and manager Ronnie Lippin dies
Associated Press
LOS ANGELES - Ronnie Lippin, a veteran publicist and manager who worked with rock icons such as Eric Clapton, Brian Wilson and Prince, died Monday.
Lippin died of a rare form of breast cancer at Cedar Sinai Medical Center here, according to a statement from The Lippin Group. She was 59 years old.
Though she got her start working as a publicist for film and stage productions, Lippin, a Brooklyn, N.Y., native, migrated to music publicity when she moved to Los Angeles with her husband, Dick Lippin.
She started out as a chief publicist for MCA Records and later worked with Elton John's Rocket Records and became the top publicist for RSO Records, home of the Bee Gees and the best-selling "Grease" and "Saturday Night Fever" Soundtracks.
In 1989 she joined The Lippin Group, the marketing and public relations firm founded by her husband. There, she represented acts ranging from Mark Knopfler to Clapton to Prince. She also served as a co-manager to Wilson.
"Ronnie Lippin was one of the most loving, thoughtful, sensitive and caring people I've ever met," Wilson said in a statement. "Long before she became my publicist and co-manager, we connected in a way that I knew I wanted her to be part of my career forever. ... God only knows why she's been taken all too soon."
At the time of her death, she was president of The Lippin Group.
Lippin is survived by her husband and a daughter, Alexandra, who also works for The Lippin Group.
========================
Updated 11/15/06
Brian Wilson Biopic Planned
Beach Boys genius gets his film due
Source: The Hollywood Reporter
With the lives of Ray Charles, Johnny Cash and a host of other musical legends already in the Hollywood can, it seems only logical for the story of Brian Wilson and The Beach Boys to hit the screen. Particularly when Wilson is still alive to consult on it – and the fact that his is a tale riddled with struggles and problems.
Producer Mark Gordon (The Day After Tomorrow) has sealed a deal with Wilson to make the movie, which director David Leaf – who has already worked with the man himself to document making his recent Smile album – calling the shots. "I love the idea of there being a movie on my life, and I can't wait to see the script," Wilson told Variety, while revealing that he's also allowing the filmmakers to use his back catalogue of memorable music, including God Only Knows, Good Vibrations and California Girls.
Gordon also praised the musician for his openness about the darker patches of his life. "I admire Brian for his willingness to tell his story truthfully," he told the trade magazine "It's complex and there is a lot to be learned from what he went through. It's easier to tell that story when you're in a good place and you have a happy ending. Brian has that now."
Despite writing some of the most memorable and successful music in American history, Wilson also had to deal with being deaf in one ear and being bullied by his father, who forced the group to hire him as their first manager. He suffered from depression and a nervous breakdown. "It's tough, and when I see the movie I'll be ill at ease at some of the bad parts," Wilson admits. But I remember when we made Pet Sounds, and I knew we were up to something spiritual and special. I have that feeling again."
The team is now looking for a writer.





Updated 9/23/2006
New BW Tour Dates Announced


A mini tour of the northeast USA has been announced,including an appearance in Glenside,PA (Philadelphia) featuring Al Jardine as a very special guest. The tour is being touted as the FINAL PET SOUNDS TOUR. Also Brian will be perfoming at the Bridge School Concerts in Mountain View, Ca on Oct 21 and 22.
See the tour page for all dates.
=======================================================
Updated7/26/2006
Al Jardine Solo Album and Christmas Tour
By: Howie Edelson
Beach Boy Al Jardine is currently working on his first-ever solo
studio album, which will be a concept album about California.
Jardine, who stopped touring with the group in 1998, will be
focusing the project on California's history, climate and energy
problems as well as various ecological topics. There's been no
release date set for the still-untitled album.
Jardine told us that he used one of the Beach Boys'legendary
unreleased tracks as the springboard for the project: "I've put
together kind of an anthology. After we had El Nino here, I kind
of came up with some other songs and some tie-ins to (the Beach
Boys'song) 'Lookin'Down The Coast,'and I was gonna change the
title and call it 'California Coast'and then bring it up to
date, and try to do more of it in Spanish. Y'know, because the
Spanish language is so huge now. 'Cause California was
discovered by the Spanish. Y'know, these carousing Spaniards,
right (laughs)?"
Throughout the years, Jardine has often written and recorded
California-themed songs for Beach Boys albums, including the
"California Saga" suite from the group's 1973 Holland album, and
"Santa Ana Winds" which he co-wrote with Brian Wilson for the
group's 1980 Keepin'The Summer Alive album. Most recently,
Jardine released "California Energy Blues" on the 2002 Al
Jardine Family & Friends Live In Las Vegas album.
In addition to recording the new album, Jardine is also working
on his autobiography, and on an animated feature based on the
Beach Boys'1966 hit "Sloop John B."
This winter, Jardine will team up with Christopher Cross and
Loggins & Messina's Jim Messina for the California Christmas
tour, which will feature the trio performing holiday classics as
well as their greatest hits. The tours dates and venues are
still being ironed out, but the tour is expected to begin in
early November.

http://www.icebergradio.com/node/18125

Updated 7/5/06
Staglin Festival To Feature Brian Wilson
The 12th annual Staglin Family Vineyard Music Festival for Mental Health is Sept. 16 features Beach Boys founder Brian Wilson and his band.
Since its debut, the Staglin Family Music Festival has raised about $30 million to fight mental disease.
Chefs Greg Cole from Cole's Chop House and Chef Suzanne Goin of Lucques Restaurant will prepare the dinner served with 30 wines.
Tickets for the lecture, reception and concert are $500; tickets for that plus the dinner are $3,000.
For details, call 944-0477 or e-mail info@staglinfamily.com.
=======================================
Updated 6/13/06
"Reunion On The Roof"
Founding Beach Boys reunite
By Steve Gorman
LOS ANGELES (Reuters) - Three of the original Beach Boys appeared together in public for the first time in a decade on Tuesday to toast their musical legacy and hinted at the possibility of a reunion performance.

Brian Wilson, Mike Love and Al Jardine, along with Bruce Johnston, who joined the touring lineup in 1965, gathered on top of the Capitol Records office tower for the presentation of double-platinum plaques marking U.S. sales of more than 2 million copies of the band's 2003 collection, "Sounds of Summer: The Very Best of the Beach Boys."
Also on hand to uncork champagne with the band was David Marks, who briefly filled in for Jardine in the early 1960s.
The three original band members have not performed together in years. But, asked about the possibility of sharing the stage again, Wilson replied, "There's a chance of that."
Added his cousin, Love, with whom Wilson was often at odds in later years: "We've got tough management."
The focus of the event was to promote reissues of the band's catalog and celebrate the success of "Sounds of Summer," a 30-track set featuring hits like "California Girls," "I Get Around" and "Surfin' U.S.A."
The album, released in 12 countries, spent its first two years on the Billboard Top 200 chart and has since ranked among the top 10 biggest-selling catalog albums of all time.
"I want to thank everybody involved that helped us get that album ... going and going," said Wilson. "And I thank the Beach Boys themselves for being great, great artists to produce. I'd rather produce those guys over any other artists in the whole world."
Johnston, who became part of the group when Wilson quit touring to focus on studio work, paid tribute to Wilson's brothers and fellow founding band members, Dennis, who drowned in 1983, and Carl, who died of cancer in 1998.
"I wish Dennis Wilson and Carl Wilson could be here with us," Johnston said, to which Love added, pointing up at the sky: "They probably are, because this is pretty close."
Organizers said the last time the original Beach Boys appeared together in public was around the time that "Stars and Stripes, Vol. 1," a collection of Beach Boy covers performed by various country music artists, was released in 1996.
Capitol Records, a unit of EMI Music Group, also announced plans for a 40th-anniversary release June 27 of a deluxe CD single of "Good Vibrations," featuring five versions of the band's seminal 1966 hit and its original U.S. B-side.
In late August, Capitol also plans a 40-year commemorative reissue of the band's landmark "Pet Sounds" album in a CD/DVD package that includes mono, stereo and digital Surround Sound mixes of the music, plus previously unreleased promotional and documentary footage.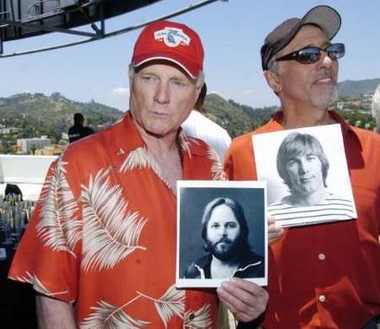 =======================================
Updated 5/252006
The Beach Boys welcome weekend in Atlantic City
What better way to usher in the summer season than with the band that musically has defined warm-weather fun for more than four decades?
Friday, The Beach Boys return to South Jersey for a "twofer" at Trump Plaza. The main gig is a 10 p.m. show at the Plaza Theater. But an hour before, the group is scheduled to do a mini-set at the casino's Beach Bar, part of a pre-concert party that begins at 7 p.m.
The al fresco bash also will feature a prize giveaway that includes a vacation package, surfboards and 10 pairs of tickets to the 10 p.m. show.
Although the casino's intention is to offer free admission to the beach party, it is reserving the right to impose a cover charge, depending on the size of the crowd. Admission to the 10 p.m. concert is $75.50. For tickets and information, call (800) 759-8786 or go to www.trumpplaza.com.
===========================================
MORE REUNION NEWS FROM AL JARDINE
Despite reports from management that there will not be a Beach Boys reunion, Al Jardine, in a new articel published today, states that he will be teaming up with Brian later this year.
Article from http://www.b104fm.com/rock_report.htm
JARDINE TO TEAM UP WITH BRIAN WILSON FOR UPCOMING CHARITY DATES
Founding Beach Boy Al Jardine says that he'll team up with the group's co-founder Brian Wilson for various live dates and maybe even some recording this year. Jardine told LAUNCH that he'll be on hand for some benefits that Wilson has already committed to: ["He's got some charity work this year, apparently he's got some events that he's invited me along to do something, I guess on that level, but not financially or anything like that. It more of a charity work. And then we might do a couple of recordings together, 'cause, y'know he still really enjoys my voice. He thinks I have a good voice."]
Jardine had previously announced that he and Wilson, along with the group's Mike Love and Bruce Johnston, are in the talking stages about teaming up for a reunion show in Britain next fall to celebrate the 40th anniversary of their Pet Sounds album.
=====================================================
Updated 4/30/2006
BRIAN BOOKED FOR LAS VEGAS CONCERT
Legendary composer and co-founder of the Beach Boys plays his greatest hits on July 1 at 8pm. Tickets can be purchased at
The Cannery Box Office at 702-617-5585 or toll free, 1-866-287-4643, or www.showtickets.com.Cannery Casino in Las Vegas
======================================
Updated 4/26/2006
BRIAN TO PERFORM IN AUSTRALIA
Brian Wilson will be headlining the
Splendour in the Grass festival in Australia on SATURDAY JULY 22ND and SUNDAY JULY 23RD at BELONGIL FIELDS. Brian is scheduled to perform on July 25.
Tickets go on sale Monday, May 15, and can be bought online at www.splendourinthegrass.com or by calling 1300 762 545.
=================================
Updated 4/21/2006
BEACH BOYS PLANNING REUNION GIG
Saturday, April 22, 2006
Beach Boys planning reunion gig
Founding Beach Boy Al Jardine has announced what many Beach Boys fans have been hoping for -- an onstage reunion featuring himself with Brian Wilson, Mike Love, and Bruce Johnston.
In a world exclusive, Jardine revealed to us that plans are in the works for the group to reform later this year in London, in celebration of the 40th anniversary of their 1966 Pet Sounds album. Jardine said that if all goes well, a possible reunion tour might follow: "Actually, a reunion tour is not out of the question, because with this Pet Sounds anniversary coming up, it's a very good possibility that we'll be performing it live in London in November. It would be like a Pet Sounds reunion. Mike is open to it and Brian appears to be open to it and you never know what might spring from that. So if (a reunion tour) is in the cards, we'll do it. You never know. It might just work. "
Jardine and Brian Wilson have been in various legal battles with Love over the past few years, and have not performed with the group since 1998 and 1996, respectively. Love and Johnston continue to tour under the Beach Boys name.
Conspicuously absent from the reunion is Beach Boys co-founder David Marks, who has been performing joint gigs with Jardine over the course of the past year. Jardine explained that although Marks was a co-founder and played a crucial part in most of the group's early recordings, the reunion show would only feature group members who participated in the actual Pet Sounds sessions. Marks quit the group in November 1963 after performing on their first five albums.
Jardine did not give a date when the concert plans would be finalized, who would be backing the group onstage, or when the concert would be announced.
Pet Sounds, which was released on May 16th, 1966, featured such Beach Boys classics as "Wouldn't It Be Nice," "Sloop John B.," "I Just Wasn't Made For These Times," and "God Only Knows."
Jardine and David Marks will team up with Dean Torrence of Jan & Dean for the "Cruisin' With The Legends Of Surf Music" cruise, set for October 2nd through 6th.
http://www.therockradio.com/2006/04/beach-boys-planning-reunion-gig.html
================================================
Updated 2/20/2006
Brian To Appear On New Carnie Wilson CD
LOS ANGELES, Feb. 20 /PRNewswire/ -- One year after the
birth of her
daughter, Lola Sofia, singer/songwriter/actress Carnie Wilson is
releasing her
first ever solo album A Mother's Gift: Lullabies From The Heart.
The album is
being release through Big3 Records on May 2nd in celebration of
Mothers Day.
A Mother's Gift is a collection of traditional and new songs,
all inspired by
Carnie's recent journey into motherhood.
The 12-track CD features such classics such as "Over the
Rainbow," "What A
Wonderful World," and "You Are So Beautiful," a moving duet with
her father
Brian Wilson. Additionally there is a cover of the song
"Heaven" by her late
uncle Carl Wilson.
===============================================

Updated 1/17/2006
SMILE NOMINATED FOR AWARD
Brian Wilson's album Smile is nominated for the New Pantheon
Music Prize. The New Pantheon Music Prize was founded by Tom
Sarig (co-founder of the previously existing Shortlist Music
Prize). The New Pantheon is a prestigious award which is
honoring the most creative and artistic albums of the year, as
nominated by a select panel of musicians, actors, writers and
music gurus. This year's nominating committee includes Beck,
Benjamin Gibbard, Shirley Manson, Elton John, Dave Matthews,
Margaret Cho, Elijah Wood and others.
The awards are taking place on February 6th in Los Angeles (two
days before the Grammys) and will be simulcast on Network Live.

=======================================
Updated 12/08/05
SMILE DVD GETS GRAMMY NOMINATION
Brian Wilson Presents Smile DVD has been nominated for a Grammy in the Best Long Form Video catagory #108. The competition is tough . Here are all the nominees:
# No Direction Home
(Bob Dylan)
Martin Scorcese, video director; Margaret Bodde, Susan Lacy, Jeff Rosen, Martin
Scorcese, Nigel Sinclair & Anthony Wall, video producers
[Columbia Records]
# Trapped In The Closet (Chapters 1-5 )
R. Kelly
R. Kelly & Jim Swaffield, video directors; Ann Carli, video producer
[Jive Records/Zomba Label Group]
# End Of The Century: The Story Of The Ramones
(The Ramones)
Jim Fields & Michael Gramaglia, video directors; Jim Fields & Michael Gramaglia,
video producers
[Warner Strategic Marketing]
# Devils & Dust
Bruce Springsteen
Danny Clinch, video director; Lindha Narvaez, video producer
[Columbia Records]
# Brian Wilson Presents Smile
Brian Wilson
John Anderson & David Leaf, video directors; Dave Goetz, David Leaf, Steve
Ligerman, John Scheinfeld, Casey Sipes, Richard Waltzer & Brian Wilson, video
producers
[Rhino Home Video]
http://www.grammy.com/awards/grammy/48Awards.aspx
Updated 11/07/2005
BRIAN ON TONIGHT SHOW
From the Tonight Show With Jay Leno's website upcoming guest listings:
Neil Diamond with Brian Wilson - 11.14.05
=======================================
Updated 11/05/2005
BRIAN RELEASES NEW CD SINGLE

==============================================================

LOVE SUES BRIAN, AGAIN
11/04/2005
Mike Love Is Suing His Cousin and Former Beach Boys Bandmate Brian Wilson Over 'Smile' Album
By TIM MOLLOY
The Associated Press
LOS ANGELES - Mike Love is suing his cousin and former Beach Boys bandmate Brian Wilson, but Love's lawyer hopes the lawsuit won't mar their good vibrations.
Love filed the lawsuit in federal court Thursday accusing Wilson of promoting his 2004 album,
"Smile," in a manner that "shamelessly misappropriated Mike Love's songs, likeness and the Beach Boys trademark, as well as the `Smile' album itself."
Love's lawyer says it's nothing personal.
"Mike has a lot of affection for Brian and they have a good relationship and cordial relations," said Phil Stillman, who has represented Love since 1992. "There's obviously some problem with the way Brian's (associates) have promoted the albums."
Stillman added: "They remain family and the co-founders of a very important band in rock 'n' roll history."
The Beach Boys never completed "Smile," and it was regarded as a lost classic until Wilson opted to finish it himself. The album earned international acclaim and marked a dramatic return for the 63-year-old singer-songwriter, who had kept a low profile for years.
Love objected to a promotion in which 2.6 million copies of a Beach Boys compilation CD were given away to readers of Britain's The Daily Mail on Sunday newspaper. The lawsuit said the giveaway undercut the band's sales.
The lawsuit seeks damages, including "millions of dollars in illicit profits," and seeks at least $1 million for international advertising "to correct the effects of ... unfair competition and infringing uses."
A lawyer for Wilson didn't return a call from The Associated Press for comment.
============================================
Updated 10/17/2005
BRIAN TO PERFORM ON NBC CHRISTMAS SPECIAL
Brian will be appearing on Christmas at Rockefeller Center on November 30th on NBC, performing holiday favorites off his new album, What I Really Want For Christmas.
=====================================================
Updated 10/14/2005
BRIAN ON NEW NEIL DIAMOND CD
The digipak version of Neil Diamond's "12 Songs" features an alternate version of "Delirious Love" with a guest appearance by Brian Wilson.
=====================================================
Updated 10/03/05
You can hear a sneak preview of five songs from Brian's upcoming Christmas CD courtesy of Brianwilson.com
----------------------------------------------------------------------------------------
Updated 9/15/2005
TOURING BEACHBOYS TO PERFORM FOR HURRICANE RELIEF
The BEACH BOYS, FRANKIE VALLI and surf guitar legend DICK DALE
are set to join forces to raise funds for the Hurricane Katrina
relief effort.
The old-timers will perform classic hits at a benefit concert at
Los Angeles' Greek Theatre on 25 September (05).
Joining the headliners will be former THE SUPREMES star MARY
WILSON, and rockers THE SURFARIS.
Updated 9/4/05
==============================================================
Brian Announced For Hurricane Relief Special
Kelly Clarkson and the Rolling Stones are among several artists who have been added to MTV, VH1 and CMT's Hurricane Katrina relief special.
Airing September 10 from 8 to 11 p.m. ET/PT, "ReAct Now: Music & Relief" will feature a mix of live and taped performances and messages from more than 30 artists.
Other participating artists include Maroon 5, Good Charlotte, Audioslave, Simple Plan, Common, John Mayer, Kid Rock, Sheryl Crow, Dashboard Confessional, Paul McCartney, Neil Young, Brian Wilson, Lynyrd Skynyrd, Melissa Etheridge, Mötley Crüe, Goo Goo Dolls, Staind and Alan Jackson.
Several artists with ties to the Louisiana and Mississippi area, including Trent Reznor, 3 Doors Down, Cash Money's Baby and Lil' Wayne, the Neville Brothers, Marc Broussard and the Radiators, will also partake, along with previously announced artists Green Day, Usher, Alicia Keys, Ludacris, Dave Matthews Band, Rob Thomas, David Banner, Linkin Park's Chester Bennington and John Mellencamp (see "Usher, Green Day, Alicia Keys Sign On For Hurricane Relief Concert September 10").
===================================
Updated 8/31/05
LOVE AND MERCY DESPERATELY NEEDED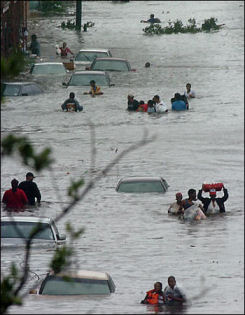 When a natural disaster occurs like the one that happened to the southern USA this weekend, it puts things in perspective. Help is desperately needed. You can help by visiting the American Red Cross at
http://www.redcross.org/donate/donate.html
=================================================================
Updated 8/19/05

Brian Wilson will perform Sunday at Park West, it was announced Thursday, after a scheduled concert at the Clio Area Amphitheater in Michigan was canceled.
Wilson has been touring the world for the last year after the release of his acclaimed "Smile" album, playing mostly theater-size venues with capacities exceeding 3,000. One of those performances was to have been Sunday at the Clio, but the amphitheater's Web site says it is no longer operating "due to insufficient ticket sales" and is in the midst of bankruptcy proceedings.
Tickets at $60 for a replacement concert at Park West went on sale Thursday through Ticketmaster. Only 700 tickets will be sold. Wilson calls the concert "the one and only spontaneous club performance of the tour."
=========================================================
Updated 8/15/05
You can view video of Brian In Concert from Rome, Italy performing Don't Worry Baby, Dance, Dance, Dance and Then I Kissed Her here.
==========================================
Updated 8/13/05
New Song On Current Tour
Brian has been performing a new song, titled "Walking Down The Path Of Life" on the current US Smile Tour.

Walking down the path of life
I feel His presence day and night
Touch me heal me wash my sins away
Touch me heal me wash my sins away
Every night, I will pray
I'll be good, everyday
Give me hope, Hope and pray
Thanks to Phil Miglioratti
==========================================
From the Montreal Gazette:
Brian Does Frank?
Right time has finally come for Brian Wilson's smile
First created in 1967, it was too 'advanced'. Ahead of Place des Arts show, former Beach Boy describes his masterwork as 'happy, uplifting, jovial'
BERNARD PERUSSE
The Gazette
The phone interview was pretty much over when the chief Beach Boy asked to be reminded of the interviewer's name. "I'll see you in Montreal, Bernie," he said cheerfully. Then came the jaw-dropper: "Come backstage and ask for Brian Wilson."
Specifying who to ask for is classic Wilson - a perfect illustration of his charming, childlike innocence in conversation. When questioned, he responds candidly, spontaneously and always in short, excited bursts of a sentence or two. You have 20 carefully-constructed, broad, open-ended queries? He'll dispose of them in 12 minutes - as if each question was on a form and he had two lines to answer.
After 44 years in the business, he seems aware of his legendary status only because people remind him about it every day. And even after decades of being labeled a pop genius, he seems uneasy with self-promotion. In fact, he sounds genuinely surprised that his masterwork Smile - created for the Beach Boys in 1967, but newly recorded and released by Wilson only last year - has been embraced without reservation by both the record-buying public and jaded critics. "I go to a restaurant, people stop me. I go to a shopping centre, people stop me there," he said. "People stop me everywhere to tell me they like Smile. After 38 years! Can you believe it?"
When Wilson tried to get Smile off the ground all those years ago, the album was scrapped because of label indifference, hostility from some bandmates and his own fragile psyche. Last year, he decided to exhume the abandoned project and take it on the road, but when he debuted Smile at London's Royal Festival Hall, the mythology surrounding the great lost album weighed him down. As the documentary Beautiful Dreamer shows, he was a bundle of nerves.
"I didn't know if people would think (the songs) were too modern, too advanced or, you know. ... I didn't really know what to expect from people," he said.
As the opening-night crowd basked in the lush, complex harmonies of the resurrected pop symphony, Wilson's anxiety subsided. "It took me one night (to get comfortable with performing the album live) - the first night we premiered in London. It took me one concert to get used to it and the rest of them were a piece of cake," he said. "As soon as I realized that people liked it, my fears went away."
The success of Smile - including a Grammy for the eerie instrumental Mrs. O'Leary's Cow - could only come as a shock to Beach Boys vocalist Mike Love, who was one of the album's biggest detractors in 1967. Love, Wilson's cousin, is the person most often blamed for the scrapping of the project.
"Believe it or not, I just saw Mike Love yesterday at an attorney's meeting. That was the first time in seven years," Wilson said. "We had a great talk and he told me all about his tours and I told him all about my tours." Love, with Bruce Johnston, tours under the Beach Boys name. "He makes around $7 or $8 million a year," Wilson said.
Wilson said the two didn't talk about Smile, and he betrayed no lingering bitterness over his cousin's famous dismissal of the work. "He didn't like it. He thought it was too advanced, which it was. And he didn't want to sing on it, which I didn't want him to, anyway," Wilson said.
Love has always been a staunch supporter of the Beach Boys surf-and-girls hits. "I don't care about that archival stuff," he told The Gazette in 2001. "If it was a hit single on an album, then that's what I thought was the best cut."
Love had also been skeptical of another acknowledged Wilson classic, Pet Sounds. Surprisingly, Wilson recently said he would rate Pet Sounds a 4 and Smile a 10. "Pet Sounds was kind of like an emotional experience, if you will," Wilson said. "Smile is a very happy, uplifting, jovial album, which makes me feel happier than Pet Sounds." Nonetheless, Wilson cited the Pet Sounds opener, Wouldn't It Be Nice, as the most fully realized production in his catalogue - with Good Vibrations a possible tie. Less known than either of those songs - and still gathering dust in the vaults - is The Spirit of Rock 'n' Roll, which Wilson wrote and recorded in 1990 for the unreleased album Sweet Insanity. Bob Dylan shared the vocals, and when the subject was raised, Wilson sang Dylan's first line into the phone - "Once it's in your blood, you won't be the same no more, oh no" - doing a creditable impression of His Bobness.
"I love Bob Dylan's music. I like his songwriting - and it was an honour to have him on my album," Wilson said.
Some of the songs from Sweet Insanity were re-recorded last year on Wilson's Gettin' in Over My Head, and he hinted that The Spirit of Rock 'n' Roll might be reworked - sans Dylan - for a straight-ahead rock 'n' roll album he plans to begin recording soon. "When we do our rock 'n' roll album, I guarantee even you will get off your chair and start dancing," he said.
Before we hear it, however, we'll see a Christmas album in the stores in October, Wilson said. The recently completed seasonal disc will include eight standard yuletide tracks, two Beach Boys remakes - The Man With All the Toys and Little Saint Nick - and two new songs, co-written with Bernie Taupin and Jim Webb, Wilson said.
In spite of all this activity, however, there's one dream project that's still in the back of Wilson's mind - and when you think that Frank Sinatra rejected Wilson's Still I Dream of It when it was offered to the Chairman of the Board, it might have some ironic value. "I want to do a version of Strangers in the Night," Wilson said.
=============================================
Updated 8/7/05
BRIAN WILSON TICKETS TO BE AUCTIONED
FOR SWEET RELIEF
LOS ANGELES, CA, August 1, 2005 – Two tickets to the
winner's choice of dates (excluding New York and Los
Angeles) on Brian Wilson's U.S. Summer SMiLE tour are
up for auction on Ebay at www.ebay.com/sweetrelief.
The tickets also include passes to meet Wilson after
the show. The auction ends Thursday, August 11, 2004
at 2:37 p.m. PDT.
This auction was sanctioned by Brian Wilson and all
proceeds go to the Sweet Relief Musicians Fund. Sweet
Relief was founded in 1994 by Victoria Williams to
provide assistance to all types of career musicians
who are struggling to make ends meet while facing
illness, disability, or age-related problems. It is
funded by the music community and a variety of
individual donors, as well as through benefit
concerts, auctions and albums. For more information on
the organization, please visit www.sweetrelief.org.

---------------------------------------------------------------------------------------------------------

Updated 5/6/2005
CHRISTMAS ALBUM DUE FOR OCTOBER RELEASE
It's beginning to look a lot like Christmas for rock legend Brian Wilson. The former Beach Boy will release What I Really Want for Christmas, his first holiday-themed solo album, on October 18th.
"Christmas has always been a special time for me and my family," Wilson says. "And this year will be even more special because I'll have a new album of songs to celebrate the holiday season. I hope the music means as much to other people as it does to me."
The title track features lyrics by longtime Elton John collaborator Bernie Taupin, while Jimmy Webb ("Wichita Lineman," "Up-Up and Away") penned the words to "Christmasey." Wilson, who produced and arranged the album, revisits "Little Saint Nick" and "The Man With All the Toys," two chestnuts from 1964's The Beach Boys' Christmas Album, and tackles standards like "Auld Lang Syne," "Deck the Halls" and "God Rest Ye Merry Gentlemen."
The What I Really Want for Christmas track listing:
What I Really Want for Christmas
Christmasey
Little Saint Nick
The Man With All the Toys
The First Noel
Hark, the Herald Angels Sing
It Came Upon a Midnight Clear
Oh Holy Night
We Wish You a Merry Christmas
Auld Lang Syne
Deck The Halls
God Rest Ye Merry Gentlemen
===========================================
Updated 4/13/2005
BRIAN ON XM SATELLITE RADIO
Brian's performance for XM satellite radio will finally play on Monday April 18 at 6pm Eastern time with repeat plays on
Wed, April 20 @ 9AM ET
Fri, April 22 @ 2PM ET
Sat, April 23 @ 3PM ET
Sun, April 24 @ 3AM ET
There is even better news in that XM is offering a free three day trial , which means everyone who does not subscribe can still hear the show, for free.
Here is the link:
http://xmro.xmradio.com/xstream/index.jsp
IIRC this was taped sometime last year as a free concert in Washington DC.
==================================================
Updated 3/8/2005
SMILE DVD DETAILS
Rhino has set a May 24 release date for the DVD "Brian Wilson Presents Smile," chronicling the making of the former Beach Boys leader's long-lost masterwork. Disc one of the set encompasses the Showtime documentary "Beautiful Dreamer: Brian Wilson and the Story of Smile," plus four interviews with Wilson, one of which was conducted by "Smile" lyricist Van Dyke Parks.
The second disc sports a full performance of the album mixed in 5.1 Surrround Sound, outtakes from the documentary, footage from the recording of the album and Wilson performing five songs at his piano both solo and in collaboration with band members.
If you purchase your disc directly from the producers, LS Productions , you will also receive an exclusive SMILE collectable audio cd that includes the instrumental track of Surf's Up from the Brian Wilson Presents SMiLE CD, an exclusive interview with Brian Wilson about his SMiLE journey, including his recent Grammy win, and commentary by Beautiful Dreamer producer-director David Leaf.
Each bonus CD will be signed by Beautiful Dreamer director David Leaf, and the first 2,500 (distributed first-ordered, first-served) will also be hand-numbered. The bonus CD is NOT
available for individual sale.
=======================================================
Updated 2/13/2005
BRIAN WINS GRAMMY FOR MRS. O'LEARY'S COW!
Updated 2/2/2005
Grammy Performance To Benefit Tsunami Aid
An all-star live performance of the Beatles song "Across the
Universe" during the 47th annual Grammy Awards celebration will
be immediately released to raise funds for tsunami relief
efforts. U2 lead singer Bono, Stevie Wonder, Norah Jones, Alicia
Keys, Velvet Revolver, Tim McGraw and Brian Wilson have been
tapped to take part, with other artists expected to join.
The track will be made available for download at Apple's iTunes
Music Store for 99 cents, with all proceeds to aid victims of
the Dec. 26 earthquake and tsunami in the Indian Ocean. Video of
the performance will be available on demand at CBS.com soon
after the network's Feb. 13 broadcast of the awards.

Updated 1/19/2005
BRIAN TO APPEAR IN ANAHEIM THIS WEEKEND

Brian Wilson will make an appearance at the Gibson
Guitar exhibit at NAMM this weekend in Anaheim.
The Beach Boys founder will be present at 2pm at Booth 203B on
the 2nd floor id the Anaheim Convention Center to sign a limited
number of Smile posters.
=================================
ANOTHER NEW DUCK DODGERS DATE FOR BRIAN
Apparently there was another pre-emption and the new date that
you can expect to see the Brian Wilson episode of the Duck
Dodgers cartoon series on the Cartoon Network is now February 4.
================================
Updated 1/07/2005
Brian To Participate In Tsunami Telethon
NBC and all of its sister networks, including BRAVO, MSNBC,
USA, and the Sci Fi Channel will be airing a Tsunami Telethon on
January 15 to benefit the people of this recent disaster. Brian
and other top music stars including Sheryl Crow, Christina
Aguilera, Tim McGraw will perform and actor George Clooney will
be recruiting celebrities to aid the effort.
====================
Concern For Missing Smile Musician Marcus Sandlund
LOS ANGELES - Beach Boys founder Brian Wilson is asking for help in
finding a Swedish cellist swept away in the South Asian tsunami.
Markus Sandlund, 29, of the Stockholm Strings and Horns, performed
on Wilson's Grammy-nominated "Smile" album and Wilson's recent
"Smile" tour. Sandlund and his girlfriend, Sophia, went to Thailand after
finishing the "Smile" tour in Australia and New Zealand, according to a
statement Wednesday on Wilson's Web site.
The couple, vacationing at the Orchid Beach Resort at Khao Lak, were in
the hotel pool when the enormous wave hit. Sophia was swept away and
later rescued, but Sandlund has not been found.
"I have been devastated since I heard the news that Markus is missing in
Thailand," said Wilson, 62. The singer-songwriter said he has dispatched
an "agent" to try to find musician but has turned up no trace of him. He
asked that anyone with any information contact his Web site.
"My prayers go out to all of the victims and their families and I would ask
you to say a prayer for Markus' safe return," Wilson added.
Sandlund was one of 22 musicians and a dozen singers Wilson
assembled to record "Smile," a 47-minute rock opera.
=============================================
Updated 1/03/2005
NEW TENTATIVE DATE FOR BRIAN ON DUCK DODGERS CARTOON SHOW
Because the Cartoon Network chose to show alternate programming over the holidays instead of new episodes of it's Duck Dodgers cartoon series, the projected date for the airing of Brian's episode, titled Surf The Stars, has been moved back,unofficially,to Friday, January 28 at 9PM, Eastern US time, with a repeat later that same night at 12:30am (Sat,January 29). A new song, titled Believe In Yourself will make it's debut.
==========================
Updated 12/27/2004
Good Vibrations to Rock in New Year's Eve in Times Square
Broadway's GOOD VIBRATIONS will rock in the 100th Anniversary of
New Year's Eve in Times Square this New Year's Eve, Friday,
December 31 at 11:15pm. Stars of the new musical, now playing at
the Eugene O'Neill Theatre (230 West 49th Street), will lead the
Panasonic Sing-A-Long on the Giant Screens, featuring four songs
by Brian Wilson and The Beach Boys: "Fun, Fun, Fun;" "Help Me
Rhonda;" "I Get Around" and, the title song, "Good Vibrations."
Appearing live in Times Square on New Year's Eve (and broadcast
on NY-1 and webcast on www.earthcam.com) will be the stars of
GOOD VIBRATIONS: Tituss Burgess, David Larsen, Kate Reinders,
Brandon Wardell and Jessica-Snow Wilson.
Directed and choreographed by John Carrafa, GOOD VIBRATIONS will
open on January 27, 2005 (previews began December 20). GOOD
VIBRATIONS features more than 30 songs with music and lyrics by
Brian Wilson and The Beach Boys, and a book by Richard Dresser
that tells a new story that is not the history of the Southern
California super-group.
GOOD VIBRATIONS follows the romantic misadventures of a group of
small-town teenagers from the East Coast on a life-changing
odyssey to the Promised Land: the beaches of Southern
California.
TICKET INFORMATION:
Tickets to GOOD VIBRATIONS are on sale by phone: Telecharge.com
at (212) 239-6200, (800) 432-7250 outside the NY metro area, or
online at telecharge.com. Group sales tickets available at (877)
5-Dodger or in person at the Eugene O'Neill Theatre box office.
Ticket prices are $66 and $91 for preview performances (December
20 - January 26) and $76 and $101 from January 27 onward (all
prices includes a $1 theatre restoration charge). A limited
number of $25 student tickets will be available, day of show
only at the Eugene O'Neill theatre box office, with valid
student I.D. GoodVibrationsOnBroadway.com
=========================
Updated 12/23/2004
A CHRISTMAS GIFT FROM BRIAN WILSON
You can download a new Christmas gift from Brian Wilson here.
Little Saint Nick 2004
=============================================
Brian Wilson is scheduled to appear on The Tonight Show with Jay Leno on January 5, 2005. No word on what he will perform.
Updated 12/19/2004
SMILE TRAILING BADLY IN AOL GRAMMY POLL
Brian Wilson fans can help get Smile out of last place in the Pop Vocal Album catagory by casting their vote(s) at the AOL Grammy Poll site at http://channelevents.aol.com/music/grammys/2005/sub/pop.adp
Updated 12/7/2004
THREE GRAMMY NOMINATIONS FOR BRIAN/SMILE
Brian Wilson received two nominations for this years Grammy Awards, for Best Pop Vocal Album and for Best Rock Instrumental Performance for Mrs. O'Leary's Cow. Engineer Mark Linnet was also nominated for a Grammy for his work on Smile in the Best Engineered Album - Non Classical Division.
Here is how the competition stacks up for Brian.
Best Pop Vocal Album
(For albums containing 51% or more playing time of VOCAL tracks.)
Genius Loves Company
Ray Charles & Various Artists
[Concord Records]

Feels Like Home
Norah Jones
[Blue Note Records]

Afterglow
Sarah McLachlan
[Arista Records]

Mind, Body & Soul
Joss Stone
[S-Curve Records]

Brian Wilson Presents Smile
Brian Wilson
[Nonesuch Records]
=================================
Best Rock Instrumental Performance
(For solo, duo, group or collaborative performances, without vocals. Includes Rock, Hard Rock and Metal. Singles or Tracks only.)
Instrumental Illness
The Allman Brothers Band
Track from: One Way Out
[Sanctuary]

Onda
Los Lonely Boys
Track from: Los Lonely Boys
[Epic Records]

O Baterista
Rush
Track from: Rush In Rio
[Anthem/Atlantic Records]

Whispering A Prayer
Steve Vai
Track from: G3 Live: Rockin' In The Free World
[Epic Records]

Mrs. O'Leary's Cow
Brian Wilson
Track from: Brian Wilson Presents Smile
[Nonesuch Records]


Updated 12/1/2004
Brian Wilson to Be Honored by the Recording Academy as MusiCares 2005 Person of the Year
SANTA MONICA, Calif.--(BUSINESS WIRE)---- The 15th Annual Gala Tribute Benefiting the MusiCares(R)
Foundation's Financial Assistance Program Will Be Held Feb. 11, 2005 GRAMMY(R)-nominated composer
Brian Wilson will be honored as the MusiCares 2005 Person Of The Year, it was announced today by Neil
Portnow, President of the MusiCares(R) Foundation and The Recording Academy(R). Wilson -- chosen for
his accomplishments as a musician and humanitarian -- will receive the honor at a special tribute
dinner, concert and silent auction held Friday, Feb. 11, 2005, at the Palladium in Hollywood. The
MusiCares tribute dinner is one of the most prestigious events held during GRAMMY Week, a celebration
that culminates with the 47th Annual GRAMMY Awards on "GRAMMY Sunday," Feb. 13, 2005. The telecast
will be broadcast on the CBS Television Network at 8 p.m. (live in the East, tape delayed in the
West). "We take great pride and joy in saluting Brian Wilson during MusiCares' milestone 15th
anniversary of providing a safety net for musicians everywhere," said Portnow. "He embodies the
positive spirit that comes from dedication, perseverance and creative brilliance; his contributions
to the evolution of music are both legendary and profound. Brian and his music have the power to
reach listeners across generations and deliver a musical experience that is timeless and
unforgettable -- and that's exactly how this year's Person Of The Year event will be on February
11.
Updated 11/11/2004
VOTE FOR SMILE FOR ALBUM OF THE YEAR
Entertainment Weekly is hosting a poll in which you can vote for the Album Of The Year for 2004. One of the nominated albums is BRIAN WILSON PRESENTS SMILE.
You can cast your vote here
==============================================
As reported below, Brians recent Carnegie Hall concerts will be broadcast on NPR. Here is the schedule.
The Oct. 12 performance will be broadcast from 5:00-7:00 p.m. ET on Nov. 25
while the Oct. 13 show will be streamed from 9:00-11:00 p.m. ET on Nov. 26.
Check with your local NPR station. Times and dates may vary.

Updated 11/01/2004
SMILE CONCERTS ON NPR
Brian's concerts at Carnegie Hall in New York City were recorded for broadcast on Thanksgiving by NPR. No time has been announced , nor has it been determined if they will broadcast an entire concert or just the Smile section.

Updated 10/25/2004
Cast of Broadway's GOOD VIBRATIONS Announced
Casting has been announced for GOOD VIBRATIONS, the new musical
featuring the songs of Brian Wilson and The Beach Boys, which
will come to Broadway this December. Directed and choreographed
by John Carrafa (Tony Award nominee for Urinetown and Into the
Woods), GOOD VIBRATIONS will begin preview performances on
December 20, 2004 at the Eugene O'Neill Theatre (230 West 49th
Street). The official opening date is January 27, 2005.
The cast of GOOD VIBRATIONS stars Tituss Burgess as Eddie
(Jersey Boys at LaJolla Playhouse, La Cage aux Folles and The
Civil War regionally), David Larsen as Bobby (West Side Story at
North Shore Theatre, Caspar tour with Chita Rivera, TV's "Boston
Public"), Kate Reinders as Caroline (Gypsy and Into the Woods on
Broadway, TV's "Blind Justice"), Brandon Wardell as Dave
(Assassins, Thoroughly Modern Millie and The Dead on Broadway)
and Jessica-Snow Wilson as Marcella (Little Shop of Horrors, A
Funny Thing…Forum and Les Misérables on Broadway).
The cast also includes: Tracee Beazer, Heath Calvert, Janet
Dacal, Tom Deckman, Sarah Glendening, Milena Govich, Justin
Guarini, Chad Kimball, Amanda Kloots, John Jeffrey Martin, Jesse
Nager, David Reiser, Jackie Seiden, Allison Spratt, Carlos L.
Encinias, Vasthy Mompoint, Steve Morgan and Krysta Rodriguez.
GOOD VIBRATIONS features more than 30 Beach Boys songs with
music and lyrics by Brian Wilson and The Beach Boys, and a book
by Richard Dresser (Rounding Third, Gun-Shy) that tells a new
story that is not the history of the Southern California
super-group.
GOOD VIBRATIONS follows the romantic misadventures of a group of
small-town teenagers from the East Coast on a life-changing
odyssey to the Promised Land: the beaches of Southern
California.
The design team for GOOD VIBRATIONS is comprised of Heidi
Ettinger (Sets), Jess Goldstein (Costumes), Brian MacDevitt and
Jason Lyons (Lighting), Tom Morse (Sound), Elaine McCarthy
(Projection Design) and Charles LaPointe (Hair and Wig Design).
David Holcenberg is Musical Supervisor/Arranger, Steve Margoshes
is Orchestrator, Susan Draus is Musical Director/Conductor and
Van Dyke Parks is Musical Consultant.
GOOD VIBRATIONS will be produced on Broadway by NCJ Productions
(Nina Keneally, Cathleen Murphy, Jamie Lightstone)/Michael Watt,
and Dodger Stage Holding.
A recent presentation of GOOD VIBRATIONS was done at New York
Stage & Film on the campus of Vassar College in Poughkeepsie,
New York.
TICKET INFORMATION:
Tickets to GOOD VIBRATIONS go on sale beginning November 8 and
are available by calling Telecharge at (212) 239-6200, (800)
432-7250 outside the NY metro area, or online at telecharge.com.
Group sales tickets available at (877) 5-Dodger.
Ticket prices are $66 and $91 for preview performances (December
20 - January 26) and $76 and $101 from January 27 onward (all
prices includes a $1 theatre restoration charge). A limited
number of $25 student tickets will be available, day of show
only, at the Eugene O'Neill theatre box office, with valid
student I.D.
WEBSITE:
http://www.GoodVibrationsOnBroadway.com

Updated 10/17/2004
Overseas Smile Tour Dates
AUSTRALIA
TUESDAY NOVEMBER 30 SYDNEY OPERA HOUSE
THURSDAY DECEMBER 2 NEWCASTLE CIVIC THEATRE
SATURDAY DECEMBER 4 PERTH KINGS PARK (open air)
MONDAY DECEMBER 6 ADELAIDE THEBARTON THEATRE
WEDNESDAY DECEMBER 8 MELBOURNE REGENT THEATRE
WEDNESDAY DECEMBER 15 BRISBANE QPAC CONCERT HALL

JAPAN
Jan 30,2005, Tokyo, Nakano Sunplaza
http://www.sunplaza.or.jp/index.html
Jan 31,2005, Tokyo, Tokyo International Forum
http://www.t-i-forum.co.jp/english/index.html
Feb 2, 2005, Nagoya,Aichi-kouseinenkin-kaikan
http://www.kjp.or.jp/hp_27/index.htm
Feb 3,2005, Oosaka, Oosaka-kouseinenkin-kaikan
http://www.kjp.or.jp/hp_28/index.htm
Thanks to Greg and Tango

Updated 10/14/2004
BRIAN WILSON TICKETS TO BE AUCTIONED
FOR SWEET RELIEF
LOS ANGELES, CA, October 12, 2004 – Two tickets for
Brian Wilson's concert at the Davies Symphony Hall in
San Francisco, California on Thursday, November 4,
2004, are up for auction on Ebay at
www.ebay.com/sweetrelief. The tickets also include
passes to meet Wilson after the show. The auction ends
Friday, October 22, 2004 at 12:38 p.m. PDT.
This auction was sanctioned by Brian Wilson and all
proceeds go to the Sweet Relief Musicians Fund. Sweet
Relief was founded in 1994 by Victoria Williams to
provide assistance to all types of career musicians
who are struggling to make ends meet while facing
illness, disability, or age-related problems. It is
funded by the music community and a variety of
individual donors, as well as through benefit
concerts, auctions and albums. For more information on
the organization, please visit www.sweetrelief.org.
For more information on the auction and other auctions
made available through the organization, please
contact Julie Klabin, Auctions Director, at
818.563.5140 or auctions@sweetrelief.org.

Updated 10/7/2004
SEE (AND HEAR) BRIAN FOR FREE THIS SATURDAY!

Brian Wilson in concert for free for some fans (October 9)
This is an exclusive opportunity for fans to see Brian Wilson live (and free) – As Guests of XM Satellite Radio... XM Satellite Radio, America's no. 1 satellite radio service (featuring 68 commercial free music channels), needs Brian Wilson fans to fill an audience for a special taping with Brian Wilson on Saturday, October 9th at XM's Washington, DC broadcast studios.
This recording session is part of XM's Artist Confidential Series, which are intimate programs of talk and music with legendary recording artists, like Don Henley, Phil Collins, Bonnie Raitt, Rush and Yusuf Islam (Cat Stevens).
The seating for this very special program is extremely limited and approximately 30 fans will be chosen on a "first-come, first-served" basis determined by when their email is received at XM. So if you are interested, please send an email complete with your full name and contact information to "events@xmradio.com". Only emails with "Brian Wilson" in the subject line will be considered for this offer.
Fans can be in Washington, DC on next Saturday, October 9th.
If you cannot attend and live in the U.S., please check back with XM's website http://www.xmradio.com to learn when Brian's Artist Confidential session will air on XM.
Updated 10/06/2004
SMILE DEBUTS ON BILLBOARD AT #13
The newly completed version of a 1967 Beach Boys project gives
Brian Wilson his highest Billboard 200 ranking as a solo artist.
"Brian Wilson Presents Smile" opens at No. 13 on sales of 65,000
copies. The Beach Boys last saw the upper reaches of the chart
in 1976, when "15 Big Ones" (Capitol), peaked at No. 8.

Updated 10/01/2004 2:00am
FIRST US SMILE CONCERT REVIEW

Concert review: Rock great Brian Wilson smiles with lost symphony
Jon Bream, Minneapolis Star Tribune
October 1, 2004 SMILE1001
The notion of a "U.S. premiere" of a work of pop music might sound pompous, or at least hyperbolic. However, in the case of Brian Wilson's "Smile,"premiere" is not only appropriate but it's just the beginning of the story.
Wilson, 63, the guiding light of the Beach Boys, is regarded as the greatest composer of the rock era. He isn't a singer-songwriter like Bob Dylan or the team of Lennon-McCartney, but a composer of music like Burt Bacharach or Elton John. The greatest of Wilson's gifts was on full display Thursday night at the Historic Orpheum Theatre in Minneapolis, for -- yes -- the U.S. premiere of "Smile," Wilson's 1967 masterwork that has long been known as the most famous rock album never released. The live performance of the 45-minute work by Wilson and his 18 musicians was inspired and inspiring, curious and quirky, touching and triumphant.
But first, a little background. After 85 recording sessions in 1967, Wilson, then 24, aborted "Smile," which he called a "teenage symphony to God." The other Beach Boys disliked his ambitious work, and the drug-addled Wilson didn't handle the rejection, falling into a deep depression. A few of the songs from "Smile" came out on other Beach Boys albums but Wilson didn't revisit the work until last year.
He and lyricist Van Dyke Parks finished writing "Smile" in order to perform it live in London. The world premiere there in February was an enormous success, attended by Paul McCartney and Beatles producer George Martin.
No such famous faces were at the Orpheum, although the New York Times dispatched critic Jon Pareles. But there were 2,000 rabid rock connoisseurs who gave Wilson an 2½-minute standing ovation after he played "Smile," which he re-recorded this year and finally released this week.
Like the Who's "Tommy,"Smile" is a singular work but without a clear storyline. Parks' allusive, impressionistic lyrics trace manifest destiny in America and the pursuit of happiness.
However, "Smile" is more about the music. Wilson has created a kaleidoscopic American pop collage of symphonic proportions, a three-movement suite that features theme, variation, development and repetition, embracing everything from Copland-esque classical passages to "You Are My Sunshine" to Four Freshman-like harmonies.
When Wilson took the stage after intermission to begin "Smile," there was a noticeable transformation in his face from when he had played an hour of lesser known Beach Boys songs and his own solo tunes earlier in the evening. Suddenly, there was a gleam in his eyes, and the expressionless Buddah-like figure sitting behind a keyboard he rarely played started dancing on his piano stool. Wilson was not only very in the moment but he also seemed to be transported back to the studio in 1967, hearing all those sounds of "Smile" in his head and just hoping his musicians would play them just right.
They did, sounding better than the Beach Boys ever did -- from the lush symphonic sadness of "Surf's Up" to the childlike whimsy of "Vega-Tables" to the multi-layered ebullience of the closing "Good Vibrations," during which Wilson looked oddly hunched and paranoid before breaking into -- what else? -- a smile.
Jon Bream is at 612-673-1719 or
popmusic@startribune.com

Updated 9/27/2004
Brian To Perform On Leno Show
From NBC.com - The Tonight Show With Jay Leno
Wednesday, September 29: Brian Wilson,
the genius behind the Beach Boys, performs a song from the
most-anticipated, long-awaited CD in pop history, Smile




Updated 9/26/2004
THE WORLD AWAITS SMILE
As the release date for the Brian Wilson Presents Smile cd approaches, articles and reviews are popping up all over the world. Here is a list of links to these articles. Some may only last a day or two so hit them as soon as possible.
CLICK ON THE CD COVER FOR ARTICLE LIST

Updated 9/21/2004
SMILE ELECTRONIC PRESS KIT AVAILABLE
Warner/Reprise has released an electronic press kit for SMILE and has made it available for your listening and viewing pleasure.
SMILE EPK


Updated 9/17/2004
BRIAN ON THE ELLEN DEGENERES SHOW
Brian Wilson is scheduled to perform "Good Vibrations" on the Ellen Degeneres show this Wednesday , September 22 for what appears to be the first major US promotional activity for Smile. The Ellen show is syndicated and runs at different times in different areas. Check your local listings for the correct time.
Other things to look out for: Interview Mag-BW interviewed by Elton John,
Rolling Stone feature in Sept, Vanity Fair Q&A, NPR/All Things Considered (upon release),Access Hollywood, NY Times and LA Times features, AP, Tracks and Details in Oct, the cover of Bass Player mag, as well as multiple TV appearances
including the confirmed Charlie Rose. There will be a NPR
radio broadcast of the Carnagie Hall concert. There will be TONS of
advertising-TV and print-and in-cinema play. For you travelers, there
will be a United Airlines on-flight channel devoted to Smile. For all
you completists out there, keep your eyes peeled at your local record
stores for lots of merchandising items, including posters, postcards,
streamers, etc. with blow ups in certain stores.
Thanks to Ron Bierma
Updated 8/17/2004
Showtime To Run Smile Documentary

By Andrew Wallenstein
NEW YORK (Hollywood Reporter) - Showtime will premiere a new
documentary about the long-delayed completion of former Beach
Boy Brian Wilson's album "Smile" Oct. 5.
"Beautiful Dreamer: Brian Wilson and the Story of 'Smile"'
chronicles the masterwork from its aborted undertaking 37 years
ago to its resumption in February, including a London concert
performance.
"'Smile' is among history's great unfinished works, and this
extraordinary documentary will explain why," said Showtime
entertainment president Robert Greenblatt said. "Music fans, as
well as the average viewer, will all be able to relate to the
story of this remarkable record's birth, demise and triumphant
return to life."
The documentary includes interviews with Wilson, collaborator
Van Dyke Parks, session bass player Carol Kaye and drummer Hal
Blaine. Wilson and Parks began work on "Smile" in 1966, but a
paranoid Wilson reportedly destroyed most of the tapes. The
sessions yielded such tracks as "Heroes and Villains" and
"Surf's Up," which turned up on later albums.
Updated 8/14/2004
Probable Date For Brian Duck Dodgers Cartoon
Though not officially announced, you can expect to see the Brian
Wilson episode of Duck Dodgers, titled "Surf The Stars" on
Saturday January 15 ( or if you prefer late Friday night 1/14)
at 12:30am of 2005. The new season started last week and
episode 2 was shown earlier today.

Updated 8/10/2004
ANOTHER ALERT!
Once again, Brians appearance on the Larry King show on CNN has been rescheduled, this time for THIS COMING FRIDAY August 13 at 9pm. The show is repeated at least twice overnight.

Updated 8/6/2004
The full North American SMILE Tour Schedule is now available. Please note that there have been a couple of changes made as far as what dates were originally announced in certain cities. SEE COMPLETE SCHEDULE HERE
Updated 8/2/2004
ALERT
BRIANS APPEARANCE ON THE LARRY KING SHOW HAS BEEN POSTPONED UNTIL AUGUST 19 DUE TO BREAKING NEWS EVENTS


Updated 7/23/2004
Another Florida Venue Announced
Brians performance on Thursday, 10/21/04 will take place in Morsani Hall at the Tampa Bay Performing Arts Center
in Tampa, FL at 7:30PM

Updated 7/9/2004
New Concert Date and Venue Confirmed
Brian Wilson will be appearing at the King Center For The
Performing Arts in Melbourne Florida on October 18.
Ticket info at 321-242-2219

Updated 7/1/2004
Brian On Larry King
Brian has taped an interview with Larry King that is slated to air on August 2 on CNN
================================
Gettin In Over My Head made it's Billboard Hot 100 debut this week at number 100.

Updated 6/12/2004

First US Smile Concert Date Announced!
Brian Wilson will be perfoming Smile at the Chastain Park Ampitheatre in Atlanta onOctober 16. Tickets on
sale NOW!

Updated 6/5/2004
Brian At Tower Records
Brian has scheduled an appearance, with possible performance at the Tower Records store on Ventura Blvd. in Sherman Oaks, CA on Sat 06/26/04 . No details are yet available, but this appearance MAY be an signing session with a performance, to promote the new Gettin In Over My Head CD.

Updated 6/1/2004
Gettin In Over My Head Preview!
For those of you waiting for a sneak preview of Brian's upcoming cd, look no further. Click here then click on "musik"


Updated 5/18/2004
Brian's "SMiLE" To Get Offical Release
From http://www.nme.com/news/108523.htm
BRIAN WILSON is to release an all new recording of the lost
BEACH BOYS album 'SMILE'.
Wilson and lyricist Van Dyke Parks, who collaborated on the
original 'Smile' sessions in 1966-67, listened together to the
37-year-old tapes in November last year.
Now, an all-new studio recording of 'Smile' will be made
available by Nonesuch Records on September 27. The album will be
produced by Wilson and will feature the ten-member band that has
supported him on tour over the past five years, and will also
feature The Stockholm Strings and Horns.
The ex-Beach Boy is currently working on the new version of the
record at the Sunset Sound studio in LA.
NOTE: September 27 is the UK release date. US date is September 28.
Updated 5/10/2004
Here is a look at the cover , by Sir Peter Blake, for Brian Wilson's upcoming cd, Gettin' In Over My Head, due for release on June 22.

Updated 5/7/2004
Cartoon Brian
Brian Wilson
He's not exactly known as the most articulate musician in the
biz, but Brian Wilson has been hired to do some voiceover work.
According to Billboard.com, Wilson will appear on an upcoming
episode of Duck Dodgers, which is essentially a Donald Duck vs.
Marvin The Martian kind of affair. Wilson will play an animated
version of himself — we're not sure if he'll be human or
duckified. The cartoon Wilson will act as a spiritual adviser to
the title character, as played by Donald Duck. The show airs in
Canada on Teletoon.
How did the former Beach Boy hook up with the Duck Dodgers
people? No, they didn't hunt him down after catching a rerun of
the Beach Boys episode of Full House (you know, the one where
Uncle Jesse joins the band on stage for a rendition of
"Kokomo"), it was actually Wilson's people who came up with the
idea. Billboard reports that the people behind Wilson's
publishing company approached the Duck Dodgers staff, who
quickly whipped up a Wilson-centred script.
In addition to his acting talents, Wilson also contributed a
song to the cartoon's soundtrack. The track, "Believe In
Yourself," which was inspired by the good times Wilson had in
the sound booth, plays several times throughout the episode.
In addition to the cartoon action, Wilson has also been hard at
work on the musical front. His upcoming solo album, Gettin' In
Over My Head, will hit stores on June 22.

http://www.chartattack.com/damn/2004/05/0710.cfm

Updated 4/27/2004
Track Listing For Gettin' In Over My Head
Though not yet "officially" confirmed, the following is expected to be the final track listing for Brian's upcoming CD
How Could We Still Be Dancin' (feat. Elton John)
Soul Searchin' (feat. Carl Wilson)
You've Touched Me
Gettin' In Over My Head
City Blues (feat. Eric Clapton)
Desert Drive
A Friend Like You (feat. Paul McCartney)
Make A Wish
Rainbow Eyes
Saturday Morning In The City
Fairy Tale
Don't Let Her Know She's An Angel
The Waltz (with Van Dyke Parks)
No word on whether any non US versions of the cd will contain bonus tracks, however it is a pretty good guess that at least the Japanese version will have something extra as it is practically a requirement to gain release in Japan


Updated 4/17/2004
Release date set for new Brian Wilson CD
June 22 is the release date for Brian Wilsons first cd of new material since Imagination in 1998. The CD,titled Gettin In Over My Head features guest performances by Paul McCartney, Elton John, Eric Clapton and Carl Wilson. No date has been announced for foreign release.
Updated 2/23/2004
Another great review, this one from Billboard.com


Updated 2/20/2004
First Smile concert review in!
From New Musical Express
ALL SMILES IN LONDON
BEACH BOYS star BRIAN WILSON has played the 'lost' album 'SMILE' for the first time ever in LONDON.
The singer played the first night of a residency at the London Royal Festival Hall this evening (February 20), the first dates on a tour which will visit other cities throughout the UK this month.
The gig itself was split into two sections. The first opened with a fifteen minute acoustic set, followed by a 'Greatest Hits' show. During this, Wilson, backed by an 18-piece band, performed a number of songs from 'Pet Sounds', including 'God Only Knows' and 'Wouldn't It Be Nice'.
After a short interval Wilson then returned to the stage where 'Smile' was played for the first time in full.
The concept album was originally intended for release in 1967, around the same time The Beatles put out 'Sgt Pepper'. However, Wilson had a breakdown and the album was never finished, giving it almost mythical status amongst fans.
Throughout the performance Wilson appeared in good form, leading the band through songs like 'Heroes And Villains' and 'Vegetables', that saw each member of the group playing multiple instruments in the same song, while making use of more unconventional items such as hammers and saws. The set ended with a storming run-through 'Good Vibrations'
=============================================
He Can't Suppress a "Smile"
from the LA Times
By Randy Lewis, Times Staff Writer
Brian Wilson buried a musical masterpiece 37 years ago. His
doubts now gone, the former Beach Boy has revived and reshaped
the songs.
There's no surf, no sand, no little deuce coupes and only a
couple of California girls in sight of the North Hollywood
recording studio. Inside, the 61-year-old architect of "Good
Vibrations," "Surfin' U.S.A." and "Fun, Fun, Fun" sits
stoically at his keyboard, surrounded by a small army of
musicians, and stares into one of two video monitors.
Song lyrics crawl across the screens as the other performers,
most of whom weren't born when Brian Wilson's songs topped the
charts four decades ago, serve up the densely layered vocal
harmonies and rainbow of instrumental colors that his
compositions require.

Wilson frequently looks away from the monitors and occasionally
switches them off, but likes them nearby as a safety net.
Who can blame him? The songs he's working on aren't the
familiar
rock hits he created with the Beach Boys, those relentlessly
sunny tunes that painted a fantasy of Southern California life
as an endless summer of perfect waves, hot rods and blond
beauties.
Instead, he's putting the finishing touches on a work he dreamed
up 38 years ago, at the height of his creative rivalry with the
Beatles.
After years of wrestling with depression and drug and alcohol
abuse, after half a lifetime of trying to forget his fabled lost
masterwork, Wilson can smile again.
"This feels so good," he says to a reporter when the session is
over. "So good I can't believe it."
Tonight, he'll unveil "Smile" at a concert in England, where
fans have long accorded him the heroic status that Americans
reserved for the Beatles. Paul McCartney is expected to join him
on stage during at least one of six sold-out shows at London's
Royal Festival Hall.
Over the next three weeks, Wilson will give 16 "Smile" concerts
in Britain, Germany, Belgium, the Netherlands and France. He
plans a U.S. tour in the fall to coincide with the CD release of
the newly recorded work.
To tens of thousands of pop fans, Wilson's completion of "Smile"
is no less exhilarating than the discovery of a completed
manuscript for Schubert's "Unfinished" Symphony would be to
classical music scholars.
"I can hardly wait," says Rick Rubin, a producer who has worked
with acts ranging from Johnny Cash and Tom Petty to the Red Hot
Chili Peppers and the Beastie Boys.Wilson, his hair now streaked
with gray but still thick and full, has been touring regularly
since 1998,something many pop fans never thought they'd see,
given his history of emotional instability.
Now they'll get the music that most never dreamed they would
hear.
The Beatles' Rivals
Wilson was 24 when he went to work on the album he conceived as
"a teenage symphony to God."Originally to be called "Dumb Angel"
to reflect its themes of humor and spirituality, it was
retitled
"Smile." It was 1966, and a string of more than two dozen hit
singles and 10 hit albums had made the Beach Boys, a band from
Hawthorne, the most popular American group and the Beatles'
chief rivals atop the sales charts. Pop music was going through
a transformation in which the album was supplanting the
three-minute single as the dominant format.
Wilson has long said he felt a sense of artistic competitiveness
with the Fab Four. Each group has acknowledged the influence of
the other.The Beatles' 1965 album "Rubber Soul" inspired Wilson
to move beyond the teen simplicity of the Beach Boys' early work
to the musical maturity and emotional expressiveness of 1966's
"Pet Sounds."The ambitions of "Pet Sounds" helped spur the
Beatles to new heights in their next album, "Revolver."Wilson
was determined to top his rivals again with "Smile." He promised
it would be as much of a progression over "Pet Sounds" as that
was over its predecessor, "Beach Boys Party!""Smile" was
expected at the end of 1966 — while the Beatles were working on
"Sgt. Pepper's Lonely Hearts Club Band."
Immediately after "Pet Sounds," Wilson created the band's most
intricately crafted recording, "Good Vibrations," a song
intended for "Smile." It became the Beach Boys' biggest hit up
to that time, proof that there was a market for Wilson's
increasingly sophisticated music.
Wilson's further evolution with "Smile" stemmed from his
collaboration with Van Dyke Parks, a Mississippi-born singer,
songwriter, pianist, arranger and producer who had moved to
Southern California in the 1950s.
Parks brought a strong literary sensibility to the lyrics he
wrote for "Smile," which he and Wilson envisioned as a work
rooted in American history, culture and musical vernacular. It
was to contain doses of comic-book humor reflecting the
whimsicality of the dawning psychedelic age. (Jimi Hendrix
once described what he'd heard of "Smile" as the music of "a
psychedelic barbershop quartet.")
But Parks' impressionistic lyrics led to dissension among the
Beach Boys. Mike Love, the band's front man during concerts, was
particularly sensitive to pleasing fans and found Parks' lyrics
obscure.Other band members worried that "Smile's" musical
sophistication wouldn't translate into radio hits. By then,
Wilson had left behind the simple three-chord pop song in favor
of careening melodies, unconventional chord progressions and
shifting sonic textures.
Complicating the picture, the group was attempting to start its
own label, Brother Records. As part of that move, the band sued
Capitol Records.
Capitol printed nearly half a million "Smile" album covers,
anticipating the arrival of a master tape in fall 1966. But
Wilson, working in the studio while the other Beach Boys were on
tour, missed deadline after deadline as he continued polishing
his work.
Lack of support from his band mates was a factor in the delay.
But he also was feeling stress from the lawsuit and the weight
of his responsibility for ensuring the livelihood of the
ever-expanding Beach Boys family — on top of an ongoing struggle
with his domineering, abusive and jealous father, Murry.
The final blow came in June 1967 with the release of "Sgt.
Pepper's Lonely Hearts Club Band." Wilson had been bested by his
rivals, and he scrapped "Smile."
The band later came out with a watered-down version called
"Smiley Smile," a faint echo of Wilson's original vision.
Myth Versus Fact
The fate of "Smile" has become legend. Although most of the
world never heard the album, several influential musicians and
journalists were allowed into some of the recording sessions in
late 1966 and early 1967.
The idea that rock music might be considered art rather than
merely entertainment was in its infancy. Yet no less an
authority than Leonard Bernstein expressed admiration for the
sophistication of "Surf's Up," one of "Smile's" cornerstone
tracks, played for him as part of a CBS News documentary about
a
new generation of musicians.
Unlike the guessing game often played with legendary rockers who
died prematurely — what music might Hendrix, Buddy Holly or Jim
Morrison have made had they lived longer? — the fantasizing
over
"Smile" is based on more than wishful thinking.
Most of the album's songs had been recorded by the time Wilson
abandoned the project. For years they lay dormant; reel upon
reel of tape waiting to be stitched together and brought to life
by their creator. Eventually, tantalizing bits and pieces
surfaced, officially and unofficially.
Books and countless articles have been written about Wilson's
masterwork, and the theorizing has raged on via the Internet.
One enterprising group in Europe came up with "Project Smile," a
CD-ROM containing all the existing bits and pieces of the work,
circulated for free among users worldwide. That do-it-yourself
approach had been the closest possibility to a completed
version, because Wilson long refused to even discuss it.
"Until about three years ago, you couldn't even mention 'Heroes
and Villains' to Brian," Wilson biographer David Leaf said,
referring to another key song from "Smile." Leaf is making a
film documentary about the completion of the album.
But Wilson's attitude changed after the enthusiastic fan
response to his performance of "Heroes and Villains" at a 2001
all-star tribute to his music in New York.
He has not simply dusted off songs intended for "Smile." He has
reunited with lyricist Parks to structure the disparate pieces
into a fully developed three-movement pop suite and craft a few
new lyrics and musical links.
Out of the Darkness
Wilson says he was able to revisit perhaps the darkest chapter
of his past because "I have emotional security."
He gets it from his wife of nine years, Melinda, the three
children they've adopted, a team of doctors from UCLA that has
diagnosed and helped him manage his depression, and a
sympathetic group of musicians whose goal is to aid Wilson in
realizing his musical vision.
After failing to deliver "Smile," the Beach Boys continued to
produce acclaimed albums, but ceased to be a commercial force in
pop music.
Wilson retreated from the world, and his musical output slowed
to a trickle. Melinda Wilson believes that he was in the grip of
a depression that went undiagnosed and untreated.
"Like many people with depression who don't get proper
treatment, he tried to medicate himself with drugs," she says.
His first wife, Marilyn, brought in Hollywood psychologist
Eugene Landy to help Wilson in the 1970s. Landy lived 24 hours a
day with Wilson, recommended medication (provided by one of
Landy's associates who was an M.D.) and interceded in the Beach
Boys artistic and business decisions.
The band members and Wilson's relatives grew alarmed when Wilson
rewrote his will to make Landy the main beneficiary. They filed
suit against Landy, contending that the psychologist had taken
over Wilson's life. In 1991, a judge put the songwriter's
affairs under the control of a court-appointed conservator.
Melinda describes her husband's path back to "Smile" as
consisting of many "baby steps." It started with his resumption
of concert appearances in 1998, followed by a more ambitious
tour in 2000 in which he and his new band performed "Pet Sounds"
in its entirety.
Now, he says, at least privately to Melinda, the album he had
formerly written off as "a mistake" is "the best work I've ever
done."
It's not intended as a reconstruction of the album the world
should have heard 37 years ago. "It's the way I feel about the
music now," Wilson says.
And how does he feel about it now? "I think it's perfect."
Wilson talks about his music haltingly, at times giving clipped
responses of "yes," "no" or "I can't answer that question"; at
others offering simplistic-sounding explanations. (Asked how he
and Parks composed "Wonderful," a "Smile" song that dazzles
musicologists because it abandons the conventional notion of
key signature, he says, "We did it through concentration.")
Such comments reflect his inherent shyness, Melinda says. But
the impression that develops over the course of two interviews
is that what he feels about his music is the music and that
verbal explanations are, for Wilson, redundant.
Wilson doesn't appear concerned, nor does anyone in his
entourage, that after 3 1/2 decades of analysis and debate,
rumor and speculation, the myth will overshadow the music.
"It's so far beyond what I would have imagined it could be,"
guitarist Jeffrey Foskett says after a complete run-through of
"Smile" at rehearsal.
"The way I see it is that the Beach Boys' first 10 albums made
them stars, 'Pet Sounds' made them great, and 'Smile' made Brian
Wilson a legend. I just hope that in completing this, it gives
him peace and lets him put this behind him after all these
years."
In one of "Pet Sounds' " directly autobiographical songs, Wilson
sang, "I guess I just wasn't made for
these times."
Now, he says, "I think the time is right."
Updated 2/7/2004
Congratulations to Brian and Melinda who just announced that they have a new son, Dylan Douglas Wilson. Dylan is their third child together and for Brian his fifth.

Updated 1/28/2004
Reformed Zombies, Brian Wilson Highlight Atkinson Tribute
The reformed Zombies, Brian Wilson Highlight Tribute To Ailing
Guitarist
(LAUNCH, 01/28/2004 3:00 PM)
By Dave DiMartino
A bittersweet reunion by iconic '60s pop group the
Zombies playing
together in the USA for the first time since 1965?and a
performance
by Brian Wilson highlighted a heavily-attended industry tribute
and
benefit concert for Paul Atkinson in Los Angeles Tuesday
(January
27) night.
Once the guitarist for the Zombies?best known for their '60s
hits "Time Of The Season," "She's Not There" and "Tell Her
No"?and
later a much-respected A&R executive at several record labels,
the
already ailing Atkinson was recently diagnosed with cancer. Held
at
the House Of Blues on the Sunset Strip, the event was organized
to
help defray medical expenses for the Atkinson family.
Among those also performing at the concert were artists with
whom
Atkinson had worked while at the CBS, MCA and RCA record labels,
including Bruce Hornsby, Michael Penn, Patty Smythe, Richard
Page of
Mr. Mister (all Atkinson signings) and Mickey Thomas of
Jefferson
Starship.
The evening's warmest reception was predictably accorded to the
Zombies, Atkinson's much-loved former band, whom he joined
onstage
for performances of "Time Of The Season" and "She's Not There."
It
was a reunion that few in the audience had ever expected to see.
"We
were talking yesterday," keyboardist Rod Argent noted from the
stage, "and we realized that in the last 37 years, we've only
all
been in the same room at the same time three times?and one was
yesterday when we rehearsed."
Much of the night's music was exceedingly familiar and drawn
from
the past, with most artists performing their best known songs?
Hornsby's "The Way It Is," Smythe's "Goodbye To You," Page's
"Broken
Wings," Thomas's "We Built This City"?and Wilson providing a
veritable mini-concert of hits, including "Good Vibrations,"
"God
Only Knows," "California Girls" and much more.
Hosted by radio personality Shadoe Stevens, the benefit also
featured several video tributes to Atkinson from former
workmates
including record executives Walter Yetnikoff, Rupert Perry, and
Ron
Alexenburg as well as David Letterman keyboardist Paul
Schaeffer.
Additionally, Atkinson was presented with the Recording Academy
President's Merit Award by NARAS President Neil Portnow.
A silent auction at the event included items donated and
autographed
by the night's performers, as well as BB King, David Bowie, By
Dylan, Tom Hanks, and Matchbox 20, among others.
All proceeds for the event went to the Atkinson Family Trust as
wells as the Gift Of Life Foundation and The United Network For
Organ Sharing. Further contribution may be sent directly to The
Atkinson Family Trust in care of Klein & Company, 11726 San
Vicente
Boulevard, Suite 420, Los Angeles, Ca 90049.


________________________________________________
Updated 1/11/2004
No SMILE for Edmonton
The announcement on the official Edmonton Chamber Of Commerce site has been changed and no longer suggests that Brians upcoming show on January 30 will be a "Smile" show. The website originally had touted this concert as being a "dress rehearsal" for the upcoming Smile tour of Europe.

Updated 1/5/2004
Brian To Perform At Paul Atkinson Benefit Concert
One-time Zombies member Paul Atkinson will be presented with NARAS'
President's Award on Jan. 27 at the West Hollywood House of Blues.
The event will also help raise funds for the ailing Atkinson, who has
had two liver transplants, undergoes regular dialysis due to kidney
failure and was recently diagnosed with inoperable cancer. Radio
personality Shadoe Stevens will host, with performances by Zombies
Rod Argent and Colin Blunstone, Brian Wilson, Mr. Mister's Richard
Page, Michael Penn, Patty Smyth, Mickey Thomas, Don Was and Bruce
Hornsby. Contact George Ghiz at (310) 395-2386 for more info.

Updated 11/22/2003
Brian To Debut Smile Show In Canada
The Edmonton Chamber Of Commerce is reporting on their website that Brian Wilson will be debuting his Smile concert at The Chamber Ball in Edmonton Alberta, Canada on January 30 of 2004 before he takes the tour overseas to Europe. The article can be found at
Edmonton Chamber Of Commerce

Updated 10/8/2003
Fan Gathering Planned For Atlanta GA
Another fan gathering is in the works, this time in Atlanta Georgia on November 8th. More information can be found by clicking here
Thanks to Doug S


Updated 10/6/2003
Judge Rules Against Al
Beach Boys Member Hits Bad Note at Court
WASHINGTON - There was no "Fun, Fun, Fun" at the Supreme Court
Monday for a founding member of the Beach Boys.
The justices refused to hear an appeal from guitarist Alan Jardine, who fought a court order that barred him from using the term "Beach Boys" in his touring band. The dispute arose from a split among the surviving members of the California surf band.
In 1998, Jardine began touring as "Beach
Boys Family and Friends" and as other names that included "Beach Boys."
He owns a quarter of the corporation formed to hold the Beach Boys trademark, but did not have the company's permission to use the band name. Jardine contends he formed his separate touring band after former bandmate Mike Love refused to tour with him.
The group had a string of hits in the 1960s, including "Surfin' USA,"
"Help Me Rhonda" and "Fun, Fun, Fun." It continues to perform, led by Love.
The case is Jardine v. Brother Records Inc., 02-1833.


BEACH BOYS ALBUM COVER SCREEN SAVER
NEW BEACH BOYS BOOK PUBLISHED
A new book, Add Some Music To Your Day: Analyzing and Enjoying The Music Of The Beach Boys, will be published by Tiny Ripple Books on December 22, 1999.
The book presents the "best of" Add Some Music, the respected and fondly-remembered Beach Boys fanzine of 1978-1984. Over 40 newly-edited articles, essays, and reviews provide a serious and critical perspective on the music of Brian Wilson and the Beach Boys.
Edited by Don Cunningham (editor and publisher of Add Some Music during the fanzine's seven-year existence) and Jeff Bleiel (author of That's All: Bobby Darin On Record, Stage & Screen), the book features insightful, opinionated commentary on the Beach Boys which has been unavailable for over 15 years.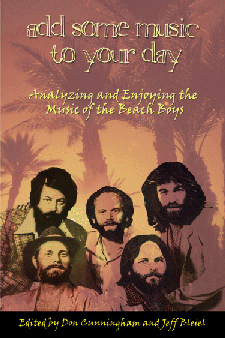 Highlights include:
Musical analysis of 17 Beach Boys classics, focusing on Brian Wilson's revolutionary and enduring triumphs as a composer, producer, arranger, and bandleader
Critical reviews of often-overlooked Beach Boys albums and singles
Comprehensive articles covering the works of Beach Boys Carl Wilson, Dennis Wilson, Al Jardine, and Mike Love
Over 35 photos, many of which have been unseen since their original publication
Many Beach Boys aficionados consider Add Some Music - a serious journal about the band's artistry and history -- to be the best fanzine ever published about the group. The articles now collected for the book Add Some Music To Your Day stand up as exceptionally perceptive commentary on the Beach Boys - writing which has never before received wide distribution.
Noteworthy among the 45 articles reprinted and re-edited for the book are Don Cunningham's in-depth analyses of Brian Wilson's beloved and acclaimed songs and productions. "Help Me, Rhonda," "Surfer Girl," "Good Vibrations," "Don't Worry Baby," "Heroes and Villains," "California Girls," and "Sloop John B" are among the classics covered. Lesser-known tracks such as "Car Crazy Cutie" and "Let's Go Away For Awhile" are also discussed.
Add Some Music To Your Day: Analyzing and Enjoying The Music Of The Beach Boys is available for $19.95 (plus $3 shipping) from Tiny Ripple Books, P.O. Box 1533, Cranberry Township, PA 16066. Pennsylvania residents must add 6% sales tax. Orders are now being accepted. For more information, visit www.tinyripple.com.


Capitol Records has just opened a new Beach Boys site mostly to promote the new Pet Sounds in stereo cd.
SITE ARCHIVES
September2002,September2003
April,May,June,July,August 2002
January,February,March 2002
October,November,December 2001
July,August,September 2001
April,May,June 2001
January,February,March 2001
October,November,December 2000
July,August,September 2000
April,May,June2000
Jan,Feb,March 2000
Oct,Nov,Dec 1999
July,August,September 1999
April,May,June 1999
Jan,Feb,March 1999
Oct,Nov,Dec 1998

Play these great albums for your non believer friends, buy them as gifts for family and friends.

CD'S IN CURRENT RELEASE
Gerry Beckley, Robert Lamm and CARL WILSON- LIKE A BROTHER TRANSPARENTMUSIC 500022
BRIAN WILSON -LIVE AT THE ROXY THEATRE BRIMEL 1001 (
BEACH BOYS - GREATEST HITS VOLUME3 "BEST OF THE BROTHER YEARS"
CAPITOL RECORDS 72435-24511-2/8; 4/2
BEACH BOYS - GREATEST HITS VOLUME 1 CAPITOL RECORDS 724352186020
BEACH BOY - GREATEST HITS VOLUME 2 CAPITOL RECORDS 724352023820
BRIAN WILSON - IMAGINATION GIANT RECORDS 9 24703-2
BRUCE JOHNSTON/MIKE LOVE AND THE ROYAL PHILHARMONIC ORCH. - SYMPHONIC SOUNDS INTERSOUND 9343
BEACH BOYS- ENDLESS HARMONY CAPITOL RECORDS 72434-96391-2-6
BEACH BOYS- ULTIMATE CHRISTMAS CAPITOL RECORDS 72434 95734-2-0
HOME VIDEO
BEACH BOYS : Endless Harmony DVD/ VHS
TWO LANE BLACKTOP: STARRING Dennis Wilson and James Taylor
Anchor Bay Entertainment VHS/DVD/LETTERBOX
*BRIAN WILSON : A Beach Boys Tale -A&E Biography AAE-17459 VHS
*Available at the Biography website or by calling 1-800-344-6336
BEACH BOYS : The Lost Concert Image Entertainment -ID5646SB VHS/DVD
BRIAN WILSON : Imagination Warner Video -38508-3 VHS
**BEACH BOYS : Nashville Sounds/The Making of Stars and Stripes
Image Entertainment - ID4514ERDVD DVD
**NOTE: According to the Image Entertainment Website, this is the version that contains In My Room with Tammy Wynette
========================
Brian appeared in a live chat with fans on AOL in July
Read the transcript here!

The liner notesfor the Net Sounds 2 fans tribute cd are here! Now hear clips of selected tracks in Real Audio!
Read about what everyone is talking about here!


Brian Wilson Ring site owned by Fans Of Brian Wilson.
[ Previous 5 Sites | Skip Previous | Previous | Next | Skip Next | Next 5 Sites | Random Site | List Sites


LINKS
Other Fine Brian Wilson/Beach Boys Sites