Bookmark this URL http://brianwilson.cjb.net
FOR THOSE WHO USE NEWS POSTED HERE ON THEIR OWN SITES,I WOULD APPRECIATE IT IF YOU WOULD PLEASE GIVE CREDIT TO: Imagination- A Web site for Brian Wilson and the Beach Boys - URL http://brianwilson.cjb.net
Post your thoughts and opinions about Americas Favorite Band
RED WHITE AND BLUE MESSAGE BOARD
Now you can chat about Brian and the Beach Boys with other fans in the Imagination Chat Room
CHAT ROOM
Looking for some hard to find Beach Boys items? Have some to sell? Want to make a trade? Place a free ad on our Trading Post page
TRADING POST
Play Beach Boys Trivia at Planet Trivia
Be forewarned, there are a few wrong answers and some questions that have more than one correct answer. You must sign up first before you can play.
Voice your opinion on various topics concerning Brian and the Beach Boys by participating in the Imagination
voting poll.
VOTE HERE

NEWS
Updated 6/30/00
Big news for all who have tickets to the Brian Wilson shows that will not have full orchestras . Plans have been changed and PET SOUNDS WILL BE PERFORMED in it's entirety at those shows too, without the orchestra.
= = = == = = = = = == = = == = = =
This holiday weekend is one full of Beach Boys on television
Saturday July1 VH1- Summer Dreams 4:30PM
(Also repeated on Monday July 10 at 3PM)
Monday July3 AMC-The Beach Boys Lost Concert 10:30PM
Monday July 3 CBS- Brian Wilson on David Letterman 11:30PM
Tuesday July 4 QVC- Presents An Evening With The Music Of Brian Wilson
8 to 9 PM
All times are Eastern USA


Updated 6/28/00
Two new dates have been recently added to the Brian Wilson tour and added to the concert schedule above. Sept 21 in Seattle and Sept 26 in SanDiego.
= = = = = = = = = =
Brian's appearance on QVC on July 4, will be from 8 to 9 PM Eastern time. He will be performing with his band, as many as six songs, the titles which have yet to be decided.

Updated 6/27/00
Happy 58th Birthday to Bruce Johnston
Updated 6/26/00
Vh1 will be showing the Beach Boys tele movie "Summer Dreams" based on Steven Gaines "Heroes and Villains" book, this Saturday July1 at 4:30PM Eastern Time.


Updated 6/20/00
Happy 58th Birthday to Brian Wilson
=====================
Beckley Lamm and Wilson's "Like A Brother" CD should be in stores today, featuring five songs with Carl Wilson lead vocals, including his very last recording called I Wish For You

Updated 6/19/00
Tune in today, Monday (19th) on the National Public Radio show "All Things Considered" to hear interviews, including one with Brian Wilson, about the making of "Good Vibrations".
For the correct time and date near you of All Things Considered, please click here for a list of NPR stations.
NPR
The program is now archived and can be heard in Real Audio here.


Updated 6/16/00

Former Beatle Paul McCartney, left,hands a plaque to former Beach Boy
Brian Wilson after Wilson's acceptance speech into the Songwriter's Hall of
Fame. (Stuart Ramson/AP Photo)
You can find the story that accompanies the picture at ABCNEWS

Updated 6/12/00
According to Chuck Kelly of Luxuria Music, here are the bonus tracks to be included on the self titled Brian Wilson CD scheduled to be reissued by Rhino Records in September:
BEING WITH THE ONE YOU LOVE
HE COULDN'T GET HIS POOR OLD BODY TO MOVE
LETS GO TO HEAVEN IN MY CAR
TOO MUCH SUGAR
THERE'S SO MANY (demo)
WALKIN' THE LINE (demo)
MELT AWAY (early version-alternate vocal)
LITTLE CHILDREN (demo)
NIGHT TIME (Instrumental Track)
NIGHT BLOOMIN' JASMINE (demo)
RIO GRANDE (early version - compiled rough mixes)
excerpts from Warner Bros. Electronic Press Kit
BRIAN ON "RIO GRANDE"
BRIAN ON THE SOURCE
BRIAN ON "LOVE AND MERCY"
Plus one "hidden" track - A Christmas greeting from Brian!
= = = = = = = = = = = = = = = == = = = = = = = = = = = = = = =
Lots of info, including sound clips,about the Beckley Lamm and Wilson "Like A Brother" CD can be found at this link:
Updated 6/10/00
Rhino Records is planning to reissue the self titled Brian Wilson CD, from 1988 tentatively on September 5th. No official word on whether bonus tracks will be included, and if so which titles.
= = = = = = = = = = = = = = = = = = = = = = = = = = = = = = = =
There is an interview with Brian Wilson in People Magazine, dated June 19. Rosie O'Donnell is on the cover.

Updated 6/9/00
Confirmed a report that Brian will be appearing on the QVC Shopping Network on July 4 at 8PM Eastern, presumably to sell his new Live CD. He is also planning to perform on this program. He is also scheduled to appear on the David Letterman show the night before, July 3.
Thanks to Joe Lynch


Updated 6/8/00
New date added to the Brian Wilson Tour
July 16 in Harrisburg Pa at the Whitaker Center
Also there is an unconfirmed concert scheduled for San Diego CA Humphries Concerts by the Bay on September 26.


Updated 6/7/00
The Brian Wilson concert in Batlimore originally scheduled for July 15 at Pier 6 has been moved to July 13.
Thanks to Connie


Updated 6/1/00
The Brian Wilson Concert scheduled for September 15 in Salt Lake City Utah has apparently been cancelled due to a date conflict.
Thanks to dave m


Updated 5/26/00
TOM PETTY, ELTON JOHN AND PETER BUCK PEN NOTES FOR BEACH BOYS REISSUES
Capitol Records' upcoming batch of BEACH BOYS reissues, which will feature the
band's Brothers Records output from the Seventies (including "Surf's Up,"
"Holland" and "Love You"), will feature liner notes by celebrity fans TOM PETTY,
ELTON JOHN, and R.E.M. guitarist PETER BUCK. The re-releases are tentatively
scheduled for Aug. 15. (From RollingStone.com)
Thanks to Marc Harry
In spite of the above article from Rolling Stone, Capitol Records released a press announcement stating the release date of the first batch of reissues will be July 18.
====================================
The Brian Wilson Live At The Roxy Theatre CD's weren't shipped this week as was expected. Word now is only that they will ship after the Memorial Day holiday here in the USA.

Updated 5/25/00
Here is the track listing for the upcoming
BRIAN WILSON LIVE AT THE ROXY THEATRE CD
Disc 1:
Intro
The Little Girl I Once Knew
This Whole World
Don't Worry Baby
Kiss Me Baby
Do It Again
California Girls
I Get Around
Back Home
In My Room
Surfer Girl
The First Time
This Isn't Love
Add Some Music To Your Day
Please Let Me Wonder

Disc 2:
Band Intros
Brian Wilson (BNL)
'Til I Die
Darlin'
Let's Go Away For Awhile
Pet Sounds
God Only Knows
Lay Down Burden
Be My Baby
Good Vibrations
Caroline, No
All Summer Long
Love And Mercy
Updated 5/18/00
The Brian Wilson Live At The Roxy Cd is scheduled to be shipped out to those who preordered it sometime next week.
= = = = = = = = = = = = = = = = = = =
Apparently there has been a settlement in the lawsuits between Brian Wilson and Joe Thomas regarding Wilson/Thomas Productions, resulting in the dissolution of that company. No details are available.

Updated 5/11/00
Members of the Break Away with Brian Wilson Fan Club who have preordered their Brian Wilson Live cd, will have them personally autographed by Brian. If you are not a member and wish to join you can join and preorder the cd at this link.
Celebrity Merchandise
You may want to send them an email at bw@celebritymerch.com
to ensure you get your cd signed.
=====================================
There are several concerts on the upcoming tour schedule that will not feature Brian performing with a symphony orchestra. These concerts will be similar to the concerts from last year, two sets divided by an intermission. Brian will not be performing the entire Pet Sounds album at these shows.

Updated 5/8/00
The upcoming Brian Wilson Live cd, recorded recently at the Roxy in LA will now be a double disc CD with no change in price.It was originally planned as a single disc, but according to a report by Jean Sievers of the Lippin Group, there was just too much good material to limit it to one disc. However, it is not one complete concert.
Updated 5/02/00
Reissue Update
LOS ANGELES - It will be an endless summer for Beach Boys fans as Capitol begins an extensive new phase of reissuing the group's back titles starting in June and lasting through next spring.
As part of the catalog effort, Capitol, for the first time, will reissue the Beach Boys sets that originally came out through the group's Brother/Warner Bros. deal as twofers - two albums on one CD at a single-disc price of $16.98.
Some of that material briefly resurfaced in the mid-'80s on Sony, but the titles were quickly deleted. Included in the releases is 1970's acclaimed "Sunflower," considered a gem in the Beach Boys' canon by many of the group's fans.
The reissues of the Capitol-era albums will be released as they were first reissued in 1990. "We've digitally remastered them, but they were done very well for the original reissue," says Capitol Records vice president Paul Atkinson. "They have the original cover art, introductions by Brian Wilson, plus liner notes by author David Leaf."
While firm dates are still being set, this new phase of the reissue program starts at the end of June with the Brother twofers.
The first slate features "Sunflower"/"Surf's Up"; "Carl And The Passions - So Tough"/"Holland" (a two-disc set to accommodate the bonus EP that came with "Holland"); and "The Beach Boys In Concert," formerly a two-album set now on one disc.
At the end of July or the beginning of August, Capitol will issue three more Brother twofers: "Love You"/"15 Big Ones"; "L.A. (Light Album)"/"M.I.U. Album"; and "Keepin' The Summer Alive"/"The Beach Boys."
The Brother twofers will also feature new liner notes. While negotiations are continuing for some upcoming sets, Billboard editor in chief Timothy White is penning liner notes for the "Sunflower"/"Surf's Up" twofer, while Crawdaddy! founder Paul Williams is writing notes for "The Beach Boys In Concert" set.
The Capitol reissues will begin in 2001. In February or March, the label will release "Surfin' Safari"/"Surfin' U.S.A."; "Surfer Girl"/"Shut Down, Volume 2"; "Little Deuce Coupe"/"All Summer Long"; "The Beach Boys Today!"/"Summer Days (And Summer Nights!!)."
In April or May, the next slate of twofers will be "Beach Boys Concert"/"Beach Boys '69 (The Beach Boys Live In London)"; "Friends"/"20/20"; "Beach Boys' Party!"/"Stack-O-Tracks"; and "Smiley Smile"/"Wild Honey." Not included in the reissue plans is the Beach Boys' masterpiece, 1966's "Pet Sounds," although that album's music figures heavily into the reissue marketing plan.
Wilson is slated to play up to 30 symphony dates this summer that will include a track-by-track recreation of "Pet Sounds."
= = = = = = = = = = = = = = = = = = = = = = = = =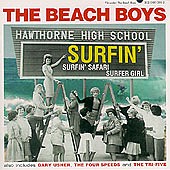 Apparently the long awaited "Surfin" CD on the UNI/VARESE SARABANDE label was released today.
Here is the track list.

Surfin'
Surfin' Safari
Luau
Barbie
Beach Boys Stomp (aka Karate)
Surfer Girl
Judy
What Is A Young Girl Made Of?
Surfin' Safari (Alternate Version)
Lavender (Demo)
Surfin' (Demo)
Come And Get It - The Tri-Five
Like Chop - The Tri-Five
R.P.M. - The Four Speeds
My Sting Ray - The Four Speeds
Updated 4/27/00
Another date has been added to the upcoming Brian Wilson Tour:
FleetBoston Pavillion: Brian Wilson (with a 55-piece orchestra
performing the music of ''Pet Sounds''), July 18, $54.50, $39.50; on sale
May
12.
Updated 4/22/00
After several false starts, it looks like the long awaited cd by Gerry Beckley, Robert Lamm and Carl Wilson is finally going to be released. Jazz musician Herbie Hancock plans to release the cd on his new label , Transparent Music, in June. It is not known if the album is still titled "Like A Brother" as previously announced. The CD is said to contain Carl Wilsons last song to his sons, called I Wish For You.
= = = = = = = = = = = = = = = = = = = = = = = =
Reports on several message boards are reporting that Brian Wilson will be bringing his Pet Sounds Tour to the Oak Mountain Amphitheatre in Birmingham AL on July 29

Updated 4/21/00
New Date for the Brian Wilson Pet Sounds Tour
Friday, August 25, 2000
PNC Bank Arts Center Holmdel New Jersey
Tickets on Sale: Apr-29-2000 through Ticketmaster
Thanks to Nothimagain

Updated 4/19/00
VH-1 ROCKSTORY: REBELS WITH A CAUSE
(Premieres from 10-11p.) On Sunday, April 23, repeated on Tue Apr 25 3:00PM
* President Reagan's Secretary of the Interior tries to ban the Beach Boys from
playing July 4th on the D.C. Mall.
This appears to be the program that Steve Tierney was involved with. If you recall, Steve was asking for Beach Boys memorabilia , such as James Watt masks to use in an upcoming VH1 special. Check the most recent site archive for Steves message.

Updated 4/15/00
This Isn't Love, a song Brian Wilson recently performed at the Roxy Live CD tapings for the first time with Tony Ashers lyrics, is also on the Flinstones Viva Rock Vegas soundtrack performed by Alan Cumming.

Updated 4/13/00

Here are the current known dates for the upcoming Brian Wilson "Pet Sounds" tour:
Sun 07/09/00
Gilford,NH
Meadowbrook Farm Musical Arts Ctr.
Ticket Info
Friday 7/14/00
Philadelphia, PA
Mann Center For The Performing Arts
Friday 7/21/00
Auburn Hills, MI
Pine Knob Music Theatre
7:30 PM; $29.50 pavilion; $15.50 lawn
Monday 7/24/00
Denver, CO
Venue not known
Sun 09/24/00
Los Angeles, CA
Hollywood Bowl
Philadelphia and Denver have not been officially confirmed, but are pretty certain to be correct.
Tickets for some but not all events will be sold through TICKETMASTER
Updated 4/12/00
There is a new album out by Michael Angeloff that
contains two songs that feature Carl Wilson's last vocal performances. Billy Hinsche also provides vocal and instrumental support.
Info. about this album can be found at Michael's site at:
http://www.Michaelangeloff.com
=======================================
A review of the April 7 Brian Wilson at the Roxy concert can be found at the Variety link below

Updated 4/11/00
Court TV is rerunning the episode of its series "Hollywood and Crime" titled "Leader Of The Pack", that includes a piece on Brian Wilson on the following times and dates:
Friday April 14 7:30PM
Saturday (late night Friday) April 15 1:30AM
April 16 7:30PM
ALL TIMES ARE EASTERN , USA
=========================================================
Setlist from the second night of Brian Wilson shows at the Roxy was identical to the first show.
There has been speculation that due to the number of songs performed by Brian and also to the somewhat higher than normal selling price of the live cd, that it would be a 2 cd set. This is NOT the case. It will be a single disc, composed of a combination of the best of both nights performances.

Updated 4/8/00
Setlist from last nights Brian Wilson concert at the Roxy in LA
SET ONE:
The Little Girl I Once Knew
This Whole World
Don't Worry Babby
Kiss Me Baby
Do It Again
California Girls
I Get Around
South American
Surfin' USA
Back Home
In My Room
Surfer Girl
The First Time
This Isn't Love (with lyrics)
Add Some Music
Please Let Me Wonder
SET TWO:
Brian Wilson (Yes, Bare Naked Ladies song)
Til I Die
Wouldn't It Be Nice
Sloop John B
Darlin'
Let's Go Away for Awhile
Pet Sounds
God Only Knows
Lay Down Burden
Your Imagination
Be My Baby
Help Me Rhonda
Good Vibrations
ENCORE
Caroline No
All Summer Long
Barbara Ann
Fun Fun Fun
Love and Mercy
Thanks to DP
Updated 4/6/00
Here is a link to a very interesting article about Brians upcoming concerts at the Roxy, his thoughts on the mini series and an interviw with Van Dyke Parks. The article also confirms what was reported here earlier, that Brian will be performing This Isn't Love.
Thanks to Sean M
Updated 4/4/00
Add this date to the upcoming Brian Wilson Pet Sounds Tour:
Philadelphia Pa July 14 Mann Music Center
Thanks to Barb Lang
NEW BEACH BOYS BOOK PUBLISHED
A new book, Add Some Music To Your Day: Analyzing and Enjoying The Music Of The Beach Boys, will be published by Tiny Ripple Books on December 22, 1999.
The book presents the "best of" Add Some Music, the respected and fondly-remembered Beach Boys fanzine of 1978-1984. Over 40 newly-edited articles, essays, and reviews provide a serious and critical perspective on the music of Brian Wilson and the Beach Boys.
Edited by Don Cunningham (editor and publisher of Add Some Music during the fanzine's seven-year existence) and Jeff Bleiel (author of That's All: Bobby Darin On Record, Stage & Screen), the book features insightful, opinionated commentary on the Beach Boys which has been unavailable for over 15 years.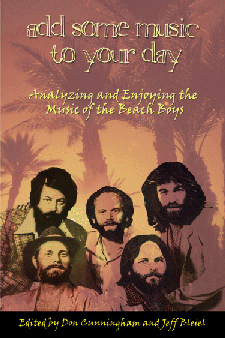 Highlights include:
Musical analysis of 17 Beach Boys classics, focusing on Brian Wilson's revolutionary and enduring triumphs as a composer, producer, arranger, and bandleader
Critical reviews of often-overlooked Beach Boys albums and singles
Comprehensive articles covering the works of Beach Boys Carl Wilson, Dennis Wilson, Al Jardine, and Mike Love
Over 35 photos, many of which have been unseen since their original publication
Many Beach Boys aficionados consider Add Some Music - a serious journal about the band's artistry and history -- to be the best fanzine ever published about the group. The articles now collected for the book Add Some Music To Your Day stand up as exceptionally perceptive commentary on the Beach Boys - writing which has never before received wide distribution.
Noteworthy among the 45 articles reprinted and re-edited for the book are Don Cunningham's in-depth analyses of Brian Wilson's beloved and acclaimed songs and productions. "Help Me, Rhonda," "Surfer Girl," "Good Vibrations," "Don't Worry Baby," "Heroes and Villains," "California Girls," and "Sloop John B" are among the classics covered. Lesser-known tracks such as "Car Crazy Cutie" and "Let's Go Away For Awhile" are also discussed.
Add Some Music To Your Day: Analyzing and Enjoying The Music Of The Beach Boys is available for $19.95 (plus $3 shipping) from Tiny Ripple Books, P.O. Box 1533, Cranberry Township, PA 16066. Pennsylvania residents must add 6% sales tax. Orders are now being accepted. For more information, visit www.tinyripple.com.


Capitol Records has just opened a new Beach Boys site mostly to promote the new Pet Sounds in stereo cd.
A & E , at their Biography site, is offering the Brian Wilson
Biography video for $14.95. They also are offering
a package deal with the video and the Pet Sounds box set for $44.95.
Though the video alone is being sold to US and Canadian residents, the package deal is for the US only. You can order either from their website or by phone at 1-800-344-6336
For members of the Brian Wilson Fan Club,the new management of the club, Celebrity Merchandise, has released the following announcement :
Hello Brian Wilson Fans,
We would like to let you know that Mail Mann will now be managing Brian Wilson's Breakaway Fan Club. If you are already a subscriber, your subscriptions to the newsletters will be honored. If possible, would you please return via e-mailyour current status so we can double-check the files we've inherited. This will greatly help us during the transition process to keep things running smoothly.
The Fan Club will be offering a Fan Club Kit, bio's, photos and surprises throughout the year. If you are interested in joining the Brian Wilson's Breakaway Fan Club, please return e-mail your complete name and "snail-mail" address with Brian Wilson on the subject line and we'll send you all the information you'll need to join.
You can also "snail-mail" us at: Brian Wilson Fan Club, 15030 Ventura
Blvd, #710, Sherman Oaks, CA, 91403.
We would like to thank you for your comments, interest and continued support.
MAIL MANN
Celebrity Merchandise
http://www.celebritymerch.com
celbmrch@ni.net
SITE ARCHIVES
Jan,Feb,March 2000
Oct,Nov,Dec 1999
July,August,September 1999
April,May,June 1999
Jan,Feb,March 1999
Oct,Nov,Dec 1998

Play these great albums for your non believer friends, buy them as gifts for family and friends.

CD'S IN CURRENT RELEASE
Gerry Beckley, Robert Lamm and CARL WILSON- LIKE A BROTHER TRANSPARENTMUSIC 500022
BRIAN WILSON -LIVE AT THE ROXY THEATRE BRIMEL 1001 (currently only available through Celebrity Merchandise
BEACH BOYS - GREATEST HITS VOLUME3 "BEST OF THE BROTHER YEARS"
CAPITOL RECORDS 72435-24511-2/8; 4/2
BEACH BOYS - GREATEST HITS VOLUME 1 CAPITOL RECORDS 724352186020
BEACH BOY - GREATEST HITS VOLUME 2 CAPITOL RECORDS 724352023820
BRIAN WILSON - IMAGINATION GIANT RECORDS 9 24703-2
BRUCE JOHNSTON/MIKE LOVE AND THE ROYAL PHILHARMONIC ORCH. - SYMPHONIC SOUNDS INTERSOUND 9343
BEACH BOYS- ENDLESS HARMONY CAPITOL RECORDS 72434-96391-2-6
BEACH BOYS- ULTIMATE CHRISTMAS CAPITOL RECORDS 72434 95734-2-0
HOME VIDEO
BEACH BOYS : Endless Harmony DVD/ VHS
TWO LANE BLACKTOP: STARRING Dennis Wilson and James Taylor
Anchor Bay Entertainment VHS/DVD/LETTERBOX
*BRIAN WILSON : A Beach Boys Tale -A&E Biography AAE-17459 VHS
*Available at the Biography website or by calling 1-800-344-6336
BEACH BOYS : The Lost Concert Image Entertainment -ID5646SB VHS/DVD
BRIAN WILSON : Imagination Warner Video -38508-3 VHS
**BEACH BOYS : Nashville Sounds/The Making of Stars and Stripes
Image Entertainment - ID4514ERDVD DVD
**NOTE: According to the Image Entertainment Website, this is the version that contains In My Room with Tammy Wynette