IMAGINATION

THE WEB SITE FOR BRIAN WILSON AND THE BEACH BOYS
Bookmark this URL http://brianwilson.cjb.net
When using news from this site or linking to certain areas of it, please give credit to Imagination- A Web site for Brian Wilson and the Beach Boys - URL http://brianwilson.cjb.net
If you have accurate confirmable news , please e-mail it to me at loveandmercy@hotmail.com and if, used will gladly give full credit to the source


Brian Wilson and the Beach Boys"GOLD ROOM"Message Board
CLICK HERE TO POST YOUR MESSAGE
The liner notes for the Net Sounds 2 fans tribute cd are here!
Read about what everyone is talking about here!
---
NEWS
---
Updated 3/22/99
Break Away With Brian Wilson has added 4 dates in Japan to Brian's Tour itinerary.
JULY 9 OSAKA JAPAN Kosei nenkin hall
JULY 12 , 13, 14 TOKYO JAPAN International Forum A
Also tour hats, tees and sweat shirts are available at the site.
Thanks to Doug and Ray N
---
Updated 3/19/99
There is an article on Brian in this weeks issue of TIME magazine
=====================
Tickets go on sale Saturday March 20 for Brian's June 21concert at Symphony Hall in Boston online at 10:00am. You can also charge them by phone at 617-931-2000

---

Updated 3/18/99
Rolling Stone Online features a review of Brian's Minneapolis concert from March 13.
Thanks to Matt
---
Updated 3/16/99
According toGiant Records website a new date has been added to the next leg of Brian's concert tour.
6/14/99 Wolftrap Washington DC
Here is the complete tour schedule as of today.
6/14/99 Washington DC Wolftrap
06/15/99 Northampton MA Calvin Theater
06/17/99 Upper Darby(Philadelphia) PA Tower Theatre
06/18/99 New York NY Beacon Theatre
06/20/99 Uncasville CT Mohegan Sun Casino
06/21/99 Boston MA Symphony Hall
====================================
Former Beach Boys and current Brian Wilson side man Jeffrey Foskett left this post on one of the message boards yesterday.
Posted by Jeffrey Foskett on March 15, 1999
Yes, It's really me and I am breaking one of my Cardinal rules by posting something on the Internet. I wanted to accomplish a couple things. I will start by saying that I truly appreciate all of your support not only at the shows but especially on this message board. It means a great deal to all of us on the road and mostly to Brian. Friends of mine have been FAXING me daily reviews
and quotes posted by you folks and I have been passing them around. Everyone Involved in the tour is thrilled at the response. On stage it is fantastic to see such enthusiasm in the audience and then to have it verified by the people that were in attendance is even better. Thank you very much! I will now address a couple of questions that we have read:
1. Yes, Brian's keyboard is plugged in and he does play it on most songs.
2. The TelePrompTer is for Brian's song list only. No lyrics were scrolled on the screens. I know, I
was standing next to him on stage.
3. The musicians were:
Brian Wilson - Piano and Vocals
Joe Thomas - Piano, Organ, and Vocals
Jeffrey Foskett - Guitar and Vocals
Todd Sucherman - Drums (Wow! What a great drummer)
Bob Lizik - Bass
Paul Mertens - Woodwinds and Harmonica
The Fabulous Wondermints:
Darian Sahanaja - Keyboards, Vibrophone and
Vocals
Nik Wonder - Guitar and Vocals (Great solo on
"Pet Sounds")
Mikey D'Amico - Percussion and Vocals
Probyn Gregory - Guitar, French Horn, Trumpet
and Vocals
The two background singers were Taylor Mills
and Scott Bennett
If you were fortunate enough to see the Rosemont or Milwaukee show you would have seen both Jim Peterik and Chuck Solmar from the Ides Of March sit in. Popular Chicago based DJ Steve Dahl played each show. He added Guitar and Theramin. Our fabulous soundman was Frank Pappalardo and our Lighting Director was Dave Ambroglio. Our entire crew was top notch and
all of the shows ran very smoothly. I think this would be a great time to say that every fan of Brian's owes Joe Thomas a very big thank you for co-producing the "Imagination" CD and for getting Brian to sing in his Falsetto voice again. He was instrumental in putting this tour together and hey, he had the good sense to hire me! Also, I must mention how happy Brian is. At the end of the tour dinner last night he said he has rarely been more content than now. I think that Melinda and his two daughters have a great deal to do with this.

---
Updated 3/14/99
Reviews from the Minneapolis and Milwaukee shows are now available at the links below!
March 12 Concert Review - Milwaukee Journal-Sentinel
March 13 Concert Review - Minneapolis Star-Tribune

---
Updated 3/12/99
Add this review from the LA Times to the growing list of good positive press about Brian's tour.
LA Times Review
---
Updated 3/11/99
Tickets for Brian's concert at the Tower Theater in Philadelphia on June 17 will go onsale online at 10:00AM this Saturday 3/13/99.Charge by phone at 215-336-2000
Here is an interview with Brian , scheduled to be published tomorrow, 3/12, in the Minneapolis/St.Paul Star Tribune

In a very interesting article from todays St Paul Pioneer Press, Brian offers some contradictory comments about his future plans and also reveals his current contract status.
St Paul Pioneer Press Article

Here is an article on Brian from today's Milwaukee Journal Sentinel

Another rave review for Brian Wilson,this time from the Chicago Tribune for last nights concert at the Rosemont
Review
A&E has scheduled the debut of the Brian Wilson "Biography" for June 20th.
Thanks to Lee Dempsey of ESQ
---
Updated 3/10/99
Here is a review from the Detroit News of Brian's opening night concert in Ann Arbor.
Beach Boy opening is a hit.
By Wendy Case / The Detroit News
ANN ARBOR -- The first date on former Beach Boy Brian Wilson's four-date solo
tour began Tuesday night at the Michigan Theater in Ann Arbor. It started with a 23-minute film tribute to Wilson, comprised of past and present interviews with family and fellow musicians. The audience clapped riotously during the film, especially for segments featuring Wilson's late brothers and bandmates Dennis and Carl Wilson.
At the end of the film, the screen raised, revealing Wilson's 13-piece backing band which included co-producer Joe Thomas, California band The Wondermints and longtime
Beach Boys sideman, guitarist Jeff Foskett. Wilson, 57, took the stage and the band launched into an early Beach Boys track, Little Girl I Once Knew. It was an unusual choice for an opening number and it was followed by an even more eclectic set featuring a mix of obscure Beach Boys tracks, like This Whole World, numerous hits and a few tracks from Wilson's recent solo album, Imagination. Wilson's performance was much better than most people probably expected. His voice, while not as acrobatic as in his youth (Foskett handled some of the more extreme falsetto), was clear and in control. It was a very admirable performance.
What was truly astounding, though, was the show's production. The band was letter-perfect, delivering a majestic and surprisingly organic rendition of Wilson's songs. And the sound in the Michigan Theater was phenomenal. Closing with Fun, Fun, Fun, Wilson and Co. left the stage to a deafening standing ovation.
Another review of the concert from Wall Of Sound

---
Updated 3/9/99 10:25pm
SPECIAL UPDATE!
First report from Brian's Concert!
Thanks to Jon Kiger
The Show starts with a 20 minute video of Brian - shots
of early BB performances, some references to Carl, and clips from the various videos that have been out commercially over the years.
Set List:
She's Not the Little Girl I Once Knew, This Whole World, Don't
Worry Baby, Kiss Me Baby, In My Room, Surfer Girl, California Girls, Do It
Again, I get Around, Let's Go Away For A While, Pet Sounds, South America, Surfin USA
Intermission
Wouldn't It Be Nice, Sloop John B, This Could Be the Night, Lay Down Burden,
God Only Knows, Good Vibrations, Your Imagination, Help Me Rhonda, Be My Baby
Encore:
Caroline No, All Summer Long, Barbara Ann, Fun, Fun Fun.
Items For Sale: Hats $20, T-Shirts (not very good) $20, Sweat Shirts $40
Some members of the band:
Jeff Foskett, Joe Thomas, Steve Dahl, Bob Lindsay, Taylor Mills, and Scott Bennet
An incredible show. Do what ever you have to do to see these shows!


Today is the day when the tour many said would never happen, begins. Another interview with Brian is available in today'sDetroit News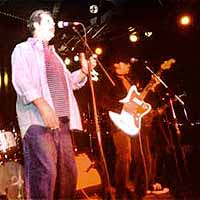 There will be reports from tonight's concert posted here immediately after the concert ends this evening.
Steve Dahl, who is accompanying Brian as a part of the back up band, will be covering the tour on his web page.
STEVE DAHL
---
Updated 3/7/99
Two new Brian Wilson interviews are available for reading . First one is from today's Boston Globe. The second is from Check This Out magazine.
---
Updated 3/6/99
For those of you who have never heard of or anything by the Wondermints, the band that is backing Brian Wilson on his upcoming tour, a Real Audio file of "I Want To Pick You" by lead vocalist Darian Sahanaja has just been added to the SOUNDS page.
---
Updated 3/4/99
Brian Wilson's tour schedule has been updated.Several new dates have been added.
UPDATED SCHEDULE
03/09/99 Ann Arbor MI Michigan Theater
03/10/99 Rosemont IL Rosemont Theatre
03/12/99 Milwaukee WI Pabst Theater
03/13/99 Minneapolis MN State Theatre
06/15/99 Northampton MA Calvin Theater
06/17/99 Upper Darby(Philadelphia) PA Tower Theatre
06/18/99 New York NY Beacon Theatre
06/20/99 Uncasville CT Mohegan Sun Casino
06/21/99 Boston MA Symphony Hall
---
Updated 3/3/99
The current issue of SoundWaves Magazine Online features a recent interview with Beach Boy Mike Love.


Mike Love in Soundwaves Magazine
When you reach the main page click on Cover Story
A Pre Concert Party is being organized for Brian's concert in Minneapolis on March 13 by Eric Olson.
Here is the info:
Let's generate some spirit together prior to BW's Minneapolis show March 13! A pre-concert party is scheduled from 5:30-7:30pm at MacKenzie's Pub, 918 Hennepin Avenue, Minneapolis (nearly across the street from The State Theatre and next door to the Orpheum Theatre.) It's intimate, classy, and not too smoky :) . They will have pizza and finger food available for purchase after five. Many local beer selections. Also on tap...music from BW, BB, The Wondermints, and The Wilsons on a great sound system. It's a one-minute walk to Brian's concert site. The manager is into it, but wanted to know if he needed to provide additional kitchen staff, wait staff, etc. If anyone is interested in attending this bash-ola please advise. Tell your friends . It would be a great help. Thanks!
Let's celebrate the SPIRIT OF ROCK AND ROLL!!!
Cheers, Eric Olson

---
Updated3/2/99
The fallout has already begun one day after the first major concert by
Al Jardine's Family and Friends Tour.
An new concert date has been added to Brian's upcoming tour. June 15 in Northampton MA, Brian will be performing with a ten piece band at the Calvin Theater. Tix range from $75 to $35 and can be purchased by calling 1-800-THE-TICKS
Current Brian Wilson Tour Schedule
March 9 -- Ann Arbor, MI (Michigan Theater)
March 10 -- Chicago, IL (Rosemont Theater)
March 12 -- Milwaukee, WI (Pabst Theater)
March 13 -- Minneapolis, MN (State Theater)
June 15 -- Northampton, MA (Calvin Theatre)
June 18 -- New York, NY (Beacon Theatre)
Tickets forThe Beach Boys Friends and Family May 15appearance inWillow Grove, PA (just outside Philly)are now on sale. Call215 336-2000 to charge.
Thanks to Barbara Lang

---
Updated 2/26/99
You can see and hear a 45 second Real Audio/Video clip of Brian from his interview at the Grammys from Monday Feb.22
For members of the Brian Wilson Fan Club,the new management of the club, Celebrity Merchandise, has released the following announcement :
Hello Brian Wilson Fans,
We would like to let you know that Mail Mann will now be managing Brian Wilson's Breakaway Fan Club. If you are already a subscriber, your subscriptions to the newsletters will be honored. If possible, would you please return via e-mailyour current status so we can double-check the files we've inherited. This will greatly help us during the transition process to keep things running smoothly.
The Fan Club will be offering a Fan Club Kit, bio's, photos and surprises throughout the year. If you are interested in joining the Brian Wilson's Breakaway Fan Club, please return e-mail your complete name and "snail-mail" address with Brian Wilson on the subject line and we'll send you all the information you'll need to join.
You can also "snail-mail" us at: Brian Wilson Fan Club, 15030 Ventura
Blvd, #710, Sherman Oaks, CA, 91403.
We would like to thank you for your comments, interest and continued support.
MAIL MANN
Celebrity Merchandise
http://www.celebritymerch.com
celbmrch@ni.net

PBS will once again show Brian Wilson: Imagination during their next fund raising drive. The date listed on the PBS site says March 8, 1999 at 12:00AM. However a glance at the entire days schedule indicates the actual date may be March 9, late Monday, early Tuesday. This date is for the satellite feed only. Local stations will once again air it at their convenience. As soon as some dates , times and stations are available from local PBS stations , I'll post them here.

---
Updated 2/24/99
ThePet Sounds Sessions boxed set lost out this evening to the Hank Williams set for the Best Historical Album Grammy.

---
Updated 2/22/99
The full text of Brian's Grammy chat can be read here!
Brian at the Grammys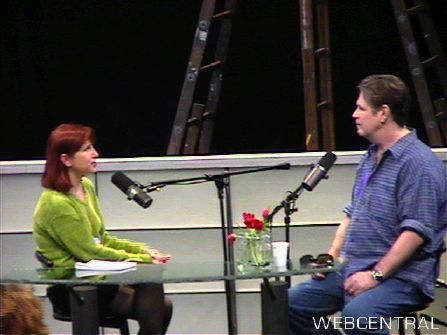 thanks to Jarle Brandvold
You can enter the 30 minute Grammy chat(?)/interview with Brian today at
6:00PM eastern time at the following links:
http://www.borders.com/cgi-bin/wh?m=grammy-live.html&df=2
or
http://www.talkcity.com/events/chat/grammylive/

---
Updated 2/2099
Here are some concert dates for the Beach Boys Family and Friends Tour as confirmed by Carnie Wilson
April 29th Canyonville, Or.
May 15th Willow Grove, PA (for "Vet Rock")
July 29th Troy, PA
July 31st Debuque, Iowa
---
Updated 2/19/99
Brian Wilson is scheduled to do a live chat on February 22, at 6:00PM Eastern at the Grammy.Comsite . For more information you can check out YACK.COM

---
Updated 2/17/99
If you are having problems locating the Brian Wilson "Imagination" video, you can pick it up for a steal at Music Blvd if you have never made a purchase from them before. Use this link if you are a first time buyer to receive a huge $10.00 one time only discount off their price of $17.99.
Music Boulevard Discount
Offer is good till March 31,1999
Also as posted below on this site, a $5.00 discount is available at CD World by using the link below
CD WORLD
Expiration unknown
The owner of this site posts these offers only to help visitors to this site and in no way benefits or profits from them.

---
Updated 2/9/99
Add June 18 at the Beacon Theatre in New York City as confirmed for the upcoming Brian Wilson tour. This makes five confirmed dates.
---
Updated 2/6/99
One year ago today the world lost one of its most beautiful voices.

CARL WILSON
1946-1998

---
Updated 2/4/99
Here is the first official notice concerning the Brian Wilson Tour from the Brian Wilson Fan Club
These are the ONLY CONFIRMED DATES FOR BRIAN WILSON:
March 9 -- Ann Arbor, MI (Michigan Theater)
March 10 -- Chicago, IL (Rosemont Theater)
March 12 -- Milwaukee, WI (Pabst Theater)
March 13 -- Minneapolis, MN (State Theater)
ALL OTHER DATES ARE NOT VALID. THERE IS NO NOTICE OF
RESCHEDULING AS OF 2/3/99 OF ANY DATES.
Thanks to MDH of BBFC

---
Updated 2/3/99
Rumors are flying like crazy over the fate of Brian Wilson's Concert Tour. Nothing has been confirmed publicly by either Giant Records or the Break Away site. When something official is announced it will be posted here.

---
Updated 1/27/99
Vh1 has scheduled some additional showings of Endless Harmony and also the Jan and Dean episode of Behind The Music. Here are the dates and times for the Eastern Time zone. Please check your local listings for all other time zones.
Endless Harmony - 1/28/99 11:00AM
2/1/99 1:00AM
Jan and Dean -Behind The Music -1/28/99 1:00PM
2/1/99 3:00AM
Update on the upcoming reissue series by Capitol. Previous reports of the release date being moved back to the fall are only somewhat true. According to Capitol, as of today , they are awaiting management approval, thus NO release date has been scheduled yet, making it possible that they may still be out before fall or not. Any other dates mentioned previously were more hopeful speculation than anything.
The program "Rock and Roll Moments" shown earlier this week on The Learning Channel ,featuring a segment on the Beach Boys, is not scheduled to be rebroadcast anytime before April. The next scheduled showings are on April 11 at 8PM and again at 11PM Eastern Time.

---
Updated 1/26/99
A strong ,but as of now, unsubstantiated by anyone involved in the project report, has Capitol Records delaying the release of the Beach Boys re-issue series until sometime this fall. Will report any update or comfirmation of the story as soon as it is confirmed.

---
Updated 1/19/99
AMC has scheduled a repeat showing of "The Lost Beach Boys Concert" on Saturday, February 6 at 10:00pm EST (and 4:00am EST) followed by "The Girls on the Beach" at 10:30pm EST (and 4:30am EST). "Beach Ball" will air on Saturday, February 13 at 10:00pm EST and 4:00am EST. "Beach Party" will air on Saturday, January 20 at 10:00pm EST and 4:00am EST. "Beach Blanket Bingo" will air on Saturday, February 27 at 10:00pm EST and 4:00am EST.
Brian Wilson's Imagination was scheduled for release today. For those of you thinking of buying it on the internet, you can get a one time only $5.00 discount from CD World at this special link .
CDWORLD Discount

---
Updated 1/16/99
Pollstar, the concert tour website, today updated the tour schedule for
Brian's Tour to the following:
03/09/99 Ann Arbor MI Michigan Theater
03/10/99 Rosemont IL Rosemont Theatre
03/12/99 Milwaukee WI Pabst Theater
03/13/99 Minneapolis MN,State Theatre
There is no other info on any of the other dates that were previously
announced, though Ticketmaster still has the Feb 24 show in New York and the Feb 27 show in Pittsburgh still listed and apparently are selling
tickets. I believe Pollstar is usually pretty accurate. Obviously this
whole tour gets more confusing and bizarre with each new day. What maybe a silver lining in a dark cloud is that they didn't cancel
everything.
Anyone with tickets for any of the shows should call the venue as often as
possible.
Tonight begins the Whiskey A Go Go 35th Anniversary celebration. All the festivies can be heard on a live webcast that can be accessed at the http://Whisky35.com/website. For more details please scroll further down this page.

---
Updated 1/14/99
The Beach Boys Lost Concert, recently shown on AMC, will be released on home video in both VHS and DVD format sometime this spring according to producer Jeff Josephs. No word as to if there will be any additional footage .
Thanks to Chip Hess
The Brian Wilson Imagination Home Video is scheduled to be released tomorrow, Friday, however there have been conflicting dates since the first day that it was anounced. Some online music sites are advertising it as being available on Tuesday, Jan 19.

---
Updated 1/13/99
For those of you unable to attend the recent Carl Wilson Benefit, here's
your chance to win a copy of the extremely limited edition "Long Promised
Road" compilation CD of Carl Wilson recordings and other prizes. Follow
the link and scroll down to the link to Carl Wilson Trivia Contest.
http://members.aol.com/saskanes/walk.html

Brian's concert in Milwaukee, WI scheduled for Feb 19, has apparently been postponed to a new date, March 12 and the concert in Minneapolis MN originally scheduled for Feb 20 has been postponed to March 13 .No official reason for the change of dates. Be sure to check with the venues yourself if you have tickets for either show. Ticketmaster now lists the new date for the Minneapolis show.
Thanks to Jeff H and Keith Queensen

---
Updated 1/12/99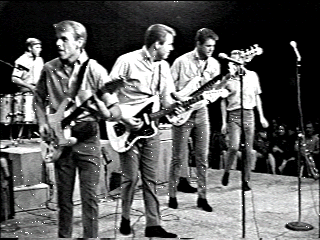 Chip Hess of CineVision has scans like this one on his website at http://www.suba.com/~chip from the recent AMC Beach Boys "Lost Concert" TV special.

---
Updated 1/9/99
Brian Wilson's concert in Toledo Ohio, originally scheduled for Sunday Feb. 28 has been postponed to a future date to be announced later according to Ticketmaster. There is also an unconfirmed rumor that the March 1 date in Cleveland Ohio has been cancelled. Will post more info as it comes in.
Thanks to Steve (AllMuse)
---
Updated 1/5/99
PET SOUNDS SESSIONS GET GRAMMY NOMINATION
In the "Best Historical Album" category, the Pet Sounds Sessions boxed set has received a much deserved nomination.
Thanks to Cal
Tickets for Brian Wilsons Feb 24 concert at New York City's Beacon Theatre will go on sale Monday, January 11 at 10:00am. No word yet on the Feb 25th show

---
Updated 1/4/99
The A&E cable tv network is preparing to do an episode of it's highly acclaimed "Biography" series on Brian Wilson, for broadcast this coming summer. Interviews with great performers like Carol Kaye have been ongoing since October.
Thanks to Marie L
Fan reaction to the Lost Beach Boys Concert broadcast this past Saturday on AMC has been unanimous , that this was a great great piece of Beach Boys history. Here is hoping that more similar type shows start turning up. It may be a good idea to drop AMC a line to let them know we want more. You can e-mail them at info@amctv.com
---
Updated 1/2/99
This was posted by Billy Hinsche on one of the message boards.
Hello. I'm producing the 35th anniversary 8-day event for The Whisky A Go Go on The Sunset Strip. It starts on Saturday,January 16th -- Saturday, January 23rd. I'd like to invite you to visit our site at: Whiskyagogo.com and our brand new site at Whisky35.com which will be "up" on Monday or Tuesday of next week. Beach Boys Family & Friends have been invited to
attend the opening night private party for owner, Mario Maglieri's 75th birthday. Brian and Melinda Wilson have also been invited. Performers that night are: Johnny Rivers, Nancy Sinatra, Grassroots and The Robbie Krieger band. Friday, January 22nd will be Terry Reid, Jan & Dean and Roger Mcguinn (with Jeff Foskett on guitar/vocals). Saturday, January 23rd will
include In Bloom and Chuch Negron. All nights will be broadcast on the Internet, taped and recorded for future release. Hope you can be there one or all of the nights. It should be incredible! See ya, Billy

---

Updated 1/1/99

More accolades for Brian Wilson's "Imagination' This time from MSNBC, listing Imagation as one of the TOP albums of 1998 .Here is what they have to say about it.

Brian Wilson, "Imagination" (Giant)
From the opening moments of the purely infectious first song, "Your Imagination," it is clear that the wave is breaking perfectly for the former Beach Boy. Wilson's trademark harmonies have rarely, if ever, sounded better. Sharing production with Joe Thomas, Wilson turns in a series of standouts, including the gentle acoustic and electric blend "Cry," the harmony-filled collaboration with J.D. Souther "Where Has Love Been?," and a wild, weird, occasionally dissonant gem of a finale, "Happy Days." Yet
the highlight of the disc may be "Lay Down Your Burden," an ode to Wilson's recently deceased brother Carl.
Here is the complete list of Top Albums of 1998 as chosen by MSNBC

Billy Bragg and Wilco, "Mermaid Avenue"
Aretha Franklin, "A Rose Is Still a Rose"
Patty Griffin, "Flaming Red"
P.J. Harvey, "Is This Desire?"
Lauryn Hill, "The Miseducation of Lauryn Hill"
Hole, "Celebrity Skin"
Michael Jones, "Originality"
Mary Lou Lord, "Got No Shadow"
Lyle Lovett, "Step Inside This House"
Liz Phair, "Whitechocolatespaceegg"
Pulp, "This Is Hardcore"
R.E.M., "Up"
Semisonic, "Feeling Strangely Fine"
Elliott Smith, "XO"
Rufus Wainwright, "Rufus Wainwright"
Lucinda Williams, "Car Wheels on a Gravel Road"
Brian Wilson, "Imagination"

If anyone has been having a hard time finding Beach Boys tee shirts,
check this site out. They feature four different tees , each with a car
theme and a song title. Songs featured are "Little Deuce Coupe", "Good
Vibrations", "Shut Down" and "409". They have pictures of each shirt
too.
Hot Rod Central

---
Updated 12/30/98
Al Jardine recently did an interview with Jim Freek for BAMM Magazine
A transcript of the interview can be read here.
Al In BAMM
---
Updated 12/27/98
This weeks Billboard Online has this to say about the late Carl Wilson in a section titled "Passings"
Beach Boys guitarist Carl Wilson, in Los Angeles. Along with his older brothers Brian and Dennis, and cousin Mike Love, Carl was a founding member of the Beach Boys in 1961 and became the group's "anchor." He recorded his first lead vocal in 1965, and his singing became increasingly prominent the following year. He took the lead on "God Only Knows," a key track on "Pet Sounds," and shared lead vocals with Mike Love on the No. 1 hit "Good Vibrations."
Also in this weeksBillboard Online, in a year end poll of the magazine'swriters and editors of the top albums of 1998, International Editor in Chief Adam White chose Brian Wilson's Imagination as the number 1 album of theyear and Paul Sexton, London Contributing Editor picked it as his
number 5 choice.

---
Updated 12/26/98
Brian is on the cover of Decemberissue of 20th Century Guitar Magazine. It features two very good articles on Brian including an interview with him. It's available at Barnes and Noble and other fine book and magazine stores.
Also check out the latest sound files added to the "Sounds" page.

---
Updated 12/22/98
The Beach Boys: The Lost Concertwill be shown on the AMCcable channel on January 2 ,1999. It's a 30 minute program featuring nine songs that supposedly was originally shown on a closed circuit broadcast in movie theaters in 1964. AMC will follow it with a showing ofGirls On The Beachand then at 4:00AM on Sunday Jan 3 (late night Sat/early Sun)they will repeat the concert.
thanks to Alice Amore
A Brian Wilson Home Video, IMAGINATION, is scheduled to be released on January 15th as a companion to the album and PBS special of the same name. Apparently this will include more footage than was seen in either of the previously shown versions, since it has a running time of 60 minutes and the PBS version ran approximately 44 minutes and the VH1 version ran 23 minutes.
Year/Program Street
Title Running Time Catalog No. Date Price
Brian Wilson 1999/ 60 mins. VHS/ 3-38508 1/15/99 $19.98
"Imagination"
thanks to TAD
---
Updated 12/17/98
You can find an article on Brian plus a picture of him onstage with the Wondermints at Rollingstone Network
---
Updated 12/16/98
Ticket info for Brian Wilson Tour
This is the latest concert schedule for the upcoming Brian Wilson tour. Note the date and venue change for Milwaukee.