Home Page
NEW!!! 1 TON AXELS, Front Dana 60 and rear Corp. 14 bolt Axles NEW!!! Front SOA, Outboard, Reversed Shackle Suspension NEW!!! 1/4 Elliptical Rear Suspension '72 350cu.in. Chevy
Dana 20 T-case
'77 CJ5 Fiberglass Body
So does it work?
More Photos

Talk to me
Axels
Chevy Full Floating Corp. 14 bolt from 1 1/2 ton Dually Tow Truck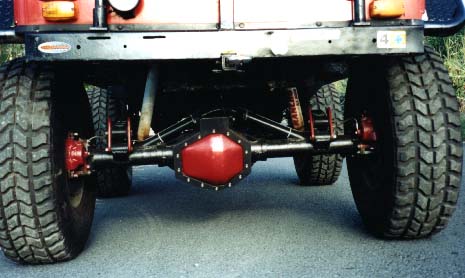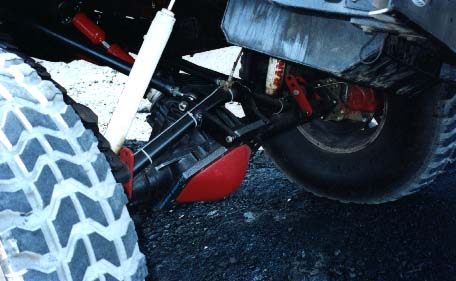 This Corp. 14 bolt has 10.5" ring gear, 5.13 R&P ratio, 30 spline flanged axels. This is a very strong unit, comparable to the Dana 70. The Dually axel is a good choose for Jeeps and other narrow track vehicles because it is only 62" wide overall.
The 14bolt is a BIG package and very heavy, I'd say over 500lbs. of unsprung weight, add the weight of tires, wheels and suspension componets and your looking at some hard to control suspension rebound. The stock drum brakes are massive and very heavy by themself so I swaped them to a set of disc brakes. I found that TSM, an old time street rod brake supplier, now makes brake kits for many 4x4 axels. I ordered a set of rotors and caliper mounts, then pickup the set of GM calipers at the local NAPA store. By swaping to the discs, I dropped over 80lbs in unsprung weight. The GM calipers have no E-brake but If you need one, you can also use Cadilic calipers that have a lever operated E-brake(for 3 times the price). With the large housing of the 14bolt hanging so low, I decided to shave off as much of the bottom of the housing as possible but leave enought to still bounce over rocks, I was able to gain over an inch in clearance. I used a skillsaw with a metal blade for the main cut and a grinder to cut down the webs.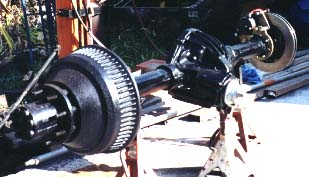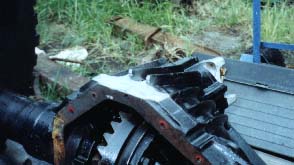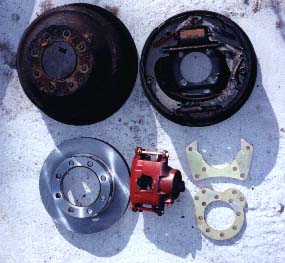 Chevy Dana 60HD Front from 1 1/4 ton Military Truck
This axel has 35 spline shafts, 5.13 R&P ratio, bottom of housing shaved 1", Custom skid plating from over the cover to the pinion.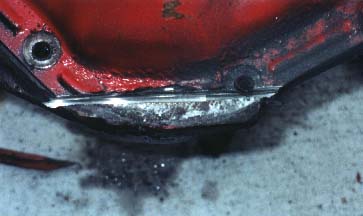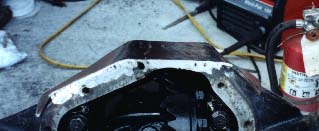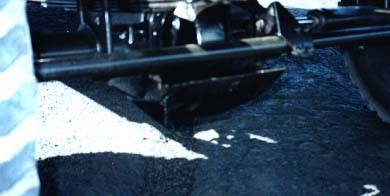 There is a shoot of the crossover steering arm made by Avalanche, very simple with a Dana 60, just bolt it on. I plan on moving the tie rod to this arm and another on the other knuckle but seeing that I moved the axel forward two inches, now I need to move the steering box forward also to made it all fit. Its always something,,,,,,,,,,,,,hey,,,how about a new AGR Box, Pump and a Sam's box mount while I'm at it,,,,,,, Hell, its only money,,,, that I don't have,,,,,