Ratz Realm Rattery
|
home



SDA Information

Sadly Ratz Realm Rattery has been struck with the SDA virus In late October.
The Realm is now in quarantine until December 8 and will resume breeding in late January 2002.
We were exposed between October 20 and October 22. The first symptoms appeared October 29. The new rats adopted by the Realm were put in a strict quarantine in another house. Unfortunately the SDA virus transferred from one house to another, I believe, on my clothes. As of November 8 the Realm has lost four beloved pets. The Realm currently has fourty-five rats and three litters.
Please say a prayer for us that we don't lose another precious pet. This has been a very difficult and emotional time for me. These are my sweet babies who have passed.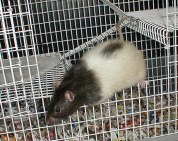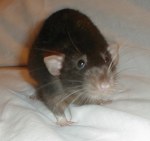 Splotch Misawa Bastian Rinoah
We are currently under the care of our veterinarian. The rats are on a serious round of antibiotics to protect everyone from secondary infection which can occur after a virus has temporarily weakened the body. With SDA the hardest hit by the virus are elderly rats and rats who have any type of scaring from previous respiratory illness or a weakened immune system. Young healthy rats usually recover quickly with no secondary infection.
We contracted the SDA virus eight days after our trip to a Northern California rattery to deliver and pick up rats. We have experienced sneezing, lethargy, swollen glands and dry eyes from the virus.
I think that the rattery who exposed us to the virus did not know the symptoms of SDA and mearly thought they had a URI (upper respiratory infection.) That is the way the virus starts with sneezing, puffing up, and lethargy-just like a URI.
I would like to let all ratteries and pet rat owners know not to take these symptoms lightly. Always quarantine and never let rats out of your rattery with these types of symptoms going on.
SDA has an approximate incubation period of eight days. The virus itself runs it's course in another eight to fourteen days. Once the virus is shed it will not return. Remaining symptoms are due to secondary infection.
Although this is true, the SDA virus can continue to run through a rattery for weeks. This is especially true if the rats are not all kept in a single room of the house. With rats spread out all over the house one room at a time will catch the virus sometimes just days apart or a week apart. SDA is an airborn virus so it is just a matter of time before all rats have been infected.
Update.... November 20, 2001
Happy to say we are over the virus and now continueing our quarantine. Only a few ratties are still on antibiotics for secondary infection but are definately on the mend. Everyone else recovered nicely. The babies are doing great!
Here are four links for you to read more about the virus.
Currently Reserved Rats
To everyone who has reserved babies and are anxiously awaiting pick up next week, I'm sorry to say will have to wait a little longer until the babies are out of quarantine. This is to protect your rats at home and eliminate the spread of this disease.
If you have no other pet rats at home the quarantine time can be shortened. Please let me know if this is the case and you will be able to pick up your babies November 24 but you must continue their quarantine for another two weeks at home. All this means is that you should not introduce any new rats during this time and wait to show them off to your friends that also own pet rats.
If you do have rats at home the new pick up date will be December 8.
New Reservations for Rats
The Realm is still taking reservations for babies from Aja, Chi Chi, and Nina's litters. These babies need good homes and have only been affected minimally by the virus. They are still spunky, bouncy, friendly and playful. If I didn't know better I'd think they were never exposed.
The same dates for pick up still apply. If you have no pet rats at home you may pick up your babies on November 24. If you do have pet rats at home the pick up date is December 8.
Future Breeding
The Realm will take a break from breeding. For the rest of the year the rats will be resting and enjoying the holidays. You can bet I'm going to be spoiling them rotten. I just love them all so much!!
As for me, I will be working on making rat cages. If you are interested in a custom cage let me know.
Please pray
I'm am worried for my one-year-old little man Brody. He has been hit hard and looking at him now his breathing is labored. Brody is the papa of Sara Lee's first litter earlier this year. He is a most wonderful, licky little guy.
Brody when he was a baby.
November 18.....Update on Brody
Your prayers and mine have been answered! Brody is now back in the big cage with his buddies. They were over joyed to see him again. He received lots of licks and grooming the instant they saw him. It was a heartwarming moment.
A BIG Thank You
I want to thank everyone who e-mailed me kind words of support and love during this difficult time. Also there are some wonderful people (my vet included) who have been incredible mentors for me and helped me with expert advice in how to deal with this disease. I thank you so so much! If I can ever do anything to return your kindness please let me know and I'll be there!
Written November 8, 2001
Hilloah Whealser
Updated November 10,2001
Updated November 18, 2001