Ratz Realm Rattery |
home



Cages of the Realm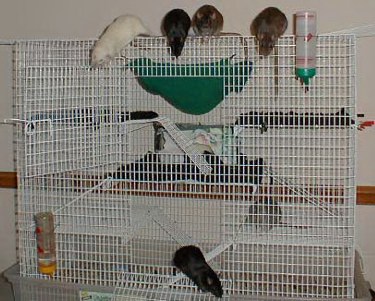 Boys cage- 36"x14"x48" Girls cage- 36"x15"x30"
( PetsMart ) Custom made by California Cageworks, Burbank CA.
Design by Ratz Realm
(I also have other cages made by the same company.)
Extra tub cages-used for when I clean cages.
I made these tub cages myself with some powder coated wire left over from an old cage I took apart. I cut holes in the plastic and fixed the wire to the lid and tub with nuts, bolts and washers. My rats don't really like the tub cages but are happy if I put a tasty treat in for them while I clean their cages.
When purchasing wire for cages or tubs be sure to get Welded wire (the horizontal bars are welded over the vertical bars or visa versa- like the bars behind this text.) Hardware cloth may be less expensive but it is toxic to rats (the horizontal bars are woven in and out of the vertical bars.)
Rattery Pics