The 2 main requirements for receiving our award are:
(1) You must have a web site.
(2) It must be a family friendly web site that is okay for small children to visit.

Below are 7 samples of our awards.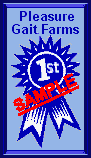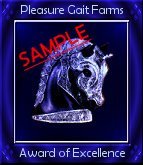 If you would like to apply for this award, please send the following information to:
foxtrotters@horsemail.com

* Your Name
* Your E-mail address
* Your Site's Name
* Your Site's URL

Thank-you for applying for our award.

Proud member of these Award Sites.




Please visit the sites that have won our award.
Award Winning Sites


Site Navigation
Home
Site Search

Free Graphics
Animated GIFS
Free Clipart
Free Ecards
FB Timeline Covers
Large File Clipart
Free Backgrounds
Background Sets
Matching Sets
Buttons
MySpace Graphics
Web Fun & Help
Coloring Pages
Flip Text Tool
How to Copy & Paste
Fun & Games
Emotions/Emoticons
HTML Tester
Jigsaw Puzzle
Horse Pages
Horse Health
Breeding/Heat Cycles
Foaling Tips
Foal Care
Foxtrotter Training
Humor Buying Guide
What is Homozygous
Shopping Pages
Gift Shops
Horse Posters
More Pages
Missing Children
Award Winning Sites
Apply Award
Links
Webrings
Site Map