As babies
Aren't we adorable as babies? Heather still has that blanket too. I think Matt eventually gave up that doll though.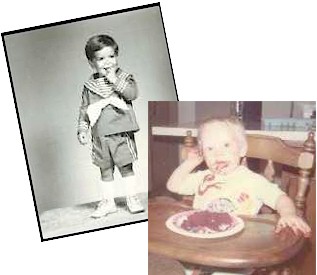 2 years old
Matt in his little sailor suit and Heather's love for chocolate starts at an early age.
3 years old
Finally a color photo, just how old is he again? Heather is in Grandma's garden here, digging up dirt perhaps.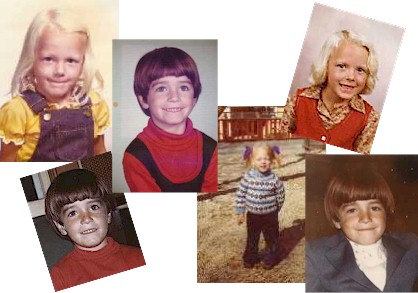 Just us
These range from ages 4 to 6. Aren't school pictures great? Heather is looking a little pudgy on the bottom and Matt was in his first wedding on the bottom right.
10 years old
Matt plays baseball with the local YMCA, meanwhile Heather is a star seller for Girl Scout cookies.
11 years old
Matt plays football with the local YMCA. Heather's favorite color is pink, it was a phase, she's over it now.
Senior Year
Check out the hair on these weirdos. Do you think it could get any worse.
The 80s
Oh, I think so. What a wonderful time, remember crimped hair? This one was taken during the clubbing days. Gotta like that facial hair on Matt.