Orcinus Kennels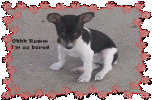 Karin Nelson
British Columbia, Canada

Thank-you for stopping by my website, if you've been here before you'll notice all the major changes I've been making...For those of you who had never been here before, originally we were called Kal-Rat Kennels...An old friend along with myself were going to be in this together, but we have long since parted ways, so I decided to make some changes and continue on with the Rat Terrier Kennel...I had never seen or heard about the American Rat Terrier until the winter of 1999, they are not common in Canada...I received my first Rat Terrier in the summer of 2000, after doing a lot of research over the internet and emailing Rat Terrier breeders from all over the United States, where they seem to be the most common...My first Rat Terrier is a male who I named (Salem), he is quite the little dog...Salem and I travel back and forth from Vancouver BC Canada to Tulsa Oklahoma at least 3 or 4 times a year, and he is the best little traveler, because he only weighs in at 5.5 pounds he gets to travel with me as carry-on, and calmly sleeps the whole flight away under the seat in front of me...I purchased Salem from Marion Shiller a breeder in the heartlands of Texas, Marion has been great with me and I just admire her, Marion is a caring, honest, sincere breeder...Recently I had the pleasure of flying to Cameron Texas, where I got to spend some time with Marion, her husband, and not to mention all the dogs in her kennel...Marion and I have been working together for just over a year now, and I couldn't ask for a better person to put all my trust in, she is just great and if I have no puppies available, I'll highly recommend Marion as a Rat Terrier Breeder...As of April 17th, 2001 Salem had to be neutered, and will no longer be available for Stud services...Since this time I have worked closely with Marion and have since acquired an 11 month old female (Orca) and a 9 week old male (Kandu), I hoping to have my first litter in the spring of 2002...I've not only dedicated my site to the American Rat Terrier, but also to my favorite most powerful creature in all
the world the "Killer Whale", that's where my new kennel name comes from "Orcinus" meaning "Killer Whale", which is where "Orca" derives from and "Kandu" is named after a male Killer Whale in Ontario Canada...I have plans to name all the Rat Terrier's I acquire after the great Killer Whales being held in captivity, I'm a strong believer in allowing these Killer Whales to be freed...After a lot of consideration and thought, Salem will play a great part in my kennel, as he is the oldest he will teach all my young right from wrong, guarding them from harm and playing with them to keep them occupied and out of trouble...

Submit your website to 40 search engines for FREE!
DoggieJams Are Proven Dog Pants That Work!!!
View My Guestbook
Sign My Guestbook
(Last Updated June 19, 2001)
-->