My Honda Chop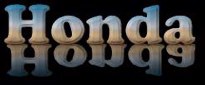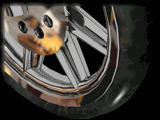 This is the storey of my Honda CB650z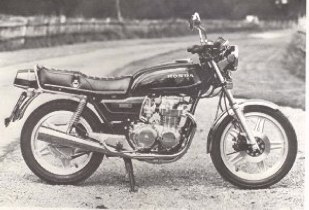 It started out as a run of the mill pore mans tourer, crap
handling, over steer in tight corners, but apart from that not bad.
I brought the bike from a very old mate of mine, in 1985
for the sum of 200 pounds UK, bloody cheap I thought for a bike
thats only six years old, It ran like an old dog when I first got it,
but I soon sorted that out...
In Jan 1986 I decided to build a Chopper - Lowrider, I designed
a hardtail and had it built by Chris Ireland of Desperate dans
motorcycle shop in Leighton Buzzard...
This is the first seat I designed & built for this bike...
In 1990 I gave my chop a face lift. New paint, tank, seat, after
riding it for a while I got to hate the new seat arrangement, I was
sat too far forward and the handling wet out the window, so back
back to the drawing board.
After a bit of thought I came up with this little gem,This is
the most comfortable seat I have made, you sit in the
seat and not on it, so in corners you dont slide about...
This is it...
In 2003 im giving my chop a total rebuild and face lift...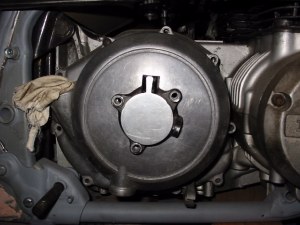 And I am fitting a hydraulic clutch...
This is a set forward controls that I designed and built, the pegs
are made from 40 mm dia aluminum, the levers are con rods
from a spare Honda engine, the backing plate is 5 mm steel,
and the brake rod is a piece of sprung steel from behind the
rear bumper of a Holden HQ station wagon...
"REMEMBER"
If you deside to us the con-rod setup on your chop,
"DONT"
forget were you saw it first.
On the other hand, if you want me to design and make
anything for your one off chop or trike etc, please email me.
The frame and tank are in primer, the seat stripped and a new
seat base I made, but using the same foam and shape...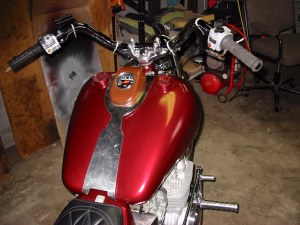 I have got a 50 mm dia chrome speedo, I have made a surround
for, out of a chunk or West Australian JARRAH, to mount between
the fuel tank filler caps, using the old stainless steel centre piece...
Finally decided on a colour, Regency Red...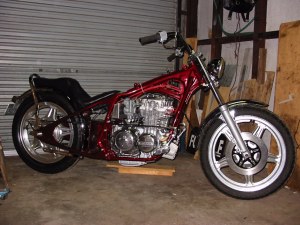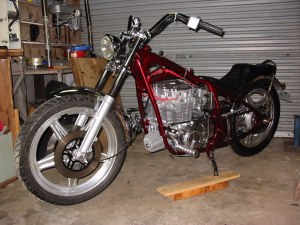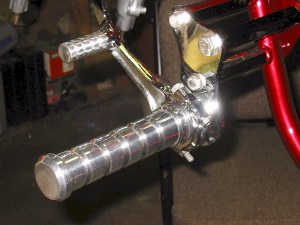 Chain Guard...
made from a Triplex primary drive chain
off my old Triumph Bonnie...
New seat cover with TAZ, and diamond stitchwork...
more to come...