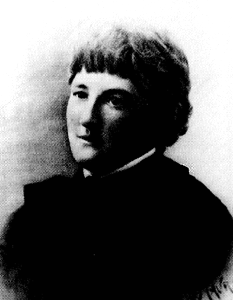 Susan Elizabeth Blow 1843 - 1916
Applying Friedrich Froebel's theories, she opened the United States' first successful public kindergarten at St. Louis' Des Peres School in 1873. Blow taught children in the morning and teachers in the afternoon. By 1883 every St. Louis public school had a kindergarten, making the city a model for the nation. Devoting her life to early education, Susan Blow was instrumental in establishing kindergartens throughout America.
Blow's book, Educational Issues in the Kindergarten, explains Froebel's creed "that man is a self-creative being . . . education shall encourage self expression . . . encouragement shall be given only to those modes of self-expression which are related to the values of human life . . ."
Blow translated the prose sections of Froebel's book, Mother Play (Mutter und Koselieder) and wrote an introduction about the philosopy of Froebel. This was published in 1895 as volume 11 of the International Education Series edited by William T. Harris.
Blow began her career at the New York Normal Training Kindergarten, which was run by John Kraus and his wife Maria Boelte, who was trained in Hamburg by Luise, Froebel's second wife. Blow became interested in kindergarten, while travelling in Germany
As the leading American exponent of Froebelian thought, Blow was rigid in her expression and unsympathetic to innovation in method. She also published Symbolic Education 1894, Letters to a Mother on the Philosophy of Froebel 1899 and Kindergarten Education 1900.
---
---
Copyright © 1998-1999 Froebel Web All Rights Reserved. froebelweb@yahoo.com
http://FroebelWeb.tripod.com/images/blow.html