Number of Servings - 4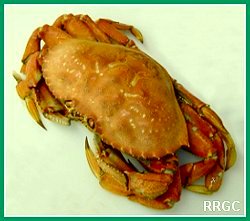 Ingredients:
2 large Dungeness crabs (cooked) - approx. 1 pound
2 scallions - minced
1 stalk of celery - minced
5 sprigs of cilantro parsley - minced
1 egg - lightly beaten
2 teaspoons mustard with cracked pepper
2 tablespoons Miracle Whip
1/2 fresh lemon (juice only)
1 package Kikkoman Panko bread crumbs
Directions:
In a large bowl mix together:
Scallions
Celery
Parsley
Egg
Mustard
Miracle Whip
Lemon juice
Remove crab meet from the shell - be sure to remove all pieces of shell.
Add crab meat to the bowl and toss lightly still leaving large pieces of crab meat.
Make 8 small cakes and place them on a plate with Panko crumbs
Coat each crab cake with crumbs.
Place in a medium hot large skillet with butter and olive oil.
Brown both sides - 3 minutes each side.
Notes & Variations:
Serve with coleslaw or a mixed green salad and warm French bread slices.
Contributor: Roxetta Wyer, RRGC
Anecdote:
These are delicious moist crab cake that are far superior to those made from Chesapeake Bay blue crabs.