Number Served: 4 to 6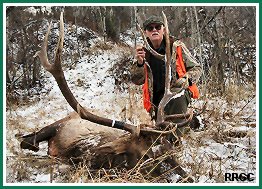 Ingredients:
1 pound Elk or venison
3 tablespoons flour
3 tablespoons vegetable oil
4 cups beef broth
2 large onions, chopped
3 cloves garlic, minced
1 - 8 ounce can Spicy Tomato Sauce
1 can Cream of Mushroom Soup (and 2 cans of water)
1 stalk celery, chopped
1 large carrot, chopped
3 large mushrooms, sliced
1 cup macaroni
Directions:
Cut meat into 3/4 inch cubes. Dredge in 3 tablespoons seasoned flour.
Brown in cooking pot.
Add remaining flour from dredge. Add beef broth or stock.
Add onion, garlic, and tomato sauce.
Cook on low 1 to 2 hours until meat is tender.
Add celery, carrot, mushrooms, macaroni, and Cream of Mushroom soup.
Simmer until carrots are tender (about 30 minutes).
Notes & Variations:
Serve with toast, biscuits, or crackers.
Contributor: Mike Estes, RRGC