Number of Servings: 2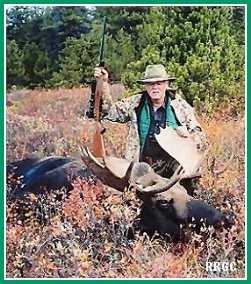 Ingredients:
2 moose loin - 3/4 inch thick medallions
salt
4 tablespoons margarine or butter
3 tablespoons cocktail sherry
1 small onion (minced)
1 cup beef broth (thicken lightly with 2 tablespoons flour)
1 package Knorr green peppercorn sauce
1/2 cup milk thickened with 2 tablespoons flour
Directions:
Season medallions to taste with salt. Saute with 3 tablespoons margarine until golden on both sides. Pour off liquid. Add 3 tablespoons cocktail sherry to the pan. Remove medallions from pan and keep warm.
Add the remaining 1 tablespoon margarine and saute the onions until translucent. Add beef broth, peppercorn sauce, and milk. Simmer, reducing the liquid volume by half (do not let boil). Return the medallions to the pan and heat to serving temperature.
Spoon sauce over medallions and serve.
Notes & Variations:
Whiskey can be substituted for the cocktail sherry.
Use 1/2 teaspoon drained water packed green peppercorn instead of Knorr sauce.
Instead of milk use heavy cream or half and half without thickening.
Contributor: David O'Brien