Number of Servings: 4-6
Ingredients: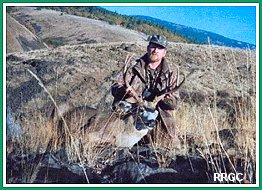 2 venison flank steaks
3/4 pound fresh spinach
4 Italian venison sausages
6 oz, Swiss cheese
Fennel seed
2 tablespoons olive oil
Salt
28 ounces tomato puree
1 teaspoon pepper
1 teaspoon dry basil
1 teaspoon oregano
1 teaspoon sugar
3/4 cup red wine
1 cup water
1 clove fresh or minced garlic
1 pound dried pasta (spaghetti or long macaroni)
1 cup Parmesan cheese (fresh is best)
Water
Directions:
Trim and discard fat from flank steak. To butterfly, lay steak flat, and with a sharp knife, split meat horizontally from a long side, leaving the opposite edge intact; fold half of meat back to open out the steak. Place meat between 2 pieces of plastic wrap and pound with the flat side of a mallet until thickness is uniform. Alternatively, use a round roast and make a spiral cut so that the meat lays out as a long flat piece (repeated butterfly cuts will also work, remember to butterfly alternating sides of the roast being cut)
Discard stems and coarse leaves from spinach; rinse and drain tender leaves.
Cook sausages in a 10- to 12-inch frying pan over medium heat, turning, until well browned on all sides; remove from pan.
Add spinach to pan; cover and cook over medium-high heat until leaves wilt, about 1 minute; stir, then remove from heat.
To assemble:
discard top piece of plastic wrap on steak
distribute spinach evenly over steak to within 1-1/2 inches of edges
lay Swiss cheese slices in a single layer in center of meat
sprinkle with fennel
starting at narrow edge, place sausages parallel and in two rows, (trim to fit steak)
roll steak around sausages into a tight cylinder.
tie with heavy string
If made ahead, cover and chill up to overnight in refrigerator.
Prepare the tomato sauce by mixing the tomato puree with the spices, wine, water and garlic.
Pour oil into 5 to 6 quart Dutch oven (12-in size), over medium heat. When oil is hot, add meat and brown well on all sides.
Turn meat, seam side up and pour tomato sauce around it; salt to taste.
Bring sauce to boil, reduce heat, cover and simmer. (8 briquettes below and 12-15 on top, adjust for correct boil.
Stir occasionally, until meat is very tender when pierced.
Lift meat out and let stand for several minutes to firm. Cut into 6 or 8 slices.
Cook pasta until tender, drain well then arrange on serving platter.
Drizzle about 1/3 of the sauce from the Dutch oven over the pasta and top with sliced meat. Offer remaining sauce and cheese to spoon onto individual servings.
Notes & Variations:
Contributor: Dave Myers, RRGC