Number of Servings: 6-8
Ingredients:
8 ounces sliced bacon cut into 1 inch pieces
20 small white onions
3 pounds antelope for stew cut into 2 inch chunks, (can use the rougher meat cuts)
All purpose flour
1 large carrot chopped
1 large onion chopped
2 garlic cloves crushed
2 teaspoons salt
1/2 teaspoon thyme leaves crushed
1/4 teaspoon pepper
1 bay leave
3 cups Burgundy wine
butter or margarine
1 pound mushrooms sliced
Directions: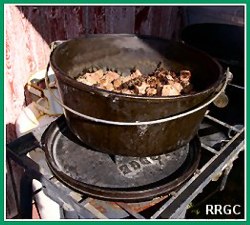 In a 6 quart Dutch oven brown bacon over medium high heat. Drain bacon on paper towel and set aside.
Save 3 tablespoons of dripping and discard the rest. In the drippings in the Dutch oven, cook small white onions until lightly browned, stirring occasionally. Remove onions and set aside in a small bowl.
Coat meat chunks with 3 tablespoons of flour. In drippings in Dutch oven over medium high heat, cook meat, several pieces at a time until well browned on all sides, remove pieces as they brown.
Add chopped carrot and onion to the Dutch oven drippings and cook over medium heat, stirring frequently until tender - about 5 minutes. Add browned meat, bacon, garlic, salt, thyme,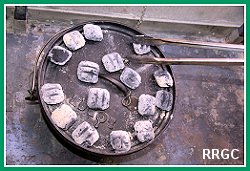 pepper, bay leaf and Burgundy wine. Cover and bake in 325 oven 3 1/2 hours or until fork tender.
In the small bowl, with a spoon, mix 2 tablespoons of soften butter or margarine and 2 tablespoons flour until smooth.
Into hot liquid in Dutch oven, add flour mixture, 1/2 at a time, stirring after each addition, until blended. Add small white onions and mushrooms. Cover and bake until onions are fork tender.
Serve immediately.
Notes & Variations:
Other venison meats (deer, elk, moose, caribou) may be substituted for antelope.
Instead of baking the meat in an oven, it may be baked in the Dutch oven using charcoal as the heat source. For more information on cooking with a Dutch oven, go to
Cooking Methods/Dutch Oven.
Contributor: Dave Myers, RRGC