Number of Servings: 6-8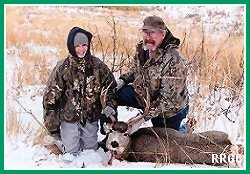 Ingredients:
5 pounds venison roast
1 can condensed cream of mushroom soup (10 3/4 oz can)
1 envelope Lipton dry onion soup
1-2 tablespoons Worcestershire sauce
1-2 tablespoons steak sauce
Directions:
Line baking pan with enough heavy duty aluminum foil to completely cover the roast. Place the roast in the center of the aluminum foil.
Combine and then spread the mushroom soup, dry onion soup, Worcestershire sauce and steak sauce over the roast.
Fold the aluminum over the meat and seal edges securely. Bake at 275 - 300 degrees F until the internal temperature of 135 - 145 degrees F is reached (medium rare to medium well). Open aluminum foil and spoon gravy over roast.
The above combination along with the juices of the meat make a nice gravy.
Since there is little or no fat in wild game it is baked at a lower temperature than beef. Also the internal temperature should not exceed 145 degrees F or it will dry out. To enhance the flavor of the meat and gravy slice up 1/4 pound of beef fat and place over roast before covering with the above mixture.
Contributor: Jerry Zeitler, RRGC