Famous Equine Bits and Bytes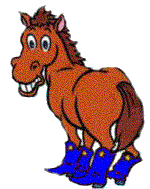 Part Two


A variety of equine pictures and information concerning the horses, mules, donkeys and burros through the years. Some awards too.
Note from Deb at Horse Fame : Continued efforts to randomly add facts that come to my attention to the Horse Fame Website. Photos of the popular equine are appreciated with the stories. Paths cross by-way-of the internet. Once in a while someone tells of the horses of the past and the latest is from Tex Hill, a cowboy singer/stuntman/actor, who has some of his own celebrity horses living at his Arizona ranch. He hopes to be getting a place in Gene Autry Oklahoma to be near to the Gene Autry museum.




Tex as the Lone Ranger
saddled up on
Silver Lightning

Comments & Info From Tex Hill
Date: May-July 2007

..I still own 3 of my film/TV & circus horses. Shadow is the palomino I used in 4 of my films. His last appearance before I retired him in 1990, was in America's Most Wanted, I (as a wanted killer/bank robber on their list) rode off into the sunset with Shadow. A nice touch by the director, I thought. Shadow just turned 40 yrs. this month just ...not many teeth left & kinda swaybacked, but he's still a golden palomino & remembers all of his trick routines. The old man is still happy & healthy...I put him out to pasture with my old "Silver" horse...they have a great time playing.. I have had 4 Silvers over the years. Silver Shadow was the horse I rode in my singing cowboy movies, the last one was "Code of the Rangers". My last Silver Lightning (#4) is one of the trick horses I used in my Lone Ranger circus act. I also rode him in the Rose Parade. He is now 35 yrs. old & retired. Blackjack is my AQHA stallion that I rode in many parades over the years, & the son of my original Blackjack that I (as the Rio Kid) rode in several of my films, including "Law of the Sixgun". I have used many horses during my career, but my favorite was always Shadow, he could do it all.
---
---
James Arness as
"Marshall Dillon" from Gunsmoke with Old Buck .
Dennis Weaver as "Chester" on the Gunsmoke TV series
---

Sylvester stars Richard Farnsworth
with Sylvester the horse,
Mellisa Gilbert & Michael Schoeffling

Casey's Shadow
Walter Matthau &
Michael Hershewe
---





Former president Ronald Reagan in 1985
riding his horse,

El Alamein

, at his ranch in Santa Barbara, California. The photo done is in support of the Young America's Foundation.


Arthur Godfrey and his horse Goldie


Arthur Godfrey had his variety talk show on TV in the 1950'- 1960's era and once in a while preformances done by his horse, Goldie, doing some tricks, such as counting and bowing. They where featured on the cover of TV guide March 1956 issue.
---
Shirley Temple with some ponies and horses
at outings and movies.(also see Seabiscuit) Horses and ponies from her daily life and possibly in a movie "Rebecca of Sunnybrooke Farm", "The Little Rebel" or another film.
She had her own but not sure if I have the picture. If anyone does know the names of any shown here let Horse Fame know.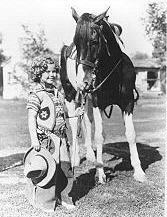 BELOW
"
Spunky
"
The pony that was in the
Curly Top movie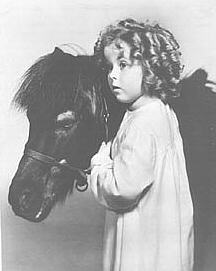 ---
Equine Bits & Bytes Part One
All stars Equine
stars and horse stars
Stunt Horses
famous mules & burros too
famous horse - equine links


---
---
All information listed on this site are for educational purposes.
Horse Fame is a free non profit service for the public.
Horse Fame does not benefit from any links or organizations listed.
HORSE FAME , established 1997.
Copyright © Horse Fame 1997 -