Stars & Horse Stars photo gallery



---
Horse, mule, movie stars and stunt men
making a movie at Lake Los Angeles in this photo




The location of hundreds of movies and silent screens to today's TV epics is Lake Los Angeles in north of Los Angeles County in the state of California, United States of America. There is an original natural lake fed by spring water. There was another man made lake added in the 1960's for recreation. Since then a growing number of homes have been built in the desert.




above the filming of: High Chaparral - Cimarron Strip - Hondo
The following programs were filmed at Lake Los Angeles:
Lake Los Angeles is a favorite setting for movies and television shows because actors can peform in the "wild west" and go home each evening to the Santa Clarita Valley, San Fernando Valley, Hollywood Hills or Beverly Hills that are near by. See the movie sets at Lake Los Angeles
---
TV star Horses of "The Virginian" series
with actors
James Drury & Doug McClure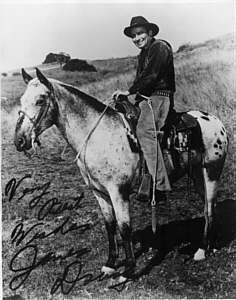 "Little Buck" was Doug's movie star horse
"Appy "or "Joe" was Jim's movie star horse


The photo below - from Barb Townsend
"Joe" the appaloosa in the middle
The horse at the left end is of Little Buck #1
Sorry we don't have the name of the movie star horse on the far right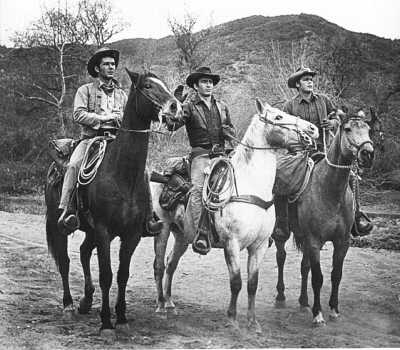 Thanks to Barb for all of the contributions
Comments & Info from:
Barb Townsend
Date: April 1998
I think James Drury rode two Appaloosas in the series, one of which I believe he called "Jody" in the episode "A Flash of Darkness." The horse in this show certainly looks like a different horse than the one in the above picture called "Appy." Appy had a more distinct varnish mark on his nose and dark spots on his hindquarters. This Appaloosa (it sure sounded like the Virginian said, " 'Jody' pulled up lame") did not have these characteristics and appears to have been a stockier built animal. I'm sure someone out there knows the facts.. Doug McClure rode at least four different buckskin horses in the Virginian series (I didn't see "Men From Shiloh" so I couldn't say if he switched horses for that or not). I can't tell for certain, but it looks like the one in the above picture ("Little Buck"--Trampas called all his horses "Buck") might be "Buck" #3. If this is so, I know McClure had at least 2 others before this one and one other after this one, although that cutting horse, which I believe is "Little Buck" and the very first buckskin he had were my favorites. Any idea what the names of those other buckskins were? That first one may have also been used in the film " Ride the High Country" with Randolf Scott and Joel McCrea--it was an easy one to spot because of the way he held his tail when he ran.
Update: May 1998
I STILL think James Drury said "Jody" on that show. In the book called "TV Gold--The Westerns," compiled by Ronald Shafer. In the trivia section he stated that the Virginian's horse's name was "Joe." Mr. Shafer was asked if the horse's name was Joe or Jody. Mr. Shafer said that at one time he had talked to Mr. Drury, and Mr. Drury had told him his horse's name was "Joe."
Update: September 1999
Regarding James Drury's Appaloosa horse's name in THE VIRGINIAN: In the episode "The Land Dreamer" (7.20), the Virginian says, "My horse Joe likes water. He's always been a good swimming horse."
Update: February 2001
James Drury's Appaloosa - I'm relieved to know I wasn't hearing things when I thought James Drury called his horse "Jody" in THE VIRGINIAN episode "A Flash of Darkness." According to THE WESTERN HORSEMAN magazine March 1970 article "Sara Lane, Television's Cowgirl" (Sara portrayed Elizabeth Grainger in the series) Mr. Drury's filming horse was named Joe D. Mr. Dick Shane (who portrayed ranch hand Dick) gave this information: "The horse that James Drury rode on the Virginian was a gelding appaloosa named Jody, this was the main horse, the double horse to Jody was named Joe and Dell Combs owned both of these horses."
More about it
Comment from: Theresa Bowers
Date: January 2003

One of the buckskin horses used by Doug McClure on the Virginian was purchased from my grandfather, Virgil Bowers in May 1967, Tulsa Oklahoma. Mr. McClure came back with my cousin Ben Miller (stuntman) who was the nephew of Ben Johnson, the actor. The name we called this horse was "Hay Shockey". He appeared in the Virginian after May 1967. PS. Ben Johnson was married to Carol Jones, daughter of Fat Jones.

Comments and Info from: : John Stanley
Update: December 2009

In 1989 John Stanley published a book.THEM ORNERY MITCHUM BOYS, the story of Robert and John Mitchum. In the book John tells that Jim Drury's appaloosa during the filming of THE VIRGINIAN was named Appaloosa Joe. He also had a stallion with "leopard-spots" named Shamrock.

Comments and Info from: Betsy Midkiff
Update: March 2012

Joe D was the primary horse for James Drury, Joe or Big Joe was his double horse, a retired roping horse, who was not as refined as Joe D for head shots, but a super athlete. Both of these horses were owned by Del Combs. The references to "Little Buck" could refer to McClures buckskins (which he owned. Del Combs also owned a horse named Little Buck who was an award winning stunt horse and Patsy Award winner. Easter Ute was owned by Drury and ridden by Sara Lane but was trained and stabled by Del Combs also.
Does anyone else know about the horses? Who owned them? Let us know!
sign the guestbook or e-mail the author
---
Here they are at Lake Los Angeles, California. It is located in the desert near Palmdale, California. Numerous westerns for TV & Movies have been filmed in the area through the years. There was a stunt man show in 1968. Other stars that made an appearance were actors Ken Curtis "Festus" & Milburn Stone " of the Gunsmoke series. (remember the AJAX laundry detergent commercial), the white horse who carried the knight who zapped everyone clean was there. The stunt man named Dick Shane was riding the AJAX horse around the grounds, only dressed in western cowboy duds. Johnny Grant who has been in charge of the Hollywood Christmas parade was Master of Ceremonies. This event lasted a few week ends.

(photos taken May 11, 1968 )


1935-1995
Doug died at age 59 of cancer Feb. 5, 1995

---

TV stars of "The Rifleman" series
actor Johnny Crawford
who played "Mark McCain",
son of "Lucas McCain"
portrayed by actor
Chuck Conners
on the series with
TV star horse "Blueboy"


We think the horse in the photo's above are of "Two Bits"
Comments & Info from:
August 1998 Mary Spooner
Johnny Crawford's horses. Two Bits was Johnny's own real life horse. Blue Boy was his horse on The Rifleman. That was his character's name, but Blue Boy's real name was Bosco. He was a very experienced movie horse bought by Ben Johnson. He was about seven years old on The Rifleman. The last time Johnny saw Bosco was in 1976 when he appeared in an episode of "Little House on the Prairie". Bosco was in that particular episode too, although I don't think they worked together in a scene. I've never seen this episode but would love to. I forget which one, Blue Boy or Two Bits was a paint horse or a pinto I guess is what Johnny said. You'd know about that more than me. Two Bits was given to him in 1959 by a rancher he and Chuck Connors met in St. Louis. He had him about 20 years. Had to put him to sleep in 1980.
---
Poster from "Bonanza" TV series

"Paint" was TV star horse of actor Michael Landon who was
"Little Joe Cartwright"
"Chub" was TV star horse of actor Dan Blocker who was
"Hoss Cartwright"
Below are some of the names of the horses of Bonanza

Comments & Info from:
September 1998 Emily
I have no idea as to the real names of the horses
but here are the Cartwrights horses.
character
name
horse 1
name
horse 2
name
horse 3
name
Adam-
Beauty
Sport
Ben-
Waggoner
Buck
Hoss-
Chubb
Ginger
Paiute
Little Joe-
Paint
Chochise
Comments & Info from:
July 2000 Mike Milstead
The Bonanza horses that were injured/killed as mentioned were owned and stabled at my grandfathers barn in North Hollywood, Ca. His name was Clarence Y. (Fat) Jones. He passed on shortly after the events mentioned. He owned the movie horse stable from the early 30's until his death in 1962 or 63. The ranch, called Fat Jones Stables, was sold at his death and continued to exist til some point in the early-mid '70s. It was located on Sherman Way, a short distance east of Lankershim Blvd. The location is now a series of low corrigated storage buildings. My aunt, my mothers sister, was married to the late movie actor Ben Johnson, and lived at the Sherman Way house until after Fat's death.
NOTE: If anyone who worked at the stables or knew Clarence Y "Fat" Jones please contact Horse Fame.
Links of some more Famous Horses
Related Websites

photos are from my original scrapbook



established December 6, 1997


---
---
All information listed on this site are for educational purposes.
Horse Fame is a free non profit service for the public.
Horse Fame does not benefit from any links or organizations listed.
HORSE FAME , established 1997.
Copyright © Horse Fame 1997 -