Stuntman Fred Kennedy
and his falling stunt horses
Trixie, Dixie & Shanghai

Horse Fame special for November 2001
Story told to Horse Fame by Pat Mefferd
Photos are from Pat Mefferd's collection
I have quite a bit of information, vividly remembered as a child, regarding my Step-Father Fred Kennedy, his falling horses, the movies he was in, the people and horses in that particular era. It's wonderful to watch old movies, and see him in the background, and sometimes in the foreground with small speaking parts. He was very shy, about having speaking parts! He was a stunt man (falling horses, blind driving wagons, extra) etc. from the late 1930's until his death in 1958. When the SPCA stepped in regarding animal cruelty (horses being tripped, etc.), Fred started training falling horses. He also made a "short" which I believe was aired on Channel 2 (Los Angeles, California) This would have been in the early 1940's, showing the public how he trained his horses, and that he was more likely to get hurt than the horses, which came true.
Fred did buy me my first horse!
Frederick O. Kennedy trained and stabled his horses - TRIXIE, DIXIE and SHANGHAI at Hudkins Brothers Movie Ranch in Burbank, California. Fred was good friends with Terry Wilson ("Hawk" on Wagon Train, who started my bronze horse collection!), and Guinn "Big Boy" Williams (he was a big man in many ways). Fred was in many John Wayne / John Ford / Howard Hawks Westerns.
Fred's Special Horses
SHANGHAI - He was very small and compact, black in color, (Approximately 14 H), probably of Quarter Horse stock.
Both TRIXIE (a bay) and DIXIE (a black) were at least part Thoroughbred, TRIXIE and DIXIE were always referred to as the "Thoroughbred Mares", even though they were all "falling horses", SHANGHAI was always referred to as "The Falling Horse".
Fred owned all three horses, when my Mom met him. I lived with them for about 6 years, I really don't know what happened to the horses. I do know that all three horses were very easy to handle, had to be around movie sets, locations, etc. I was led around on all three horses. I walked into their paddocks alone and petted them and loved them! So they were very good natured! Also, I'm sure they were not "dead heads" either, as at the Sandberg Ranch, they would gather cattle, etc.
The photo was taken at Sandberg Ranch, Sandberg (near Lake Hughes), California, just south of Gorman. Jimmy and Mona Cox owned the ranch (raising cattle, hogs, apples, and olives), my grandparents managed the ranch. (right)

Shanghai and Fred

Dixie


Here is Dixie, the black mare, standing in the wash rack. (left)

Snapshots demonstrating
a fall from the training film. The ground has been dug up and sand added for the safety of the horses and of course the rider at Hudkins Brothers Ranch, in Burbank, California (right)


Trixie and Fred
Stuntwork Film
| | |
| --- | --- |
| Fred and Trixie | Trixie in paddock |
TRIGGER

Fred Kennedy, standing "Roman" on the original TRIGGER the palomino (owned by Ace Hudkins, and later purchased by Roy Rogers) with SMOKEY another Hudkins horse.

Here are some snap shots taken in 1940 at Hudkins Brothers Movie Ranch (later the land became the Forest Lawn Memorial Park Cemetery in California). Please note, I have done a lot of research on who owned TRIGGER and when. I was told, as a child that when these snaps were taken...Hudkins owned both TRIGGER and HI HO SILVER, Glenn Randall Sr. was the trainer! They were stabled at Hudkins every time went out there. Daddy - Fred and Mom rode both the horses quite often!

HI HO SILVER

Helen (my Mom) standing and holding the reins of the original HI HO SILVER (also owned by Hudkins).
Some other Movie Stunt Horses with Fred
It would be interesting to find out the horses names
and who the stock contractors were?
If anyone knows any additional information
send it to Horse Fame.

Fred falling from an unidentified horse - a John Wayne movie filmed in 1949 at Agoura, California.
Fred being shot and falling from another horse - a
Joel McCrea movie
"South To St. Louis"
filmed in 1948.
Fred riding one of the
horses in "The Adventures
of Robin Hood".The
original TRIGGER, was Olivia de Havilland's
mount in this movie.
Fred was killed in a fall during filming of the movie
"THE HORSE SOLDIERS".
The scene was kept in the movie but the video version I have, cut it out. Fred had his accident while on location in Louisana. They shipped his body back to California for funeral services and burial.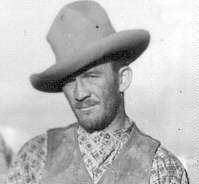 Fred Kennedy

Fred, Thanks for being "My DAD", and all the great times and memories! Love Always, Pat.
Stunt horses
Famous equine bits and bytes
Horses of TV & Movies Scrapbook
Stars and Horse Stars
Stars and Horse Stars
Silver the Lone Rangers horse
Famous horses named Silver
---
---
All information listed on this site are for educational purposes.
Horse Fame is a free non profit service for the public.
Horse Fame does not benefit from any links or organizations listed.
HORSE FAME , established 1997.
Copyright © Horse Fame 1997 -