"National Velvet" TV Theme Record
made on the Dolton lable 45 rmp
by Hank Levine and his orchestra released in 1961.
---
Whitman books published in 1961 Authorized Edition of the
National Velvet coloring book
87 pages with cartoon style artwork on cover has Velvet painting a sign.
---
National Velvet comic books
by Dell carried the stories of Velvet and King.
---
"King" TV's National Velvet horse. a
stuffed animal horse - 14" tall by 15" long.
---
Whitman National Velvet story book
front illustrated cover artwork picture of Velvet horse and dog.
---
Gold Key National Velvet comic books
by Metro-Goldwyn-Mayer, Inc
---
National Velvet board Game
was made in 1961 manufactured by
Transogram Company Inc. N.Y.
Includes game board, spinner attached to box,
play pieces and play cards. Has pictures of Lori
and the cast members of the program.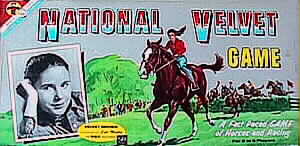 ---
National Velvet Paper Dolls
National Velvet paper dolls in book form issued by Whitman in 1961.

Then another boxed set in 1962 The set contains one 10 inch cardboard doll, plastic stand and punch out clothes. Two panels of outfits.
---
Velvet Brown collectors Dolls
One by Madam Alexander of the 1990's A baby faced version
outfitted with equestrian gear including the saddle.

Another doll made by the Franklin Mint in ther1980's (almost the likeness of Elizabeth Taylor) in authentic silk satin riding clothes with saddle of leather suede and sterling silver stirrups.
---
National Velvet Jigsaw puzzle
by Whitman in 1962 Metro Goldwyn-Mayer Inc.
has Velvet with dog and horse playing with ball ( illustrated art )
---
Blaze King model horse kit
by the Revell plastic model company
---
National Velvet "King" horse
for children to sit on to watch the
real King on television..
---
King and Lori Martin- National Velvet TV series photographs