Red Sabino Overo Filly
Click on horse's names to see photos.

Sired by Dusty Traveler - 15'3 hands.
Dam is Black Satin-N-White Lace - 14'3 hands.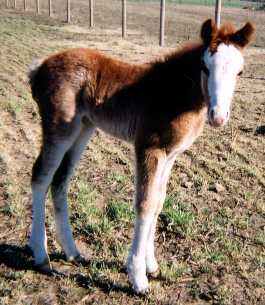 Photos above taken at about two weeks old.

Updated photo below taken August 2002.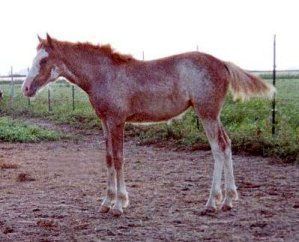 Born February 20, 2002

SOLD
to Laura Heldreth of Chipley, Florida.

She is such a sweet filly - very gentle! Bald face, long stockings with extended facial markings on both sides of her head. She is blue papered & registered in the
MFTHBA and can be registered with SSHBEA.
Both her sire and dam are black & white spotted. Click here for photos of her sire.




Here's what her new owner had to say on 9-26-03:
"Just wanted to let ya'll know that "Sweetie" is doing GREAT. She is filling out nicely and she has the BEST disposition. We love her so much. Her color is beautiful! EVERYONE loves her! All the people that ride by the farm stop to see/pet her and talk. I know I bought her for my mother for Christmas (last year), but I am going to keep her as mine- he he. But Momma can still ride her when the time comes. She loves to play chase. She is 18 months old now. I can sit on her in the pasture and she is calm as she can be. She likes to play chase. And she is VERY spoiled!!! The other horses adore her now. I haven't gone too much further with "Sweetie"s training. Just the everyday stuff and sacking her out. Just getting her use to anything and everything she will and may come in contact with at some point in her life. She is so easy going. And she accepts everything I throw her way. I am so amazed. Thank you so much for breeding such a magnificent animal. And thank you so much for all ya'lls help! Ill send pics soon. Ive got to get a new camera first though."
-Laura and Sweetie





Her Pedigree
Some of her ancestor's photos can be viewed below by clicking their names.

Click to see a head shot of "Black Satin-N-White Lace", dam of this foal.

Back to Foals & Yearlings page




Serious inquiries only, please!

General terms for selling foals & yearlings

25% down is required to hold any horse for sale.
All reasonable offers are considered, and financing is available upon approval.
Delivery may be possible within 250 miles of our home,
(for a reasonable fee).

We do accept personal checks, but all checks must clear our bank before horses leave our farm. We also accept credit card payments through PayPal. If you are paying by check then please mail it to: Pleasure Gait Farms
Chuck & Sherry Hartley
9235 County Road 523
Senath, MO 63876
Located in the southeast Missouri Bootheel.
Phone: 573-738-2076 Email: foxtrotters@horsemail.com

For credit card payments:






Home ~ Index Page
Foals | Stallions | Horses for Sale | Homozygous | Horse Health | About Us | Foxtrotter Training
Games | Shop | WebRings | Banners | Links | Page Building Help | Free E-Cards | Hoaxes
Animated Gifs | Clipart | Backgrounds | Our Awards | Apply for Award | Winning Sites | Search
Pedigree Generator | Our Location & Contact Information | Translate | Site Map | Suggest this Site
Email: foxtrotters@horsemail.com | Privacy | Disclaimer | Copyright ©