OUR MAGNIFICENT MALAMUTES

Announcing!

We have several wonderful malamutes that are looking for a safe and loving home, with time for a new family member.

They range from 1 1/2 - 5 years old. They are well mannered, loving and very intellegent.

They are not used to small animlas, but love children (good children)

We have NO puppies at this time.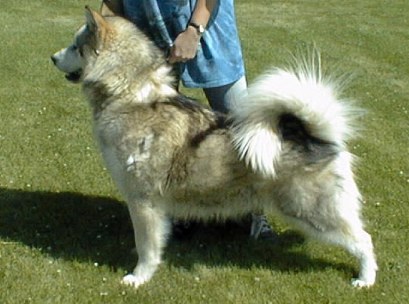 REGAL LOYAL COMPANIONS
WATCHFUL GUARDIANS
The Alaskan Malamute has a strong sense of humor. It has been said that: "This may be the most diversified breed of dog known to man." He is known as a gentle and loving family dog that ( when exposed ) is fond of small children and will follow them anywhere.
Many have been raised on farms with valuable livestock . They have been depended on in these places for being protective, especially as " alert dogs " informing their owners if danger to the home or livestock is nearby.
As a general rule, they are never happier or more content than when they are presses up against some portion of their owners body or sitting in his or her lap!
Like all Arctic breeds, the Alaskan Malamute is known for it's ability to work under extreme conditions, their perseverance in the Arctic cold and their willingness to work on near-starvation diets. Being able to pull the heaviest load, over the longest distance, on the least amount of food, were Indispensable services that were vital to Arctic explorers.
The Malamute has the desire to be close to mankind, especially those deemed "MASTER".
They have developed uncanny abilities to communicate humor, boredom, love, danger, candid honesty ( unable to lie, when they have done something wrong ) and eagerness to work and play.
They are proficient as working sled dogs, fishing, hunting, weight pulling, as well as companions.
All their abilities and emotions are easily conveyed to those who spend time with the Alaskan Malamute.
Here at the Robins Ranch, Our Mals are like our children, very special!
Our Malamutes are Gorgeous, yet capable.
Magnificent to look at and willing to work when ever you ask.
Our Pedigrees and conformation on our Malamutes are healthy & strong. Well built dogs, powerful at the shoulder and hips, with beautiful heads & coats!
The pedigrees speak for themselves:
Titled at Sled, weight, backpacking, obedience and Champions at Show.
We raise devoted companions.
Happy and extremely intelligent!
We show, do fun weight pulls and they work at home, doing winter time chores.
Each one is spoiled and dearly loved.
Our puppies are few and generally spoken for long before they are born.
But, If you think a Robins Ranch Malamute is right for you, you can contact us at
robinsranch@earthlink.net
Come in to the gallery and see the kids, Take a look at our Special Girls- Gloria and Kiana,
Kiana is a passionate Therapy dog!