Malamute Show news!

BOB CHAMPION~ RR's The Rainbows End
CONGRATULATIONS TO KIM ADKINSON AND BO !
We are so proud of Kim! She has been so devoted to bring Bo, not only to his Championship, but also taking Best of Breed as a special and Bo was only 1 1/2 yr. old!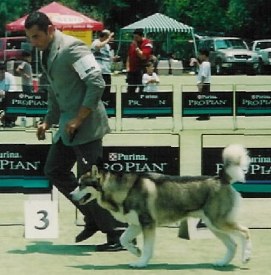 National Champion of Mexico
TITAN CORONA CALAVATI
CONGRATULATIONS
Titan has won every show he was entered in and accomplished his National Title at under 1 yr. of age!
Not only is Titan a Champion, but also half of a very special friendship.
Titan is owned by Pablo an eleven year old, boy.
And the two are inseparable.
Pablo & Titan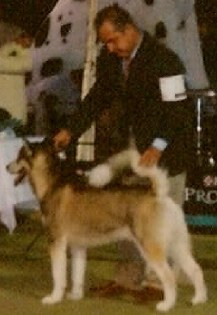 Titan
Our Next Beautiful Boy for the ring this fall, Is "Dew" RR's Move Em On Over.
Bo, Titan and Dew are all full brothers.
Keep an eye out for us, we are expecting wonderful things for this magnificent Boy!