Saint Mary of the Woods College
Terre Haute, Indiana
March 26 - March 31, 2000
For years, I have been looking at the EH catalogue for this college, the oldest Catholic Women's College in the country, because of its programs. The offerings specialize in an entire week with one country and its history, culture, cuisine, art and so forth. Since I was already in Kentucky, a mere 350 miles away, I thought I would try this EH all about France.
Ever hear the one about Harry Truman and his yearning for a one-armed economist? No? Well, that is the story that haunts me whenever I think about this EH. Truman wanted a one-armed economist so the expert would not keep saying "on the other hand…" That is the way I feel about St. Mary of the Woods College. (SMWC) It was neither all good nor was it all bad ; just a frustrating mixture of both.
I felt a literary foreshadowing from the beginning. I had reserved a room for the nigh
t before the EH began, on March 25, and this was easy enough to arrange by phone. However, when I arrived, after a long drive from KY, there was no key to my room at the guesthouse as promised. There was nobody in charge, not even a concierge, so, tired as I was from my journey, I walked about a half mile to the guardhouse, and told my plight to the security people. I took this walk three times. First, the coordinator had to be called to get the proper key. Then, the key did not fit the trick lock. Then, I was locked out of the bathroom, which opened to an adjoining room and was locked inside the bathroom on each adjoining door.
On the other hand, I did make the acquaintance of two nice security people named Harold and Tom. Be warned, if you are going there, to make a treaty with the person in the next room so you will not be locked out of the bathroom! Still, the guesthouse is a very pleasant place. The rooms are large, there is a lounge for guests on each of the two floors, and there is a device on the bulletin board if you are shut out of the bathroom. The guards are available if you are locked out in the middle of the night. You might want to dress accordingly before going to bed. No problem, as everyone is quite friendly.
More on Accommodations: The guesthouse is very clean and home-like if you can get a key to your room. There is a comfortable lounge downstairs with a color TV set without cable, and a kitchen. A powder room can be used in emergencies if you are shut out of your bathroom and the bulletin board tool is missing. The grounds are very well kept and pleasant. On the other hand, most of the entrances to the buildings are littered with ancient cigarette butts. It was rumored that none of the buildings are air conditioned, although this place is in Southern Indiana.
Food; … Lunch and Dinner can be considered fair to good. There were plenty of fresh vegetables at the salad bar. There was also a sandwich bar, so the buffet line went smoothly. These two meals were held in a very spacious large hall. Breakfast, on the other hand, was very strange. Breakfast was in a swollen closet in a dormitory building. As one entered, fruit was on the right, and the liquids, juice, coffee, milk, was at the center of the right hand wall. As one proceeded along toward the left, there were containers of dry cereal that had to be shaken because they were stale. Then we had to reverse to the right to get some milk for the dry cereal, bumping into people going toward us. All of this had to be done without any trays and with paper bowls and plastic utensils. If you go there, bring three hands for breakfast, and do squeeze the bagels, some of which are artifacts from Paleolithic times Would you expect French toast at a French Elderhostel? Hah! You have to bring your own hot food such as oatmeal, grits, eggs, or pancakes or meat. Breakfast was very cold, brittle, and unsatisfying. On the other hand, it was very s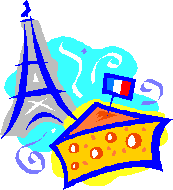 ociable, as many of us kept bumping into each other in that oversized closet, and because there were no trays, I almost learned to juggle.
Program: The program promised the following: French opera, language, cinema, history, architecture, rare books, horsemanship, views of France, literature, virtual visit to Paris and the Louvre, a musical evening, France in America, aquatics, wine, and a farewell dinner. Maybe I skipped something, as the promises were not all kept.
Frankly, my dears, I would rather that SMWC concentrated on a few good aspects of the Franks instead of squeezing so much superficiality into four days. This amounted to a few interesting sessions, but on the other hand, there were some hours when France was merely mentioned, and the rest of the class had nothing whatsoever to do with La Gloire de France. These other times offered all the fizz and charm of an uncorked bottle of champagne a day or two after Bastille Day.
The two-hour class on French opera conducted by Fr. Bernie was nothing short of brilliant…but it was too short in view of the whole program. More! Bravo! This class was well organized, informative, and full of fun. Fr. Bernie is a very talented teacher. Would that more hours were spent this way! This was the first presentation, and it led me to expect a continued high standard at SMWC.
Chris Salmon was excellent in introducing us to some simple French phrases and customs as well as a survey of outstanding French classical literature. On the other hand, she also was in charge of an evening of French cinema. I was anxiously awaiting this, as I wanted to see, maybe, Brigitte Bardot pronouncing the formidable ewe sound. But what did we see? A SILENT film, with a strangely accented French voice in English!! Silent!! I can assure all of you that a silent film made in France is very much like a silent film made anywhere else!! The presentation of Virtual Paris and the Louvre was on a CD-ROM, which could have been seen on any home computer. On the other hand, an hour and a half of travel slides presented by Mr. Michael Buzash were very interesting and worthwhile, as he offered many personal comments and observations.
Three and a half-hours of French History were guillotined by a very boring teacher who. handed us a sheet titled Highlights of French History and droned out fact after fact from the Cro-Magnons to the Fifth Republic. There were some who were impressed with the teacher's being impressed with himself in reciting so many facts from memory. In fact, there were more facts than a fax machine. In my opinion, French history was murdered. There was no humor, no context, no interpretation, no demography, psychology, biography or geography. Not one decent map of France was presented. Oh, yes, France could be seen inside several world history maps mounted on a tripod, but these kept falling down, just as the French Empire did. I almost drowned in the teacher's stream of consciousness as he kept on and on about his boyhood trips to French Canada and the virtues of Indiana wheat. I almost paid attention when he mentioned Napoleon, but the teacher merely exiled the Little Corporal again with the comment: "You all know about Napoleon." And that was enough!!… The instructor gave his own epitaph to this dead class when he said: "More was produced, than could be consumed." I saved myself from sinking when I began to recite to myself, alphabetically, what was produced in France, but I could get no further than the letter B…Brigitte Bardot. On the other hand, as Bogart said to Bergman: "We'll always have Paris…" and the Fifth Republic still stands!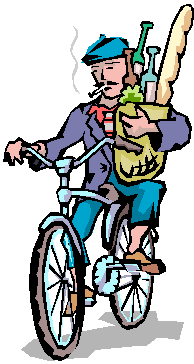 Other parts of the program can be considered as "Also in France." It was pleasant to know, for example, that the French appreciate good horsemanship, and the horses respond to French training, but I could not tell a French horse from a Kentucky one. The folk singer was very talented. He was connected to French culture through his father, who was French Canadian, but he knew not any French songs. On the other hand, his rendition of Kentucky miners songs was excellent. And so it went with architecture, a nature walk, a walk around the campus, an interesting display of the history of the religious order, and a tour of the hundred-year old church But I missed the French Connection quite frequently, and had the impression these presentations were given merely to fill in the program.
The final day was supposed to be the climax to our Elderhostel…the piece de resistance, if you will. It began with a monotone lecture on French-Canadian History, featuring the professor's attempt at a class discussion: "Who knows who discovered the Saint Lawrence River?" Then we boarded buses for our only field trip. The first stop was the exciting promise of "Inland Aquatics" and of course, adolescent that I am, I had visions of skimpy French bathing suits, perhaps with Brigitte Bardot squeezing into one of them. No such luck, as this turned out to be a tropical fish store. I tried hard to look at one of the colorful fish and see Charles De Gaulle, but again I failed at the French Connection. Next, we went to the Terre Vin Winery, which sounded like a Gallic delight because of its name. This winery, however, was devoted to the glories of Indiana wine, which we did sample. The vintner told us she was asked to mention France, so she said: "France, too, makes wines." Most of the wine-thirsty Elderhostelers liked this place, and bought quantities of wine. As for me, I had over 800 miles to drive, and thought patriotically of New Jersey wine. Where were the French wines?
The Farewell Dinner, Thursday night was our last chance to exchange pleasantries and addresses. We were crammed into a small conference room so that some chairs were back to back, and the poor waitresses had to reach across some noses to elbow their way to the dirty dishes. The food was fairly good and featured cordon bleu, French onion soup, and a demonstration of how French crepes were made. All went well, until the Senior Coordinator, who was absent most of the time, interrupted each table with the announcement "this is a commercial!" and tried to peddle SMWC T-shirts! The French might say c'est tres. gauche…. And we might say…how tacky!! There is more savoir-faire in any Jersey diner, where it is pronounced as savvy.
The announcement was made at the Farewell Dinner that we had to evacuate the premises by 9:30 AM the next morning, Friday, March 31st to make way for another group. There would be only a "Continental Breakfast" which is what I thought we were having all along, so what could be less than that? I did not stay to find out. There was no Farewell Lunch, as offered in other Elderhostels and no box lunch to take along, as I have enjoyed from many other places.
To enter or to leave this Elderhostel, if you are taking I-70, East or West, my urgent recommendation is to disregard the directions offered by SMWC, as it will take you through a forest of signs, and a gasoline alley of seedy establishments. A kind soul told me to follow Route 40 after entering or exiting I-70, which goes right into Rte 150, and that is where you can find SMWC if you want to go there.
For a single accommodation, SMWC costs less than other Elderhostels. On the other hand….