Set Yourself Free In The Mountains #17
Click On The Thumbnails Below To See The Larger Image!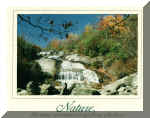 Nature, Like Man, Sometimes Weeps
From Gladness #16
The Sound Of The Stream is
the Music Of Celebration #19
Go Forth Under The
Open Sky, and Listen
to Nature's Teachings #24
If the Beasts Were Gone,
We Would Die From A Great
Loneliness of Spirit #27
Earth Has Not Anything to Show More Fair #30
Nature is Always
And Never the Same #49
Take Nothing But Photographs,
Leave Only Footprints #50
Wherever We Go In The Mountains, Or Indeed In Any
Of God's Wild Fields, We Find More Than We Seek. #20
The Forest Is The
Poor Man's Overcoat #26
The Earth Does Not Belong To Us,
We Belong To The Earth #44
The Ocean Is The Common Birthright of Mankind #45
In Wildness Is The Preservation of the World #53
If you have any questions, please email me!