Here's where you will find the many awards that Brutal Dreamer has won, both for her web site and for her writing.
Links are provided with each award so that you may learn more about each respective presenter.


This site is a Horrorfind Award Winner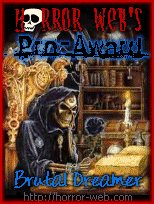 Brutal Dreamer is a HorrorWeb Award-Winner!



All content copyright 2003 by Brutal Dreamer. Site construction by Kailleaugh Andersson. Images & Design by Alex Severin