George Palmer
Nakeeta, George Palmer Bella Bessie
Thanks to John Bagoy and Jon Brautigan George Palmer now has a new marker with the correct dates. We will be scheduling a dedication of the new marker soon.
Advertisement from the KNIK NEWS
George Palmer was born in April 1855 in Pennsylvania. He was the first white resident of the Mat-Su Valley according to the 1880 census.George was also the first white man to live in Knik. He had stores in the Matanuska area and in Knik.The city of Palmer was named after George. The bridge on the old Glenn Highway is also named after George. He also did buisness on the Kenai Peninsula, where he has a creek named after him off the Resurrection River. According to the Alaska Sportsman June 1958......
George W. Palmer was one of the first merchants in the Mat-Su Valley.
George Palmer's store in Knik.
Picture Courtesy Orville Herning 1914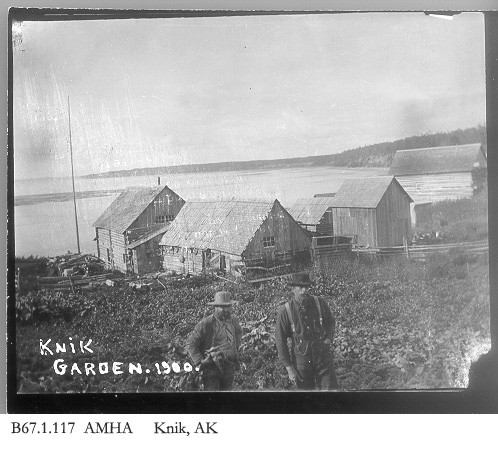 George on the Left??
Who is on the Right???
To view these articles you can save them and view them in Imaging, there you can magnify them and print them separately. Anyone interested in more information about George Palmer email us at
editor@knik.org