Black & White Tobiano Filly

sired by Jack's Absolute Power 15'2 hands
dam is Lazy K's Chantilly Lace 14'3 hands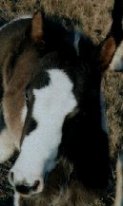 Photos above taken January 2,'03 at about 10 hours old.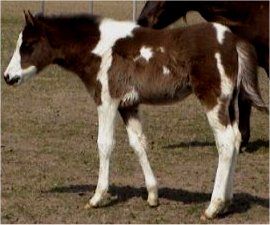 Photo taken March '03 - at two months old.

~ SOLD ~
to Patricia Barrett ~ Anza, California

Blue Papered - Born 1-2-03

This filly is so sweet! She has a cute little nodding head and she shakes all over when she foxtrots! She has one blue eye and displays the characteristics of a rare splashed white overo gene as well as tobiano, which makes her a tovero. Tovero's are strong color producers. As a broodmare, this filly will give you a wide variety of flashy colors. As a riding mare, she will give you a smooth, showy foxtrot and she will be the horse that gets everyone's attention.
Her dam is a black & white tobiano spotted half sister to Dusty Traveler.
Their dam being Reeves' Sandy.


*Price subject to increase as foal matures.
Please see her pedigree below.




You can see some of her ancestors by clicking on their names.


Back to Foals & Yearlings page




Serious inquiries only, please!

General terms for selling foals & yearlings

25% down is required to hold any horse for sale.
All reasonable offers are considered, and financing is available upon approval.
Delivery may be possible within 250 miles of our home,
(for a reasonable fee).

We do accept personal checks, but all checks must clear our bank before horses leave our farm. We also accept credit card payments through PayPal. If you are paying by check then please mail it to: Pleasure Gait Farms
Chuck & Sherry Hartley
9235 County Road 523
Senath, MO 63876
Located in the southeast Missouri Bootheel.
Phone: 573-738-2076 Email: foxtrotters@horsemail.com

For credit card payments:






Home ~ Index Page
Foals | Stallions | Horses for Sale | Homozygous | Horse Health | About Us | Foxtrotter Training
Games | Shop | WebRings | Banners | Links | Page Building Help | Free E-Cards | Hoaxes
Animated Gifs | Clipart | Backgrounds | Our Awards | Apply for Award | Winning Sites | Search
Pedigree Generator | Our Location & Contact Information | Translate | Site Map | Suggest this Site
Email: foxtrotters@horsemail.com | Privacy | Disclaimer | Copyright ©