BACK IN 1997 IT WAS A PHOTOSHOP "I WISH!!"
FANTASY BECAME REALITY ON 11.11.06!
BLUE LENA IN HER SHRINE 1997
---
Thanks for visiting the Keith Shrine! This is the oldest and most comprehensive fan based Keith Richards web site on the internet!Please sign my guestbook, so I know you stopped by. I created this site as a special addition to my first web site, Blue Lena's Rolling Stones Page, which I began in 1996. In 2016 we celebrated the 20th Anniversary of The Keith Shrine! After being on the internet since 1995, I have discovered that I am not the ONLY person out there who is a KEITH RICHARDS fan. In fact, I was amazed that I found more Keith fans than Mick Jagger fans :-) Why the name Blue Lena you ask? The Blue Lena is Keith's Bentley S Touring Continental that he drove on some of those infamous trips in the 60's that you read about. He still keeps it in his garage at his estate Redlands in West Wittering, Sussex, UK.

In the past 16 years I have met SO many great Stones fans in person that it amazes me. I literally know thousands of Stones fans from around the world. Thanks to the Rolling Stones & the world of internet technology (email, Stones chat rooms & message boards, Stones news groups, Stones Planet fan club and Stones Planet Fanzine, the tours since 1994 and the RS fan club) I have met some life long friends from all over the world (US,CANADA, UK, GERMANY, ITALY, FRANCE, AUSTRALIA, HOLLAND, JAPAN,SWEDEN,SPAIN,BRAZIL and many more) whom I will probably be in touch with for years to come. With my entry onto Facebook in 2007 I met even more Stones fans and The Keith Shrine now has a Facebook group and page.

A great group of female Keith fans who used to be called "The Hags" (long story) first got together in Cleveland, Ohio at the Rock N' Roll Hall Of Fame in May 1997. We were total strangers at that point, but one thing drew us together-our love of Keith & the Stones!!! My husband wrote a newspaper story on the initial gathering (since it was one of the very first internet Stones fan gatherings ever) that appeared in the Pittsburgh Post-Gazette in May 1997 (see Stones Planet Fanzine issue #4 for a reprint).

In 97-98 I saw the Rolling Stones perform 9 times in Columbus, Philadelphia, Washington DC, Las Vegas, Houston, NYC and Chicago. I feel truly blessed to have seen that many shows, although I wish it had been more. I would have loved to have gone to Europe to see a few shows, but financially that didn't pan out. In 1999 we were blessed with another US Tour & I saw shows in DC, Philly, Pittsburgh, Cleveland, Columbus, and San Jose. Then I managed to make it to the UK for the postponed B2B shows, seeing not only the Wembley shows in London, but also the Edinburgh, Sheffield and Shepherd's Bush Club Gig (1000 people)-which was a Stones dream come true for me. Many thanks to my friend Graham in Cambridge, UK for all that. By June of 1999 I had seen 25 shows in my lifetime, and believe me that ain't many compared to some!

Then 2002-03 was the start of another great Stones Tour year, the Licks Tour...the 40th Anniversary of the band. I began my adventure at opening night in Boston at the Fleet Center, 11th row by the catwalk. Fantastic! The setlists for that tour were just phenomenal. From there I went to Chicago, where I saw Comiskey Park & the Aragon Ballroom, my first club gig of the 2002 tour. The Aragon became my favorite show ever, it was my 28th. Then onto Philly where I saw all 3 shows and Keith looked right at me and then put his guitar pick right into my hand at the B-stage-THANKS Keith!! Next DC, Cleveland, Columbus, San Francisco, Oakland, Pittsburgh (where I got a kiss from Keith!), Chicago again and Amsterdam, Rotterdam & the Utrecht club gig in 2003. In the summer it was onto the SARS gig in Toronto in July for a mere 500,000 people-what a gig. I think I saw about 25 shows during the Licks Tour.

In August 2005 I started my Stones odyssey again by getting into the secret Phoenix Club gig in Toronto on Aug. 10, 2005. From there I headed to Boston's opening night at Fenway Park, then Chicago, Toronto, Pittsburgh, Hershey, DC, Philly, LA, San Diego and San Francisco. In the new year (2006) I headed to Chicago, Atlanta, Las Vegas, LA, Boston, back to Chicago again, Oakland, Phoenix, Vegas a second time and Atlantic City rounded out the US Tour. In August of 2007 I headed to London for 2 nights at the 02 Arena to finish the Bigger Bang Tour.

So, just who am I & how did I come to love Keith & the Stones so much? At the risk of boring you, my real name is Tamara Guo, I am originally from Lancaster, PA and I moved to Pittsburgh, PA in 1990 to attend The University of Pittsburgh & obtain my Master's Degree in special education. I have worked in the Early Intervention field for 20 years with young children ages birth to three who have special needs and/or are medically fragile.

Rock and roll is my full time hobby and aside from the Stones, I am a fan of Ian Hunter, David Bowie, the Kinks, the Who, Beatles, Tom Petty, Ryan Adams, Cowboy Junkies, New York Dolls, Batusis, Michael Monroe, Steve Conte & the Crazy Truth, the Police...pretty much any great rock and roll or blues music!

I became a Stones fan in 1981, when I bought my first Stones album, Tattoo You. I recall even before '81 that I always liked the tune Brown Sugar, but until '81 I didn't own a Stones album. I always liked the Stones, but I must admit that I didn't become a true die-hard Stones fan until 1994 when I saw them perform live for the first time on the Voodoo Lounge tour in Philadelphia, thanks to my best friend from college, Julie. I was BLOWN AWAY, even though we were in peanut heaven looking through our binoculars. I am happy to say that in 2005 I was able to repay Julie with 3rd row seats for the Hershey show. There was no going back, there was no other group I had ever seen that even came close to a Stones show. I drove back home the next day & immediately bought tickets to the Pittsburgh show in 1994 and have been obsessed ever since.

I play guitar myself, so that may be one reason that I became a Keith fan. I own a Martin Sigma acoustic & a Music Man Silhouette electric and in June 2000 purchased a limited edition signed & numbered #19/100 Ronnie Wood Gibson J-200 acoustic. In Nov. 2011 I bought a Gibson Les Paul Limited Edition 60's trubute. There was just always something about Keith that I loved!
His guitar playing first & foremost, but also his attitude, his style, his charm, his looks, he just exudes something that's different from all others. Perhaps it's his honesty. The man has some of the funniest interviews ever in print. You can ask Keith anything & he'll tell ya the truth. Gotta admire that. His love of the blues, it just shines through in his playing. He lives for it & we love him for it. He is the soul of the Rolling Stones. You can't help but admire him when you see him play live on stage. I have the utmost respect for Keith. Like he said he doesn't think on stage, he feels. "Feel On Baby".
I began to collect anything & everything that has to do with Keith & the Stones and to this day I have amassed quite a collection. The web link is old, my collection has grown to an astounding level in the past 16 years. If it says Keith, I either have it or want it! :-) I have an entire room in my house "The Keith Shrine" that holds my Stones collection. The basement also has a collection of autographs, photos and posters.
These past few tours I was very lucky to be able to have great seats for almost all shows. At least better than peanut heaven in 1994 where I had to watch Keith through binoculars. Thanks SL & friends! In Columbus '97 I gave Keith a black & white skull scarf as he walked out the catwalk to the center stage-we touched hands briefly & for me time stood still. Keith thanked me by touching his fist to his head & heart. I missed the entire song "Little Queenie" after that moment in time! Then as if that wasn't enough of a thrill, in Philly I was in the front row Keith's side & managed to give him a second skull scarf-this one multi-colored. He wore this one for the final bow in front of all of Philadelphia! It was the ultimate thrill seeing him on the big screen behind the stage wearing my scarf.
Keith couldn't have made me happier! Then in NYC at MSG I sent another skull scarf, this third one was black & red, backstage to Keith through a friend of the band. Keith now has 27 or so of my scarves. It's been a dream. And in 2002 to have him put that guitar pick into my hand at the B stage was another dream come true.
Of course my ultimate dream (much like every other Keith fan) was always to meet Keith in person. "Lose your dreams & you will lose your mind" right? I never say never because I never thought I'd give Keith those scarves & that happened...so dreams can come true. Another special moment was on 10-26-98 the day of my birthday, Keith signed a copy of No Security for me, thanks to my friend Ernst who was interviewing him in NYC! I have also had the great opportunity to meet Keith's daughter Angela, his Mom, auntie & cousin as well as the Stones backing band, and Ronnie & Charlie too. I even got to say "hi" to Mick a few times, have Mick chat with actor Jim Carrey next to our table and even go to a private party that Mick showed up at in '99. I cherish every single special Stones moment I've had.

Blue Lena & Angela Richards Sheffield, UK June 1999

In June 1999 I became the secretary of the US branch of the Rolling Stones Fan Club Office which was based in Scandinavia since 1964. Later it was based in France. We put out a fanzine called Stones Planet 4 times per year & maintain an informational web site & message board for fans from 1999-2010 when the fan club and fanzine both sadly folded for good.

Update:2002-03 Licks Tour: I began the tour at opening night in Boston at the Fleet Center, from there I saw shows in Philly, Chicago, DC, Cleveland, Columbus, San Francisco, Oakland, Pittsburgh and Chicago again. I have again been blessed with the ability to get VIP passes for all shows. My best seats were in Chicago in January, row 2 center by the catwalk. I gave Keith scarves in DC, Pittsburgh, Chicago and Las Vegas. Keith has about 12 of my scarves by now. He has worn them for final bows this tour in LA, Chicago, Japan & Australia. And, one of my Stones dreams has finally come true. At 3:15pm on Saturday January 11, 2003 I finally after all these years met Keith Richards in the lobby of the Renaissance Hotel in Pittsburgh. Keith put his arm around me, said "Thank you darling" for the scarf I gave him and then gave me a kiss on the lips! Heaven. And it was worth every minute of the 22 year wait! Thank YOU Keith :-) Now it's onto Toronto to see the SARS benefit concert and then Holland for 5 more shows during the Licks 2003 Tour. By the end of August I will have seen 49 Stones shows in my lifetime.

Update: 2005-06 A Bigger Bang World Tour: Well, I tried to update this page a bit again. I have now seen 14 shows on the Bigger Bang tour in 9 different cities, a total of 61 Stones shows over all. Special thanks to SL, BB, TR, BC & KR! Without all of you many of my dreams would not be realities. I was blessed with VIP passes for all shows and backstage (Rattlesnake) passes for 7 shows. I saw all the Stones in person at least once and met and spoke with Charlie, Ronnie and Keith! All that eludes me now is to have my photo taken with Keith and maybe get him to sign a picture of him wearing one of my scarves. That would be the ultimate!

UPDATE 2007: I was fortunate enough to see 27 shows on the Bigger Bang Tour in the US, Canada and UK. On November 11, 2006 I met Keith backstage in Wardrobe and had several private photos taken with him. It was finally my dream come true and I can't thank Bill and Keith enough for letting me have that special, special moment in time! I will cherish the memory and the photos forever. Later that month Keith also signed one of our photos "Hey Blue, One Love, Keith Richards '06". Wow. I have now seen the Stones 76 times in my life, including 5 club gigs.

UPDATE April 2008: I was in NYC for the Shine A Light movie premiere and was lucky enough to get into the after party for the film at the Palace Hotel. Although Mick and Keith chose not to attend, Ronnie did, and we sat at the table next to Ronnie for several hours, it was a blast, and we got a goodnight hug and kiss from Ronnie when he left!

UPDATE 2011: In 2010 Keith released his autobiography "Life". I was invited to the private book reading at the NYPL, but was unable to attend. I did however, receive a copy of "Life" signed & dated by Keith, which was way cool. Right now I continue to look forward to the Rolling Stones getting back together in 2012 for their 50th Anniversary!

UPDATE 2015: In 2015 I saw the Stones in my hometown of Pittsburgh, PA at Heinz Field. Thanks to Bill B, I was blessed with a Friends & Family of the Rolling Stones laminate which enabled me to attend my first private soundcheck with the Stones. I also was invited to Keith's dressing room before the show and took several photos with him. I also got to go to Stones catering and eat with family and friends of the band. The show was amazing, we had perfect 3rd row center seats next to the catwalk. They played Moonlight MIle! It really was another dream come true and I am still pinching myself. I then saw the Stones in Buffalo for my 81st and final show if the Zip Code Tour.
UPDATE 2019: I am planning on seeing the Stones in DC & Philly for the postponed and now rescheduled No Filter Tour. Stay Tuned!
Please feel free to email me if you are a Keith fan, I'd love to hear from you. I get a lot of email so be patient, but I do try to respond to everyone who writes.
Click HERE TO RETURN TO MY HOME PAGE!
"JUST AS LONG AS KEITH'S GUITAR PLAYS, LET IT STEAL YOUR HEART AWAY!"
---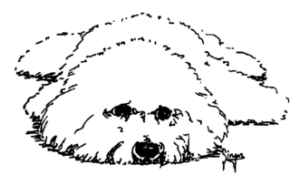 My Dogs Coni (RIP 2008), Mojo (RIP 2010), Sake (RIP 2012) Sushi and Tofu are Bichon Frises. ADOPT FROM RESCUE!
Touch a Bichon and you have touched a bit of heaven... Hold a Bichon and you have held the world... Love a Bichon and you will love life forever... Author Unknown
---
Page Last Updated 06/17/19
---