The DC Adventures began on March 6th, when I drove to the Pittsburgh airport to pick up my friend Elizabeth, who was flying in from California for the upcoming shows. Unfortunately the weather was a bit uncooperative & she was stranded at O'Hare in Chicago for 5 hours. The weather in Pittsburgh wasn't any friendlier. When she finally arrived, we drove home in a blizzard. Anything for the Stones right? The next morning we hit the road at 9am for the 4.5 hr drive to DC, Stones tunes blasting all the way. Checked into the Days Inn Premier Convention Hotel at 1201 K St. NW & headed over to pick up our tickets. The tickets were pleasing to us, for the 7th we had floor seats on Ronnie's side by the catwalk, about 15 rows from the main stage, and for the 8th we had 1st row off the floor Keith's corner of the stage, which was wonderful.


Later we went outside & began to chat with the two motorcycle cops who were going to be escorting the boys to the MCI Arena. They were quite helpful & friendly & were laughing about the guy who was driving Keith's van because he came up & flashed his badge & said "I'm Keith Richards' driver", they weren't that impressed. We were. They told us that they would be coming out the back alley, so we made our way around the block to check for other exits & came to a stop at the alley way. There was a group of autograph seekers, with stacks of old albums that they wanted signed, we were disgusted. Afterall, those aren't fans, they are just the guys who turn around & sell them for money, wankers. Luckily we were just in time to see Keith's blue van & Charlie's Lincoln Town Car pull away, mission accomplished.


We met a very nice couple (please email me, I forget your names!), who gave us a ride down to the Bottom Line, where the DC Glimmer party was being held, run by Jill Berry & StonesDoug.We walked into the bar & were greeted with stares from someone didn't recognize & lo & behold it was COTM & his wife! Hi guys, it was cool to finally meet one of our fellow Backstagers we hadn't seen before. The place was packed & Stones music was blaring.Gary (email me please!) gave me a New Barbarians original t-shirt from '79, which was too cool-many,many thanks!! So many great people there, that I can't mention them all here but it was wonderful meeting all the new people & great to see some old faces again. Gene Collier from the Pittsburgh Post-Gazette was there, and those of you who know me well, know that my husband works there, so no chance of me being included in a PG Stones story, but Gene did chat with a few of my friends & pulled together a few nice Stones related pieces for the next weeks PG (see link below). In our excitement, Elizabeth & I forgot to eat, which always happens...somehow we never forget to drink though, hmmm. Around 7:30 we all caught a cab to the arena & E and I got to hear the Corrs, who were quite good. We were impressed by the 3 sister, one brother Irish group, one of the better openers I've seen. E had seen opening night & Sacramento, but this was my first NS show, so I was READY baby. I heard about the video entrance & when the lights went down, I was once again thinking "I can't believe I am here again, I can't believe this is a whole new tour, I can't believe that in minutes Keith will once again grace me with his presence!". They look so damn cool on that video screen...and before I know it Keith steps out of the shadows & hits the opening chords of JJF & the show is rocking & underway! Tonight's setlist is as follows from IORR:


Start Time 9:17 End Time 11:07 The set list: 1.Jumping Jack Flash 2.Live With Me 3.Respectable 4.You Got Me Rocking 5.Honky Tonk Women 6.Memory Motel 7.Saint of Me 8.Some Girls 9.Paint It Black -- Introductions -- 10.You Got The Silver (Keith) 11.Before They Make Me Run (Keith) 12.Out Of Control 13.Route 66 (B-stage) 14.When The Whip Comes Down (B-stage) 15.Midnight Rambler (B-stage) 16.Tumbling Dice 17.It's Only Rock'n Roll 18.Start Me Up 19.Brown Sugar 20.Sympathy for the Devil (encore)


Of course the highlights for me were hearing Memory Motel again, as I did for the first time in Philly 97 when I gave Keith a scarf, and then YOUT GOT THE SILVER. I have waited all my life for that moment and "never in my sweet short life have I felt like this before". You got MY heart, you got MY soul Keith! God, it was fantastic. Keith sitting on a stool, playing acoustic slide & playing my favorite song of all time, with such emotion it brought tears to my eyes. In fact, the rest of the show was almost a blur after that. I think I came back to earth when Elizabeth & I made it to the front row of the B stage Keith's side, but again being so close it was hard to concentrate on the music. I could see every detail of the boys & we made litle comments back & forth like "look at Mick's..." "Look at the scuffs on Keith's shoes" "look at Ronnie's funny sneakers". I was just so mesmerized being so close & even though I had my camera, I didn't dare miss a second by snapping photos. Midnight Rambler was killer, and the big reality is, look at how much FUN the boys are having. They are really, truly enjoying themselves up there & it shows. All too soon the B stage set was over & we made our way back to our seats. We tried in vain to get a copy of the setlist, but the jerk gave it to a guy who already had a copy. I barely remember the ending, I was in a daze. Getting my pix developed today I did see I took a few of Keith during YGTS & one of the final bow, but they are far away. After the streamers came down & then Sympathy faded out, we went to the bar in the MCI Center & met up with StonesDoug, Jill B, Gene Collier from the PG, and a few others to discuss the show. Everyone had a fantastic time & we were ready for the next night's show...
---
The next morning Elizabeth & I both woke from a 4 hour sleep, with serious hangovers. The price we pay for all that Stoli & Cranberry and forgetting to eat all day long. In fact all we ate was a bagel at 10am in the drive down to DC, we never ate again! So, we were straving beyond belief & walked around in the freezing cold till we found a place that looked decent for 2pm lunch. I had a cheesesteak & she had a hot turkey sandwhich & we drank lots of Diet Coke & water to replenish us for tonight's show. When we got back to the hotel, we took another nap before getting ready to go down to the Carlton once more. This time we once again chatted with the cops who were to lead the entourage to the arena. Anyway, next we headed to the Bottom Line again briefly & caught a bite to eat. We didn't want to skip eating a second day. Then we caught a cab to the MCI once again. This time our seats were one row off the floor AA, at Keith's corner of the stage. Bjornulf Vik from IORR was seated 2 rows in front of us. Tonight's setlist we knew would have some changes in it and here it is from IORR:


Start Time 9:11 End Time 11:07 The set list: 1.Jumping Jack Flash 2.Respectable 3.All Down The Line 4.You Got Me Rocking 5.Honky Tonk Women 6.Moonlight Mile 7.Saint of Me 8.Some Girls 9.Paint It Black -- Introductions -- 10.Thief In The Night (Keith) 11.You Don't Have To Mean It (Keith) 12.Out Of Control 13.Route 66 (B-stage) 14.Just My Imagination (B-stage) 15.Midnight Rambler (B-stage) 16.Tumbling Dice 17.It's Only Rock'n Roll 18.Start Me Up 19.Brown Sugar 20.Sympathy for the Devil (encore)


First surprise,a rocking superb version of All Down The Line. The band was so energetic & I could tell that tonight would surpass the pervious night. Moonlight Mile, what can you say about that? Gut-wrenchingly beautiful. The US crowds still have trouble singing & sustaining the vocal sing-along on Saint, but they tried & Mick gives it his all to keep the crowd going. Keith slips in Thief in The Night, my most requested tune from him in B2B. Lovely, heartfelt version, with Leah Wood on backing vocals. Then kicks into reggae mode for You Don't Have To Mean It. The B stage set was awesome tonight, although E & I were being pestered by a bunch of drunk jerks sitting near us who were trying to bump & grind. Hey, I didn't ask to have them thrown out did I? (flashback to Houston). The rest of the show rocked as planned. Someone tried to pull Keith off the catwalk, cuz his chain is hanging & swinging & someone grabbed it. Be careful Keith! Don't be so damn nice to people! We left there that night feeling out of control! In my mind, DC 2 had almost surpassed MSG 2, my favorite show to date, the only thing holding it back was crowd energy. MSG still took the cake for that. After the show, back to the Bottom Line for a bit more partying & some group photos with the RS VIP sign that StonesDoug stole. Great party Jill & Doug! We had a blast in DC. Next morning it was onto Pittsburgh (or back to Pittsburgh in my case since I live there), but the snow came...and it was hell. We drove home in the blizzard and it took us 8 hours instead of 4, but we made it. Once again saying "I wouldn't do this shit for anyone but the Stones!".
THE ROLLING STONES AT THE CIVIC ARENA PITTSBURGH, PA MARCH 11 1999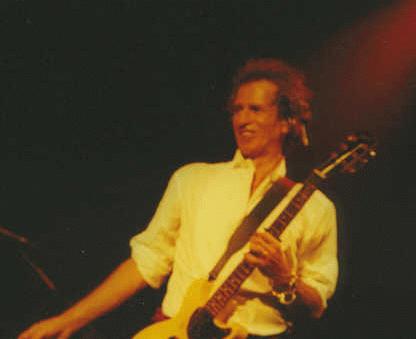 COLOR PHOTOS BY STEVEN ELLIOTT

CHECK OUT THE PITTSBURGH POST-GAZETTE'S COVERAGE OF THE STONES


Unfortunately I am not independently wealthy, thus I had to return to work Wed. the 10th, work the 11th the day of the Pitt show & also the day after. Don't know how I did it, but I did, thanks to my co-workers for putting up with me & filling in for me while I am "on tour"! The day of the show I left work a bit early & headed to the Ramada Plaza Suites to find Elizabeth, and the rest of the crew. Changed into my Stones attire & we headed to the hotel bar, where we once again ran into StonesDoug, Don, Jason The Keithaholic, Glimmer, Terry and later on Skippy, Dirk, T&F, Blinded & Jhabel (who came all the way from Australia). Speaking of other countries I also met William & Chrissie from England for the first time, Thierry fro France too & I suppose I met a lot of other people I am neglecting to mention. My apologies. Did see Steve Groark, thanks for the patches man! We all had some rounds of drinks & I tried to squeeze in a bite to eat while chatting with Willian Nash, whom I also had the pleasure of finally meeting in person. It was freezing cold in the Burgh that night, but we decided to walk over to the Souper Bowl, where local radio station WDVE was having a bash. Quite crowded there & we missed our friends, but turns out they had been there earlier & had cleaned up on the Stones Trivia contest. Onto the Igloo, as we call it here for the show.
Ran into Skippy & Dirk on the way in. I was sitting C level Keith's side, with E, Jhabel & my husband Dave (who was partaking in his second Stones show, his first being MSG last Jan.).The seats weren't bad, but they weren't up to my usual standards. Probably because these were the only seats that I got by the damn Ticketbastard, wristband lotto gimmick, which was all BS to begin with. But, they were Keith's side, so that counted for something. Little did I know that they would pull out some changes for Pittsburgh and make it one hell of a special show. We of course had the same problem of having people tell us to sit down, but this time we had the upper hand. E's reply "it's against my principles to sit at a Stones show" and mine "the Stones haven't played the Civic Arena since 1972 so get off your asses & show your appreciation!". They still sat, we still stood. Here's the set from IORR:The set list:
1.Jumping Jack Flash 2.Bitch 3.You Got Me Rocking 4.Gimme Shelter 5.Honky Tonk Women 6.Fool To Cry 7.Saint of Me 8.Some Girls 9.Paint It Black 10.You Got The Silver (Keith) 11.Before They Make Me Run (Keith) 12.Out Of Control 13.Route 66 (B-stage) 14.When The Whip Comes Down (B-stage) 15.Midnight Rambler (B-stage) 16.Tumbling Dice 17.It's Only Rock'n Roll 18.Start Me Up 19.Brown Sugar 20.Sympathy for the Devil (encore)
Photo by John Heller Pittsburgh Post-Gazette

First treat, Bitch being added in, Skippy & I high fived each other, then Gimme Shelter (perhaps because they skipped us on B2B?), which is always killer. Lisa was sensational as usual. Then, the surprise of all surprises-Fool To Cry! Wow. I never expected a rarity like that to brough out for the Burgh, thanks guys! Mick in electric piano at the front of the stage. Once again we got Silver & Keith said something like "I Got The Silver" then corrected it to "You Got The Silver...someone's gotta have it". Aw Keith, you got it baby! And finally I could enjoy Before The Make Me Run, having not been totally wiped out from YGTS, since it was my second time.
B stage set was kicking, Rt 66, Whip, Rambler...the boys were hot. Some called Pittsburgh their favorite show ever, it was great all right. After the show we wandered back to the Ramada once again singing Saint Of Me, as we did on the way in. We were starving & ordered some food which took forever to be delivered. A crowd gathered in our suite till 3am, when Jhabel told them to politely "piss off" since I had to work the next day. E, T&F, Blinded & Jhabel & I all shared the suite, but we were joined by Skippy, Dirk, Don, StonesDoug, Jason, William, Chrissie, and about 5 other people whose names escape me. We had a sing along with acoustic guitar since T&F brought his Fender & around 2am got a warning from the (yes..no) Security guy to turn it down..to which I replied "but it's not plugged in!". Slept 2 hours in the recliner chair & was up for work at 7:30. Returned to the hotel at 2:30 to pick up E & Jhabel after they checked out, but since I didn't see them in the lobby I decided the next likely place for a Hag was the Stones hotel, so I made my way to the William Penn to retrieve them.
THE ROLLING STONES AT THE FU CENTER PHILADELPHIA,PA MARCH 15-16 1999 Jhabel & E stayed at my house Friday night the 12th, and we spent some time in my Keith Shrine in my house-an entire room filled with Stones memorabilia. We had quite a few laughs, looking at the Keith PG photos, and reading through various magazines. We had another long drive & early start ahead of us, and the next morning without much sleep, running on adrenaline alone, we hit the highway again. Not long into the 6 hour drive, I rounded a curve, passed an 18 wheeler doing 80 & said "shit, I think we're busted!". We were, cop pulls up behind & we pull off the road. "Miss, you were doing 80 in a 65 zone" the officer says. "yes, I know" I reply, hands shaking. I give him my license & registration & not having changed my address on them since I moved becomes another problem. Turns out I guess he felt sorry for a bunch of chicks, so lucky for me he didn't fine me for speeding, he fine me for not having a current address on my license & believe it or not for too many tongues hanging from my rearview mirror! Just like Keith, I had too much shit hanging baby, LOL. So with that overwith we proceded to Philly & finally made it into town about 4pm. At the last minute we had decided to pool our funds & spend one night of luxury at the Stones hotel-The Four Seasons, which in the end turned out to be a most spectacular decision. The service was outstanding, of course it should be for what you pay per night! After the valet parked our car, we checked in & scouted out our room. We freshened up, had a few drinks of Jack & Coke and Rebel Yell.
In the morning after 3 or 4 hours of shut eye, we ventured out to get some breakfast, it was Sunday morning & the brunch downstairs was $45, so we bagged that & went across the street to the Embassy Suites where they had a TGI Fridays, more our price! We feasted, since we had only had appetizers the day before & then went back to the Four Seasons to check out & store our luggage for the day, as we planned to be at the Four Seasons as long as possible. Then the dreaded word of the snow storm came & we found out that 6-10" was predicted for the evening, damn. The snow had followed us to every city! Isn't it supposed to be Spring we wondered? Our original plans were to drive to New Jersey for our friend's Blinded & T&F's party, with the Backstage Crew, and then spend the night & the next few days there. But, with the snow, we didn't want to get stuck on the other side of the Ben Franklin Bridge, so we rang up a few hotels & booked a room for the next three night at the Clarion Suites in Chinatown. We picked up our tickets & then collected the luggage & headed to the Clarion. The snow had already begun & things were not looking good weather wise. We decided to take the train to New Jersey, rather than drive, which was a fairly good choice. T&F kindly picked us up at the station with our suitcase (actually my guitar case) in our hand. This was the biggest gathering of Backstage Chat Crew members ever! I think there were like 25 of us in all, and it was a pleasure to see some people I hadn't seen since 97 or 98 & then to meet some people face to face who I had only known by the net for the last year or so. Blinded & T&F did it up in No Security style, they decorated with black & yellow caution tape, and kept the colors going throughout, plus they labeled things with Stones lyrics, like the clock said "Time Waits For No One", etc. Food & Booze was flowing when we arrived & jello shooters were available. We were treated to an opening act of belly dancing by Jhabel, before the Backstreet Girls (T&F, Fly, Jime & Mars) kicked into their own set of cover tunes. We had a sing along, jam along evening which was a blast. And to top it off we now have much blackmail footage, as the crowd got drunker & the antics got wilder. I do recall something about pickles, finger sucking, crotch grabbing...not mentioning any names of course, LMAO. REVIEWS CONTINUED ON PAGE 2-CLICK HERE