In 1982, the Orange County punk scene was thriving. After four years of unsteady growth, there were finally enough punks and bands to support weekly gigs at several Orange County clubs.

By late 1982, there were great punk shows every weekend at both Ichabod's and the Galaxy in Fullerton, as well as regular gigs at the T-Bird Rollerdrome, a short drive up the freeway in Pico Rivera.

1982 also seemed to be the year that the Orange County punk scene finally defined itself as something unique and different from the L.A. scene. Local bands that used to just play Orange County gigs, were suddenly becoming nationally known. Good old Fullerton and Huntington Beach local boys like Social Distortion, the Adolescents, TSOL, and the Vandals were starting to sell records all over the world.


10/31/82
T.S.O.L., Bad Religion, Hellations, Regional Kaos
The Galaxy, Fullerton
$7.00
Halloween. I showed up late and missed Regional Kaos.

The Hellations were about half way into their set when I arrived at the club. For an unknown warm-up band, they put on a pretty decent show. They had a fast angry sound and their songs were heavy on inflammatory political content.

In 1982, Bad Religion was a brand new band, this must have been one of their first official gigs. Like many of the local hardcore bands that played at the Galaxy, they looked really young, maybe sixteen or seventeen at the oldest.

Bad Religion played good, honest punk, with a sincere, straight-forward attitude. But at the time of this early gig, their musical skills were extremely limited. Both the back-up guitarist and drummer could barely play their instruments, and the bass and other guitarist were only slightly better.

T.S.O.L. was the only band that dressed for Halloween. Lead singer, Jack Greggors was wearing a hippy costume (how ironic), and the rest of the band were wearing kids costumes, Clockwork-Orange droog clothes, and other more typical Halloween stuff.

In the early 80's, T.S.O.L. was probably one of the best new punk bands in Southern California. They usually put on a terrific show, and they had a fast, out-of-control sound; songs raced along at a crazy gallop, always on the verge of falling apart into an disrythmic tumble of noise.

At the time of this gig, T.S.O.L. had developed such a large following of fanatical teenage fans, that they were attracting the attention of concerned moms and local ministers. A Huntington Beach christian/moms group advanced the theory that T.S.O.L. actually stood for "To Satan Our Lord".

T.S.O.L. was a great band in the early 80's, but unfortunately, by 1990, they de-evolved into an embarrassing Heavy Metal band.


11/5/82
Social Distortion, Mentors, Shattered Faith, Vandals, Eddie & the Subtitles
The Galaxy, Fullerton
$6.00
Local Fullerton punk veterans, Eddie & the Subtitles opened the show with a very short set. They played just four or five brief songs and then quickly left the stage.

The Vandals were next. It wasn't Christmas yet, but for some reason, the Vandals' bassist "Human" was dressed up as an Xmas present; wearing a box with wrapping paper and a ribbon on it. They played a great set, capped off by a hilarious cover version of the 70's prog rock hit "Hocus Pocus" (Focus).

I was never really crazy about Shattered Faith. Back in 1982, when I made this entry in my gig diary, I only wrote one word to describe their show; "boring".

I had heard a lot of good things about The Mentors, but I had never seen them before. I was surprised to see that they were older, long-haired, biker-looking guys who wore black executioner's hoods and played a hybrid crossbreed of punk and heavy metal. Their lead singer "El Duce" was a stocky wise guy, who barked out short, loud, offensive songs about hookers, junkies and porno. I was impressed.

Social Distortion played a great set, but I was distracted by a bad P.A. system, and an entertaining fight between a big ugly bouncer and some teenage punk in the audience.

The athletic, zit-faced bouncer had been sitting on the edge of the stage throughout the show, angrily glaring at the audience like a pissed off drill seargent. About half way into Social Distortion's set, some skinny sixteen year old punk kid in the middle of the pit started to pelt the bouncer with ice from a soft drink.

After four or five direct hits, the pizza-faced bouncer suddenly jumped off the stage and into the pit and started swinging at the skinny punk kid who had been throwing the ice. The ice thrower ducked and ran from the pit with the bouncer following him. They ran about 25 feet, and wound up in the middle of a crowd of punks who were evidently the ice thrower's friends.

The ice thrower and his many buddies then proceeded to give the jocky bouncer a merry thrashing. Social Distortion played on without missing a beat, but most of the audience was not paying attention; they were too busy swinging and kicking at the pock-marked bouncer, and showering him with trash and more ice cubes.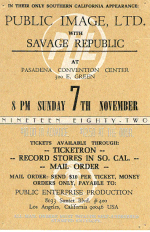 11/7/82
PiL, Savage Republic
Pasadena Convention Center, Pasadena
$10.00
This was another amazing show, that started off with a near riot, and ended up with some kid jumping off a 25 foot high pile of amplifiers.

When I showed up at the Pasadena Convention Center, there was a long line of punks, that stretched about a block and a half from the main entrance. We waited and waited. The show was supposed to start at eight, but it was about ten minutes after, and they had still not opened the doors.

When the doors finally did open, the line was funneled down into a concrete stairwell, to a pair of double doors with bouncers letting people in two at a time. This turned out to be an incredibly stupid plan on the part of the Convention Center, because after about another 45 minutes, the line had barely moved, and the punks in line were starting to get impatient.

The stairs leading down to the double doors were jammed to capacity, and people at the top of the stairs began to squish down on to those at the bottom. The people at the very front of the line were forced into the doors by the wave of pushing behind them, and the bouncers panicked.

As the surge of people pushed past the gate, the bouncers suddenly sprayed us all with pepper spray, and then shut the doors. People on the stairs were reeling from the pepper spray, losing their balance and sliding or slipping on to those below at the bottom of the closed stair well. It was amazing that no one got squashed or seriously hurt. It was almost like when those kids got trampled at that stupid "Who" concert.

When I finally got inside, Savage Republic was already on stage. They had a really unusual, percussion-heavy sound; the band had about three drummers, complimented by psychedelic / middle eastern style bass and guitar. They were fronted by a angry college kid, who shouted out muffled political lyrics like "kill the fascists". They seemed to fit well with PiL; much of their material sounded a lot like PiL's "Flowers of Romance" album.

After another long delay, PiL finally took the stage. Once again, the audience screamed out requests for Sex Pistols tunes, and once again lead singer John Lydon refused to play anything from his infamous past. Their set consisted mostly of material from "2nd Edition" and "Flowers or Romance".

Lydon/Rotten seemed to be in a much better mood than he was the last time I saw PiL. He still ignored the Sex Pistols requests, but he looked like he was actually having fun, inspite of the shower of spit and trash flying towards the stage from the audience. This time it was guitarist Keith Levene who got pissed off, and threw down his guitar and walked off stage in the middle of a number; only to mysteriously return for the next tune.

Near the end of PiL's set, a stoned-looking punk climbed up onto the massive pile of speakers at the right hand side of the stage. As yellow-jacket security guards surrounded the sound system, the kid continued his climb to the top of the speakers; two stories above the Convention Center floor and out of the reach of security.

When the climber reached the top of the P.A. system, he turned and grinned goofily at the audience. He stood there a while, flapping his arms like a bird getting ready to fly, and then he suddenly jumped. The punks on the floor scrambled to get out of the way, and the climber smashed into the cement floor.

After the concert was over and the crowd had mostly cleared, I walked over to the right side of the stage and noticed a huge pool of blood on the convention center floor where the climber had impacted the pavement. Ouch!, that must have hurt.


11/13/82
D.I., Confederate, No Crisis, Mox Nix
The Galaxy, Fullerton
$6.00
There was an extremely small crowd that night; the Galaxy's normally packed dance floor was only about half full.

I had never heard of Mox Nix before, but they put on a pretty entertaining show inspite of limited musical skills and a set of really dumb songs. Between tunes, the singer made numerous references to pot and getting stoned, which prompted several punks in the audience to angrily scream back "Hippy!".

Confederate seemed particularly animated that night. The singer jumped around like an aerobics instructor on crank, and their set featured lots of atonal, disrythmic "experimental" tunes.

No Crisis was another unknown local band. They were neither good nor bad, and by the time that the next band had taken the stage, I couldn't really remember anything about No Crisis' set.

As usual, D.I. put on yet another great show; highlighted by hits like "I Like Guns", "Richard Hung Himself", and others. Fellow Fullerton punk veterans Mike Ness (Social Distortion) and Eddie (of Subtitles fame) joined D.I. on stage for an impressive finale; a chaotic cover of Gary Glitter's "Rock and Roll, Part I".



11/14/82
Chequered Past, The Tazers
Ichabod's, Fullerton
$5.00
The Tazers were a Fullerton bar band, who had recently made the transition from "main stream rock" to punk. They were competent musicians, with lots of performing experience, but their approach to punk was rather cliche and formulaic. It seemed like they must have learned about punk from watching teen-exploitation films like "Valley Girl"; like all it takes to be "punk" is purple hair, torn clothes and a sneer.

Chequered Past was a collection of punk rock has-beens including Steve Jones from the Sex Pistols, Michael Des Barres from Detective, and Nigel Harrison and Clem Burke from Blondie. They were fronted by singer/guitarist Hunt Sales, who, in addition to being comedian Soupy Sales' son, had also played with both Iggy Pop and Todd Rundgren.

They put on an entertaining show, that included covers of tunes by both the Sex Pistols and Blondie. It kind of struck me funny that the weekend before, I had seen Johnny Rotten pack the Pasadena Convention Center, and this weekend, I was seeing Steve Jones play Ichabod's tiny stage to a half capacity audience. It was also ironic that mega-star Rotten had refused to play Sex Pistols tunes, while the overlooked Steve Jones seemed to have nothing else to do, inspite of his considerable guitar talents.


11/19/82
Social Distortion, Mau Maus, Jody Fosters Army, No Crisis
The Galaxy, Fullerton
$6.00
I showed up late and missed the first band, No Crisis. No crisis.

I had heard a lot of good buzz about Jody Foster's Army, but I had never seen them perform before. They had only been a band for several months, but they already had a devoted group of fans; many with the letters "JFA" home-tatooed on their arms. JFA really put their heart into their act. They flailed away at their guitars with conviction, and their singer screamed and jumped around the stage with enough energy for two or three people.

Unfortunately, on this evening their performance was cut short when the singer jumped off the six foot high plywood stage, expecting the audience to catch him. They didn't. The crowd parted, and JFA's singer belly-flopped on the concrete floor. That was the end of JFA's show that evening.

The Mau Maus had been gigging around L.A. since about 1978. They weren't part of the original "class of 77", but they were pretty close. The Mau Maus seemed to have never-ending personnel problems; the band had broken up and reformed three or four times since they started, and singer/founder Rick Wilder's alleged affinity for intravenous drugs had caused them to miss scheduled shows and pass up several recording opportunities.

I was expecting a disaster, but instead the Mau Maus were great. They played solid 70s style punk, with heavy Iggy/Pistols influence. Singer Rick Wilder also looked a lot like Iggy; longish white hair and a wasted skeletal physique ... like the walking dead Iggy from the cover of Raw Power or Funhouse. The set included their minor hit "All Fall Down" and many other tunes that sounded like they should have been products of the 77 New York/London punk scenes.

Social Distortion played a long, satisfying set that included well known early material like "1945" and "Telling Them" and other 1982 songs that were new to me at the time. This was one of their rare early 80s appearances where their set was not interrupted by a jittery promoter who decided to end the show early, or a surprise appearance by the riot squad.

Later, when the show ended and we all walked out the double doors to the parking lot, there were about six Fullerton police cars waiting outside; looking like they expected trouble. But there was no trouble, and as the punks piled into their cars to leave, the police stood there with folded arms looking disappointed that there would be no riot to break up, and no skulls to be bruised.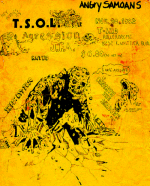 11/20/82
T.S.O.L., Angry Samoans, Aggression, the Hated, Jody Foster's Army, un-billed warm-up act
T-Bird Rollerdrome, Pico Rivera
$6.00
The T-Bird Rollerdrome was located next to the railroad tracks on Whittier Blvd. in a run-down, industrial neighborhood in Pico Rivera. The "Club" was owned by Ralphie Valaderes, a former member of the L.A. T-birds rollerderby team.

If you're younger than 30, then you probably don't remember rollerderby. But way back in the 1950s and 60s, it was almost as popular as professional wrestling. Rollerderby was kind of a pseudo-sport; where two teams on rollerskates raced around a banked track and generally beat the hell out of each other. Points were scored when the "jammer" for your team was able to pass members of the opposing team. The rules were hazy at best; it was basically anarchy on wheels. Rollerderby was usually televised on low- budget, second rate LA TV stations like KTLA, KCOP and KTTV, with extremely low-tech commercials for coffee shops, bowling alleys, and plumbers.

When its popularity declined in the mid 70s, Rollerderby went off the air, and former star Ralphie Valaderes decided to try his hand at running a kid's amateur rollerderby league from an old skating rink in Pico Rivera. By 1982, it looked like Ralphie wasn't doing so good. The big, blue T-Bird Rollerdrome had the look of failure and desperation on the outside, and the stank of urine on the inside. The whole building was sorely in need of repair, cleaning and a coat of paint.

When it became apparent that the amateur Rollerderby league thing wasn't working, Ralphie had decided to push the banked plywood skate track over to a corner of the rink, and use the remaining space for punk concerts. You know, print up a few flyers and make some quick cash.

The T-Bird was the classic "underground" punk venue; spooky urban/industrial location, low flimsy stage, bad sound system, and trashed bathrooms. They had no liquor license, but you could buy luke-warm cans of Bud or Coors from Ralphie himself, with no questions asked about age or ID. To maintain order, several former T-Birds, including Big John (can't remember his last name) skated through the crowd sporting T-Birds' Jerseys and cold, angry expressions.

This was the first punk show at the T-Bird, and my friends and I arrived about half way into the opening act. No body who I talked to seemed to know the name of the opening band. All I can remember about them is that they had a female vocalist who was jumping around so much that her opai kept flopping out of her shirt.

After seeing their lead singer's belly-dive onto a concrete floor the night before, I was surprised to see Jody Foster's Army performing at all. But there they were, and they put on a great show to boot. JFA was young and inexperienced, but they attacked their material with such fury that nothing else mattered.

The Hated were probably the first punk band I ever saw that were big, buff sporto types, instead of being skinny, wasted weirdos like me, my friends, and most of the bands that we followed. The Hated's angry, barking, mad-dog marine attitude was borderline "un-punk" in 1982; too close to heavy metal or something. Nowadays it has become part of the scene, but in 1982, it was considered "bad form" to be a jock. The Hated played a generally unimpressive set; the sole highlight of the show being a cover of Steppenwolf's "Born to be Wild" (sounds dumb now, but back then it was something that hadn't been done to death yet.)

Aggression also had the same angry marine attitude. They were a little older than the average punk band, and had weird jarhead/skinhead hybrid haircuts. Like the Hated, their music was rapid and violent, with stupid, predictable lyrics. They sounded like a fast, angry machine, but their set was no where near as entertaining as the Hated had been.

I hadn't seen the Angry Samoans since about 1979 (see Gig Diary Part 1), and they had changed a lot since their show at CSUF. The Samoans were now a five man act, and the only faces that I recognized were the singer and the guitarist. They delivered an excellent set with lots of new songs. A large slam pit developed in front of the stage, while over in the dark corner of the roller rink, punks hid out on the abandoned plywood rollerderby track, sipping from smuggled tequila bottles and consuming other illegal intoxicants.

T.S.O.L. was great as usual, but their set was slightly marred by two separate electrical snafus that twice blacked out the entire building. Talk about disorienting; there's nothing like being in the middle of a slam pit, thrashing around to your favorite band, and then suddenly ... bang! ... total darkness. No sound, no "Exit" lamps, nothing. This was the second time I had seen blown fuses at T.S.O.L. shows; was there something wrong with their equipment or were they just unlucky?

When the show ended, I headed off to the bathrooms to "leak my lizard" (as they say in France). But rowdy punks had done a thorough job of totally destroying the already thrashed restrooms; the stalls were all kicked down and there was a pile of urine soaked toilet paper and back-flushed fecal matter on the floor about an inch deep. I decided to pee outside.


11/24/82
The Brat, Eddie & the Subtitles, Nightmare, Panty Shields
The Galaxy, Fullerton
$6.00
I arrived late, and caught just the end of Panty Shields set. They didn't make much of an impression on me, except that they had a saxophone, and they were dressed kind of weird (even for punks).

I couldn't tell if Nightmare was a heavy metal band or a heavy metal parody band. In either case, their music was boring and dumb, and I was glad when their set was over.

Eddie and the Subtitles played about an album's worth of music; this was probably the first time that I had seen their whole set without interruption. When they did their hit "American Society", Mike Ness from Social Distortion joined the band on stage and sang along with Eddie.

The Brat was a band from East L.A. with a attractive latina girl vocalist. They weren't exactly what you'd call punk, but more of a combination of punk and texmex music backed up with herky-jerky, electric Farfisa organ. When they first appeared on the L.A. punk scene, local music critics had dubbed them "Brown Blondie", a nickname which had stuck because it described their sound and appeal so well.



11/26/82
Circle Jerks, Bad Religion, D.I., the Skoundrelz
The Galaxy, Fullerton
$7.00
Where ever I go, I'm almost always late; and once again, I didn't get to the Galaxy until about 9:00 pm, so I missed the unbilled opening act, the Skoundrelz. I was curious about what I had missed, so I did the same thing that "professional" music critics usually do when they show up late; I asked some friends how the opening band was, and they said "pretty good".

D.I. put on a great show as usual; in fact I can't really remember ever seeing them do a bad show in those days. Their set included several new songs, including a tune titled "Richard Simmons is a Faggot". In the year 2000, an attack on Richard Simmons doesn't sound very original, but in 1982, Simmons hadn't become Howard Stern's favorite whipping boy yet. It was funny to see the self-appointed god of fat women held up to such bitter ridicule.

When I think back to all of the excellent punk bands that used to gig around Orange County, its amazing that out of them all, Bad Religion is now one of the most successful and well known. Bad Religion always played with fury and conviction, but they had few memorable songs, and their musical abilities were extremely limited. So why did they become punk rock mega-stars, while much better bands (like the Circle Jerks) wound up as forgotten has-beens, forced to work dead-end waiter's jobs in order to pay the rent? I just don't get it, somebody please explain.

The headliners of the evening, the Circle Jerks put on an amazing show. The Circle Jerks had it all; great songs, lots of musical talent, and a charismatic wild man, singer Keith Morris; who had previously yelled with Black Flag on their early recordings. When compared to our crop of local OC punk bands, the Circle Jerks were seasoned professionals; they really knew what they were doing. Their action packed set whipped the Galaxy audience into a vigorous frenzy, resulting in an extra large slam pit, angrily swirling in front of the shabby plywood stage. I guess that was why the admission price for that night's Circle Jerks show was seven dollars, instead of the usual six dollars for Galaxy shows featuring local OC bands.


12/3/82
Rikk Agnew, Minutemen, One Way, Gutter Snipes
The Galaxy, Fullerton
$6.00
So I finally got to a gig on time and what was my reward? The opening act Gutter Snipes was horrible. They were more new wave than punk, and most of their material had a light-weight, pop sound that would have fit better with mainstream, new wave FM radio bands like the Knack or Joe Jackson. They were just too darned happy and well adjusted to fit a punk venue.

This must have been one of those evenings when the bookers for the Galaxy tried to put together a more "diverse" show that included other kinds of music besides punk. One Way was a post-punk art- rock band, with a weird, synthesizer driven sound. Their set bordered on dumb, but was still reasonably entertaining none the less.

The Minutemen put on an incredible show. When I think back to all the punk gigs that I attended in those days, the Minutemen clearly stand out as one of the best. Corpulent guitarist D. Boon spat out fast, atonal fuzz riffs and yelled surreal, semi-coherent lyrics, while Mike Watt tore up a 6-string bass with practiced abandon, wearing a big goofy grin that provided an interesting contrast to Boon's focused, sombre scowl.

The Minutemen had been a big part of the LA punk scene since the late 70s, and their name had originally referred to the fact that few of their tunes lasted much longer than one minute. Their music was drastically different from most other LA punk bands; their 4/5 timing and atonal key changes almost sounded more jazz than punk. The highlight of their set that night, was a mutated version of Van Halen's "Ain't Talking About Love". In the Minutemen's able hands, this heavy metal anthem about sexual conquest, was transformed into a strange, introspective take on alienation and loneliness.

It was a major tragedy that the Minutemen didn't last long enough to leave an impressive mark in the history of Rock and Roll; D. Boon was killed in a head-on collision while touring in the mid 80s, and the remaining Minutemen then disbanded. Bassist Mike Watt continued on with Firehose, several solo projects, and an all-star "punk pick-up" band, but without Boon's massive persona and lyric ability, things just didn't click the way they had with the Minutemen.

In the early 80s, Rikk Agnew was as about as close as Orange County could come to a punk "superstar". At one time or another, guitarist Agnew had been an early member of the Adolescents, Social Distortion, and several other major OC punk bands. His most recent accomplishment had been playing and writing on Christian Death's debut "proto-goth" album. But for this show, Agnew's band was exploring the heavy metal genre; complete with long, drawn out guitar solos, excessive macho posing, and dumb, one dimensional "yeah, baby baby" type lyrics. In short, their set was overly-long and boring (especially after the Minutemen's amazing performance), and I had to strongly resist the urge to leave early.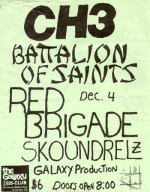 12/4/82
CH3, Battalion of Saints, Red Brigade (AKA Kent State), Skoundrelz, Un-named Pick-Up Band
The Galaxy, Fullerton
$6.00
The show started extremely late that evening, and the opening band was not really a band at all. It consisted of singer Jack Greggors from TSOL, backed up by various members of the other bands that were slated to perform that night. They put on a sloppy, yet entertaining set as they felt their way through four or five heavily improvised songs. It sounded like they were making up songs on the spot, or just filling time until the advertised bands showed up.

Skoundrelz turned out to be pretty good, just like my friends had said. Before the set started, the singer came out on stage and threw piles of baseball cards to the audience. Kind of a weird gesture, but it did get things started. They sounded a lot like the Sex Pistols and other 70s punk bands, and they also looked the part. The audience slammed while the Skoundrelz played, but they probably should have been pogo dancing, given the band's nostalgic late 70s sound.

Red Brigade also put on a great show. They had been previously named "Kent State", but announced that this was their first show using their new name. They were older than most other punk bands, and had a hot lead guitar player, which was also kind of unusual for punk bands in the early 80s. Most of their material was heavily political (no surprise, for a band named Red Brigade), with "Smash the State" type lyrics that were reminiscent of the Dils (another commie-punk band from the early LA scene).

This was the first time that I had seen Battalion of Saints, and I wasn't too impressed. The band really wasn't that bad; they were reasonably competent musicians, and had a well-rehearsed "tight" sound, but they had few memorable songs, and a tendencie towards heavy metal. Their lead singer looked like a chubby tattooed rooster, with a poofy heavy metal haircut that belonged at a Rod Stewart concert. I couldn't be certain, but it also seemed like many of their songs had bible beater undertones, which made me like them even less.

I had heard that CH3 was pretty good, but it was really hard to tell if they were or not. The Galaxy's cavernous acoustics and low budget sound system, distorted their fuzz driven sonic assault into an incomprehensible blur of sound. It sounded fairly decent from the middle of the pit, but if you took ten steps back, you couldn't tell what the heck they were trying to do.

When CH3's set ended and the house lights came on, my buddy Victor stumbled out of the pit with a deep, three inch gash on his forehead and the front of his shirt stained with blood. My friends and I huddled around Victor, asked him what happened, and offered to thrash the guy who did it, but all Victor could say was "I dunno, I'm not sure".

This wasn't the first time or last time that poor Victor got the snot knocked out of him at a gig or a party. Although Victor was big, stocky and reasonably fit, (think of Curly from the Three Stooges), he drank too much, and when he got good and drunk, he either passed out or picked a fight with someone even bigger and angrier than he was. It was a good thing that Victor was so drunk, because otherwise he probably would have freaked when he looked down and saw his blood soaked shirt. That's the funny thing about booze, on one hand, it can get you into fights that you lose, on the other hand, you usually don't realize that you lost until you wake up the next morning.


12/5/82
45 Grave, D.I., Tazers
Ichabod's, Fullerton
$5.00
This was the second time I had seen the Tazers open a show at Ichabod's, and as far as I was concerned in 1982, that was one time too many. As I said before, they were a local Fullerton / Anaheim band, and although they were well practiced (and well-equipped) musicians, there seemed to be something missing from their act. They lacked a powerful stage presence, they were really more "new wave" than punk, and their original material sounded too much like covers of other bands' songs.

D.I. wasn't scheduled to appear, But Casey, Tim, and the base player had showed up to see 45 Grave's set. Apparently, they figured, "what the heck, we're here anyway" so they got up on stage and did two songs using the Tazers musical equipment (guitars and amps) plus borrowing the Tazer's drummer. The Tazer's fancy, new equipment sounded much better with D.I. playing it.

It had been several months since I'd seen 45 Grave play, and this time, they were missing their old bassist, Rob Graves. I didn't recognize the replacement bassist, but he did a competent job filling in for Graves.

As usual, 45 Grave put on an entertaining show, but it was pretty much the same material that they had played when I saw them several months before. However, this time they did include a smoke generator in their show, which completely overwhelmed tiny, front-room sized Ichabod's; the whole place was full of smoke, and just before they turned off the smoke machine and turned on the fans, it was so smoky that you couldn't see your hand in front of your face.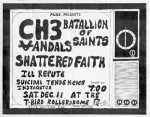 12/11/82
CH3, Battalion of Saints, the Vandals, Suicidal Tendencies, Shattered Faith, Ill Repute, Patriot, Instigator
T-Bird Rollerdrome, Pico Rivera
$6.00
To the best of my knowledge, this was the first show that I went to that was produced by "P.U.N.X.". Throughout 1982 and 1983, PUNX put on a number of shows in the LA area, and a lot of them wound up being at the T-Bird Rollerdrome. According to the local punk rumor mill, PUNX was alleged to be more of a gang than a music production business. When you added PUNX spooky reputation to the gang infested Pico Rivera neighborhood where the T-Bird stood, it gave the shows there kind of a sinister, dangerous feeling.

Instigator opened the show with a completely non-descript performance; they were neither good nor bad, and by the time the next act took the stage, I had completely forgotten what Instigator had been about.

Although I had never heard of Patriot before, they turned out to be pretty damned good. They were relatively young; probably still in their teens, and they played fast, sloppy 1977 New York style punk, and dressed 77 NYC style punk (ala the Dolls, Heartbreakers, Ramones, etc.) The highlight of their set, was a loose, thrashy cover of the Stooges' "Now I Wanna be Your Dog". They were a last-minute, unannounced addition to the line-up that night, but they were easily the second best band of the evening (after the Vandals).

Ill Repute wasn't bad, but I was more impressed by their stickers than their stage show. At the end of their set, they threw out handfuls of cool stickers with their band logo on them.

Back in the early 80s, I wound up seeing lots of bands that I didn't really enjoy. Many a time, I found myself enduring some boring band because there was either nothing else to do that night, or they were the warm-up act for some band I did want to see. Out of all of these boring bands that I endured during those early days of punk, Shattered Faith had to be the most boring. There was just nothing interesting about them at all; forgettable songs, mediocre musicianship, and no compelling stage persona.

After an extremely long intermission, Suicidal Tendencies finally showed up late and took the stage. The audience that night was packed with S.T.'s gang-like followers, since Pico Rivera was pretty much home turf to the whole Suicidal crew. Between the involvement of the PUNX people, the Pico Rivera locale, and the presence of Suicidal Tendencies and their fans, the evening definitely had a kind of punk/gang type feeling. This was the first time that I had seen Suicidal Tendencies play, and this time I wasn't all that impressed. They sounded much better when I saw them play the next weekend at the Galaxy, but I'll save that story for later.

In those days, you could always count on the Vandals to put on a terrific show (although if you asked me, after Stevo and Human left the band the Vandals became almost completely worthless). That night at the T-Bird, their set included a hilarious, drawn-out cover version of the prog-rock band Focus' hit song "Hocus Pocus", complete with Stevo doing the warbly Yodeling parts. Stevo's choice in head gear also deserves mention; that night he was wearing a weird hair-hat that looked kind of like a Don King wig made out of a shag carpet.

You know, before, when I talking about boring bands that I hated yet saw a million times anyway, I also could have been talking about Battalion of Saints. Back in those days, many of my friends liked them, but I found their mix of heavy metal pose and xtian/punk lyrics both annoying and boring. The lead singer always reminded me of a big, fat, tattooed cartoon rooster.

I had been looking forward to seeing CH3, but I could only stay long enough to see their first couple songs. CH3 sounded pretty good, but the greasy Mexican food that I had for dinner that night was doing an awful number on my stomach, and the rumbling, bubbling, groaning noises coming from my belly convinced me that I would need to find a toilet really soon.

Already knowing what to expect, I checked out the T-Bird's restrooms anyway, and just like the last time I went to the T-Bird, the bathrooms were completely trashed, with the floors covered with human fecal matter and urine that had over-flowed out of the backed-up toilets. So rather than staying and seeing CH3, I wound up driving about 30 to 40 miles back to my apartment in Orange, just so I could suffer from painful diarreah on my own clean, private porcelain throne.



12/17/82
Wasted Youth, Youth Brigade, Suicidal Tendencies, 7 Seconds
The Galaxy, Fullerton
$6.00
Call me a wimp if you will, but man, it was nice to be back at the good old Galaxy in Fullerton, away from the heavy gangster attitude and wrecked bathrooms at the T-Bird.

I had never heard of the first act of the night, but it turned out to be 7 Seconds, from Reno, Nevada. In those days, it was still kind of unusual to see punk bands from out of town; most big, American cities had punk scenes, but for the most part, the scenes from region to region were completely unrelated from one another, and there wasn't a whole lot of interaction between the punk scenes in various cities.

7 Seconds was great, easily the best band of the night; in fact, they were head and shoulders better than Wasted Youth, the headliner for the evening. As 7 Seconds played, an intense slam pit developed. Then about 4 songs into their act, the hay-seed singer of the band stopped between songs and announced "We've never seen slamming before! You guys are crazy!"

The first time I saw Suicidal Tendencies, I didn't think they were all that great; maybe it was the heavy gang attitude that night, or maybe it was just an off night for the band. But this time at the Galaxy, they put on a kick-ass show, which included early versions of "I Saw Your Mommy" and "Institutionalized". It was definitely easier to enjoy Suicidal Tendencies without their faithful hoard of ultra-violent knuckleheads hanging around.

Youth Brigade was yet another new, young hardcore band out of North Orange County. They put on an extremely loud show; so loud that it had me retreating to the back of the Galaxy to hang with friends and share smuggled-in refreshments. At a distance, they weren't bad for such a young band, but they didn't seem a whole lot different from all of the other new, young hardcore bands that were popping up like weeds all over OC and LA.

I had heard a lot about the last band of the evening, Wasted Youth; all over Orange County, I had been seeing stickers with their "WY" logo, plastered on bus stops, street signs and telephone poles. But unfortunately, they were nowhere as cool as their logo; they were frenzied, but unoriginal, and they had few decent songs. Especially after Youth Brigade, they seemed like just another carbon-copy hardcore band.


12/18/82
45 Grave, Rikk Agnew, Crude, Skoundrelz
The Galaxy, Fullerton
$6.00
The first act up was the Skoundrelz, and although they delivered a fast, energetic performance, it was basically the same show as the last time I saw them. They played the same original 77 English style tunes, but this time they didn't throw out bubblegum cards before they came on.

Crude was another one of those bands that I had never heard of before, but surprisingly, they turned out to be pretty entertaining, despite a close resemblance to the band Fear.

Like Lee Ving, Crude's lead singer baited the audience with a non-stop spew of nasty insults and obscene wise cracks between songs; their fast, angry, loud songs weren't as cool and well-written as Fear's material, but the singer did do an admirable job of stirring-up and pissing off most of the audience at the Galaxy that night.

I wasn't expecting much from Rikk Agnew ... about two weeks before this gig, I had seen him do another show at the Galaxy, and at that time his act consisted of a set of material that was basically, plain old heavy metal. But this time Rikk rocked; he played a lot more original punk songs, as well as some stuff that sounded really similar to the songs that he had performed with other OC punk bands like the Adolescents and Social Distortion. He had also added a second lead guitarist, who looked like he was about 14 years old, and spat out fast, angry lead riffs that well complimented Agnew's screeching guitar style.

The headliner for the evening was supposed to be the Mau Mau's, but they had cancelled at the last minute (allegedly some sort of problem with medications), and 45 Grave had graciously volunteered to substitute for them.

In spite of the short notice, 45 Grave put on a terrific show that night. They played a couple of new songs (or at least I hadn't heard them before), and they also dragged out a couple of cool old tunes like "Polyunsaturated Blood". Sometimes you see the same band on different nights, and they're great one night, but then they suck the next. On this particular evening, 45 Grave was definitely having one of those nights when they were great. I was glad that the Mau Maus hadn't been able to show up.








To Be Continued ...






Part 1: Introduction, 1979
Part 2: 1980 & 1981
Part 3: 1982
Part 4: 1982 (continued)