CHARITIES AND ORGANIZATIONS
Below are a list of Charities/Organizations we support as well as causes important to us. Please look into them and help someone in need!
Kihew's FAS(Fetal Alcohol Syndrome) site
A non-profit organization for homeless women and children.

John & Sharen Suneagle's Native Children & Families Sponsoring Program- Please sponsor a child, it is simpler than you can imagine. They are in need of many sponsors for both children & elders.

- Please visit this site and help out whichever way you can.Baby Ariel was born without eyes and many others problems!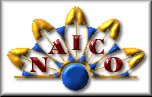 Click on the Link above to visit the North American Indian Children Organization-Their goal is to assist and aid children of Native American descent by helping in advancing their knowledge of Native American Indian culture and providing food, clothing and medical supplies plus more.
Futures for Children-Strengthen American Indian communities one child at a time
Planet Youth-A very informative site for parents and children
Bobby Camarillo-A california Youth in need of a double lung transplant. A fund is set up to aid Bobby and his family. Please Help!
Thanks for visiting our site and come back soon!

Click on above image to go back to Home Page!
Maiden Image courtesy of Waya Graphics!
Rose and Joni 1999