Chalky, Dufus, Shirt & Lupine…
…Invasion VII!
Another year, another Invasion.  This year, Chalky, Dufus and Shirt were joined by Lupine and it was going to be a real lads day out J.
Seventh Galaxy had an astounding guest list; 4 Doctors, Ace, 2 Derek's, a Cyber-Controller, a Cyberman, a UNIT sergeant, a Red Kang and another Doctor (not of the Time Lord variety).  McGann, McCoy, Baker and Davison were a big draw and soon the event was sold out.  Unfortunately, at the last minute, McCoy had to pull out and Seventh Galaxy replaced him with ersatz Doctor, Trevor Martin.
<![if !supportEmptyParas]> <![endif]>
The tradition of driving up to the convention was to be continued, this time with Chalky in the driving seat (and nobody navigating J).  It was decided it was easier for Lupine to train it, seeing as he would have to effectively come back on himself very early in the morning to meet the others in Worcester Park.  As it turned out, this was maybe not the best of plans as, whilst listening to the strains of "Doctor in Distress" and "Who is Doctor Who" (another Invasion driving tradition), Lupine rang to say he was still a fair way away from Barking but would be there by about half-nine (when the convention started).
<![if !supportEmptyParas]> <![endif]>
Chalky, Dufus and Shirt arrived in plenty of time, not even getting lost on the Barking one-way system.  Joining a queue where a guy ticked off their names, they proceeded inside to receive their registration packs.  A fan dressed from head to toe in a bright green suit momentarily distracted the group but soon they were more concerned with which 4 Doctors panel to attend (there being 2 due to the large number of attendees) and where to buy coffee lounge tickets.  The first issue was quickly solved, but the coffee lounge tickets were more elusive. 
When the trio had eventually ascertained that tickets were being sold at the registration desk, they were then told that no tickets remained for the McGann, Baker or Aldred lounges, despite the fact that tickets were not supposed to go on sale until just prior to the start of the event.  With a bit of grumbling they decided not to go to a coffee lounge with Nisha Nayar and Raji James (which in hindsight may have actually been a lot of fun, although possibly not much more enlightening than their panel) but headed off to the autograph room to join the queue there, the plan being that all morning autographs would have been got by the time of Sophie Aldred's panel at
<![if !supportEmptyParas]> <![endif]>
Before they made it into the hall, however, Chalky received a phonecall from Tigger.  A fairly serious conversation about large cheques and missing bank cards was interrupted by a Cyberman grabbing Chalky's phone and cutting off Tigger.  Forced laughter saw the Cyberman move off as Chalky rang Tigger back to apologise for the forces of evil 'deleting' their conversation.  Bank card found, Tigger left the boys to their fun. The queue for autographs moved fairly swiftly despite the traditional late start and pretty soon the guys were inside the gym (although still with no word from Lupine).
<![if !supportEmptyParas]> <![endif]>
First up was Derek Ware, stuntman extraordinaire and legendary Primord-convert, Private Wyatt.  Jovial and lucid, he seemed a lot of fun.  Moving on they met Alec 'Osgood/Jellicoe/Stengos' Linstead who seemed a little more bemused by it all, but was lovely all the same.  A long queue for Cyber-controller and K1 Robot, Michael Kilgarriff saw all three fans move along to the shorter queues for Nisha 'Female Programmer' Nayar and Raji 'Dr Singh' James.
Nisha commented on Chalky's "Paradise Towers" cover (she was an uncredited Red Kang) and Chalky mentioned that the two series must seem poles apart.  Nisha agreed but was pleased to have got a part in the new series, even if she didn't get an actual name.  Chalky asked if she made one up for herself and she said she didn't, but that RTD had constantly promised to give her one.  Even though he had failed to deliver on this promise, Nisha was pleased she got a good death scene and hoped that one day she'd be back in the series, as a character with a name ! 
Raji was bouncing up and down for photos and when Chalky presented his Series 2 booklet, asked if he should sign all over Billie's face. Shirt did his usual struggling to get his Series 2 poster out of its protective tube, but Dufus' encounter was surprisingly incident-free.
Chalky decided to forego Michael Kilgarriff's autograph in favour of heading to the main hall for the impending Sophie Aldred panel.  Dufus and Shirt joined Michael's queue, as Mr. K. also appeared in a Clive Merrison 'Sherlock Holmes' radio play.  Lupine, by this time, had been contacted and Chalky accosted him in the queue outside the gym arranging to meet in the Sophie panel when he had finished.  Chalky was briefly introduced to Zygon Curry and an absent Hippy and then pootled along to the hall. Mr. Kilgarriff was impressed by Shirt's Merrison cover, and spoke at length to Dufus about how he had been Inspector Lestrade in the Carleton Hobbs/Norman Shelley radio plays of the 1950's, as Shirt had already moved off. It seems his part in these was limited to the occasional – "You're a marvel, Mr. Holmes".
<![if !supportEmptyParas]> <![endif]>
<![if !vml]>

<![endif]><![if !vml]>
<![endif]><![if !vml]>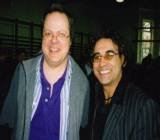 <![endif]><![if !vml]>
<![endif]>
<![if !supportEmptyParas]> <![endif]>
Sitting down in the panel hall with his bag strewn across three chairs for the others, Chalky waited for the panel to begin.  A gang of four friends sat in front and were soon joined by a fifth friend who after boasting to his mates he'd just met Paul McGann in the toilet and got him to sign his Withnail and I DVD  (thank goodness that's all he asked him to sign), tried to sit in the seats Chalky had saved.  A curt word got shot of the guy and Chalky continued to wait.
And wait.
And wait.
<![if !supportEmptyParas]> <![endif]>
Eventually the compere came on stage to explain that Sophie wasn't even at the venue yet and to fill the gap they had asked Dr What Offline to come on stage and talk about their website.  An uncomfortable 5 minutes followed with an audience for Sophie trying to be polite to 2 nervous guys about their website and competition to see Billie Piper's 'Treats' (which is nowhere near as much fun as it sounds – see CDS…Birthday Treats).  They disappeared and then the assembled throng was told to vacate the hall so that only the ticketed attendees for the first Doctors panel could be allowed in, just as Dufus and Shirt arrived.  The fact that this wasn't for another 45 minutes and that the lack of Sophie panel meant the guys had nothing to do for 3 hours, seemed to go unnoticed by the organisers.  The guys wandered for a little while, wondering what had happened to Lupine, spent some more money in the merchandise room, filled their bags with free 'Large Endings' cassettes, and generally looked bored until they decided to go and eat their lunch outside, deciding not to make a 'donation' to the new owner of Mr. Magpie's van to have their photo in front of it.
<![if !supportEmptyParas]> <![endif]>
Eventually Lupine arrived, having also met all the guests and the gang decided to go to the nearby pub to meet with a few of Lupine's friends from Inbox Skaro and the Tavisodes.
<![if !supportEmptyParas]> <![endif]>
After some very bad pub coke and a couple of pints of Guinness (for St. Patrick's Day, you understand, seemingly explaining the man in the green suit), Chalky, Dufus and Shirt left to join the inevitable queue to get good seats for the second 4 Doctors panel.  Lupine lingered with the Inbox Skaro crowd but arrived back at the main hall a little while after Chalky, Dufus and Shirt had settled down in some seats with a relatively good view of the stage.
<![if !supportEmptyParas]> <![endif]>
An immensely enjoyable panel, led by Charlie Ross, whom Dufus and Shirt had met at Dimensions  (see CDS…Tees for Two), played out in front of the gang with hilarious anecdotes about messing up lines in Romeo and Juliet (from Trevor), forgetting lyrics in HMS Pinafore (Colin), sitting on the sofa watching "Battlestar Galactica" - the new series (Peter) and starring in forthcoming dramas by writers of series which the other Doctors pour disdain upon (Paul). With renditions of Button Moon and confused answers to Lupine's enigmatic questions (which required a knowledge of Comic Relief, Top Gear and the own workings of his fevered brain), the panel ended and the gang chatted about how much they had enjoyed it.
<![if !supportEmptyParas]> <![endif]>
<![if !vml]>
<![endif]>
<![if !supportEmptyParas]> <![endif]>
Having seen no panels in the morning, the lads had decided to stay on for the Nisha Nayar and Raji James panel which proved to be a good decision as it was equally rib-tickling as the previous effort.  Nisha confessed to have no recollection of "Paradise Towers", aside from tying up Bonnie Langford (ooer missus!!), and both her and Raji waxed lyrical at having had superb death scenes at the hands of the Daleks.  Both seemed to be enjoying themselves immensely even if the audience struggled to think of questions about their brief appearances in the series.  Oddly, no one thought to ask Nisha about her starring role in Tracy Beaker (as 'Elaine the Pain'), although the odd Eastenders question did get fired at Raji.
<![if !supportEmptyParas]> <![endif]>
In between this panel and the last, Shirt disappeared off to get autographs from the 'Two Martins' – Trevor & Derek - and Charles Pemberton and to see how long the queues for the Doctors were.  Seeing the queues snaking round the venue for the three TV docs, he decided to stick to the guest stars. Sophie was frantically signing, attempting to catch up, but still had the longest queue in the gym, so Shirt decided to not join that one. Derek Martin had been so bored from no-one wanting his autograph that he had wandered off in search of excitement. However, having met Trevor Martin, Derek reappeared, and soon Shirt had his and Charles Pemberton's signatures. Returning with these autographs, he indicated to the others that the queues were practically non-existent.
By this time the final panel of the day featuring Derek Ware, Michael Kilgarriff and Alec Linstead had begun, with a promise of Sophie making it to stage for a brief period of time towards the end.  Chalky quietly snuck out whilst anecdotes were shared and found Derek Martin ensconced in an interview with Dr Who Online.  Grabbing Charles Pemberton and Trevor Martin's autographs, he returned to the hall to hear some more of the panel, hoping to pop back in a while to get Derek's autograph.  After listening to Derek Ware bemoaning his deaf, mute role as the Spaniard in The Smugglers (not only can't we see him on the missing episode, we can't even b****y hear him on the audio!), and being slightly shocked by Michael's Kilgarriff's outspoken opinions on Jon Pertwee's unprofessionalism, Chalky slipped out again, this time accompanied by Dufus, to grab Derek's autograph.
This done, Chalky noticed that Sophie had finished autographing and was now being interviewed by Dr Who Online.  Chalky was slightly puzzled as he thought Sophie was expected on stage as soon as she had finished signing but returned to the hall to hear Alec Linstead bemoaning the fact the BBC wouldn't let him keep the metal teeth which had been specially made for his part as Stengos in "Revelation of the Daleks" (why would anyone want teeth that only fit him, was his complaint).
<![if !supportEmptyParas]> <![endif]>
<![if !vml]>

<![endif]><![if !vml]>

<![endif]><![if !vml]>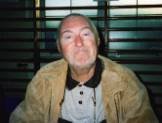 <![endif]>
<![if !supportEmptyParas]> <![endif]>
As time wound on, the interviewer asked if Sophie would be joining them to which no one seemed to have a concrete answer, so with this hanging in the air he attempted to continue the panel.  Eventually it became clear that Sophie was not going to attend and that the panel should be wrapped up. Chalky was a little perturbed as it appeared that Sophie's absence was due to her being interviewed by Dr What Offline.
<![if !supportEmptyParas]> <![endif]>
Everyone was herded out of the main hall, so that the chairs could be cleared away for the final ceremony (an unnecessary activity it soon transpired) and so the gang wandered around for a little, losing Lupine in the merchandise room chatting to Styggron and passing Alec Linstead on his way to the toilets.
Returning to the hall for the closing ceremony, the gang had lost Lupine altogether but waited patiently as guests arrived on stage (easily the most that have ever been left at an Invasion come 5.30) and the raffle tickets were drawn.  Sophie finally arrived on stage, along with her two young sons (& Ace ghetto-blaster), and rounds of applause eventually died out as the guests departed and the attendees mooched off home.
<![if !supportEmptyParas]> <![endif]>
Reunited with Lupine, Chalky, Dufus and Shirt turned down his offer of attending the after-convention drinkie-poos in the "Spotted Dog" due to an awaiting Tigger and the prospect of a 2 hour drive home, particularly if they left it any later.  Dropping Lupine off at the "Spotted Dog", Chalky, Dufus and Shirt drove home, safely finding the Rotherhithe Tunnel and arriving back at Shirt by 7.30.
<![if !supportEmptyParas]> <![endif]>
Chalky zipped back to his parents, where he and Tigger were currently living due to being 'between abodes', and collected his wife to bring her back for pizza and games at Shirt's.
Shirt brought out 2 games received as presents recently and the foursome proceeded to Bend Bob, scribble pictures, shout answers and Bend Bob again in "The Big Taboo", followed by an intellectual game of Absolute Balderdash which Chalky won with aplomb  (which is either a) a purple fruit, b) a Romanian dance, c) a self-confident poise, or d) a type of weaving used in baskets).
<![if !supportEmptyParas]> <![endif]>
Chalky and Tigger decided it was time to wend their way home so Dufus and Shirt were left to their own devices.
<![if !supportEmptyParas]> <![endif]>
<![if !supportEmptyParas]> <![endif]>
EPILOGUE:
<![if !supportEmptyParas]> <![endif]>
Browsing the forums of 'Inbox Skaro', Chalky was reflecting on the Saturday's events.  He decided to voice his opinion about the lack of a Sophie panel and the seemingly unfair decision to let her be interviewed by Dr What Offline rather than appear on stage.  Both Dr What Offline and Seventh Galaxy replied that Sophie had actually been experiencing problems with her sons and couldn't come on stage as planned, and that issues with a lack of coffee lounge tickets had been due to poor communication.  After apologies and thanks, all parties exchanged pleasantries and Seventh Galaxy promised to chat to Chalky about the Coffee Lounge issue on his next visit to a signing.
<![if !supportEmptyParas]> <![endif]>
It had been a wonderful day and Chalky said as much to Little Ted on the forum.  The next Invasion was waited with anticipation.
<![if !supportEmptyParas]> <![endif]>
<![if !supportEmptyParas]> <![endif]>
[AE]