<![if !vml]>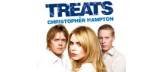 <![endif]>
<![if !supportEmptyParas]> <![endif]>
Chalky, Dufus, Shirt, Tigger & Lupine…
<![if !supportEmptyParas]> <![endif]>
…Birthday Treats.
<![if !supportEmptyParas]> <![endif]>
Guest Starring:
Etta
&
Arak
<![if !vml]>
<![endif]>
<![if !supportEmptyParas]> <![endif]>
l-r: Jack E. Jackson, Count Von Orlock, Grace Dunbar, J. Neil Gibson & Re. Marlow Bates   (Juan Pinto & Chastity Darling not pictured)
<![if !supportEmptyParas]> <![endif]>
<![if !supportEmptyParas]> <![endif]>
Never one to let his birthday go by without two or more events, Shirt decreed that his birthday weekend would be spent in going to see the lovely Miss. Billie Piper in her new play, "Treats", at Richmond Theatre  (guest starring 'My Family's Kris Marshall & Billie's current beau, Laurence Fox), and in hosting a murder-mystery party - "The Case of the Silver Bullet"  - themed around a certain Victorian consulting detective. All the gang were invited to the latter event, however only Chalky, Tigger and Dufus expressed any interest in accompanying Shirt to the former. As the weekend approached, 'Aunt' Beru was an early casualty due to not coming over from Finland until the week after. Shirt was also concerned that Dufus might not come at the last minute.
<![if !supportEmptyParas]> <![endif]>
The play was on the Friday night, and both Dufus and Shirt had the day off work. However, despite this Dufus did not arrive at Shirt's until 5pm. Having eaten and briefly played the "Red Dwarf" DVD game, the two left (a little late), with a general idea of how to get to Richmond Theatre. All was going well until they reached Kingston, when Shirt pointed out the lane that they wanted just too late for them to turn into it. Another wrong turn in an attempt to get back on the right road, and Dufus and Shirt found themselves zooming along a road in completely the wrong direction, with no sign of anywhere that they could turn round. Finally reaching the Ham Gate of Richmond Park, they managed to turn round, and Shirt got some more directions from his parents. He also 'phoned Chalky, who was standing outside Richmond Theatre with Tigger, expecting the other two to arrive any minute, it being the agreed meeting time. Copious apologies made, Shirt promised that they would be there as soon as they could.
<![if !supportEmptyParas]> <![endif]>
Finding themselves back on the right road, they followed the signs for Richmond. However, again at a vital point, Shirt pointed out the road they should take too late. Reaching a part of Richmond they were unfamiliar with, they again 'phoned Shirt's parents. However, it seemed that Richmond has more than one 'Church Street' which caused confusion when looking their position up on a map. However, just when all seemed lost, they reached Richmond's sci-fi memorabilia store. 'Surprisingly', Shirt knew where this was, and having negotiated their way round the green, they finally got to the car park. A few minutes earlier, Chalky had rung to say that having spoken to the Box Office and given Shirt's details, they had been given duplicates of their tickets and so could go in before it started. It also transpired that Peter Davison had just passed them in the foyer.
<![if !supportEmptyParas]> <![endif]>
Dufus and Shirt gave their best impression of running, from the car park to the theatre. Several other people were late, but no-one could be admitted until the end of the first scene. This was playing on a television in the foyer, but almost as soon as the two started watching this, they were ushered away upstairs to wait behind the curtain at the back of the Dress Circle, the play suddenly becoming a radio play. Five minutes later, the scene ended and the two swiftly moved along the back of the Circle, down the side, and into their seats next to a bemused Chalky and Tigger. More mumbled apologies, and Scene 2 started. Initially Ms. Piper wasn't in the scene and both Dufus and Shirt were concerned that they might have missed her major scene. Having caught up during the next scene-break, the write-up in the theatre's season brochure having summed up much of what they had missed, they settled back to enjoy the play. Basically, Billie's character had to choose between her bad-boy ex-boyfriend (Kris) and her new boyfriend (Laurence). All three males couldn't help noticing that Ms. Piper's blouse was very tight, struggling to contain her attributes. Dufus and Shirt were both willing Billie's blouse to burst open mid-scene, but had no luck  (so much for the power of positive thought!). Some raised voices, and three-way discussions completed, and it was the interval. Dufus and Shirt took the opportunity to buy programmes, bottles of water, and in Dufus' case, sweets. They also explained to Chalky and Tigger exactly how they had got lost, whilst the other two pointed out Peter Davison in the row in front (and children's author, Jacqueline Wilson in the stalls).
<![if !supportEmptyParas]> <![endif]>
Act Two began, and Shirt finally realised that what he had taken to be the Swedish flag between scenes was in fact part of a large package, which encompassed the entire stage (Treats !! – geddit). The shouting continued, as did the interplay between the three. Then came a pivotal scene in which Ms. Piper removed said tight blouse to reveal a grey bra. Unfortunately, she was facing away from the audience at the time, and however, much Shirt mentally willed it, she refused to turn round. Dufus was also transfixed, commenting later  "I feel that it would have had more artistic merit if she'd removed the bra". Following an ending that left the friends slightly confused about a few plot points, the three actors took their bows, and the four friends shuffled outside. Having heard encouraging things from fans in the queue at the previous week's Seventh Galaxy signing, the three (Tigger remaining on the corner due to embarassment…at the others) moved to the stage-door.
<![if !supportEmptyParas]> <![endif]>
A queue of 'usual suspects' from Seventh Galaxy signings had already built up. The friends were unsure as to how many of them, they recalled seeing inside. Laurence Fox was the first to exit, moving off with his and Billie's dog, before any of the three could get him to sign their programmes. Thus forewarned, all three managed to get Kris Marshall on their programmes. Then the goddess appeared. Despite having previously met Billie (see CDS…A Rose By Any Other Name), Shirt was as excited as the other two. Ms. Piper seemed to be in a rush, and even refused some fans whom she was aware that she had previously signed for during the run. A quick squiggle in Chalky and Dufus' programmes and Shirt's precious "Companions" book, and she was gone, into the nearby pub. Returning to Tigger, she appeared to be on her mobile. However, this proved to be a cunning subtefurge, to explain her hanging about on the corner. It still being before 10pm, it was decided to have a quick drink, but to frequent a different establishment to Ms. Piper. Well, they didn't want to look sad !
<![if !supportEmptyParas]> <![endif]>
They therefore pushed their way into a crowded pub round the corner, and Tigger managed to miraculously find a table. Dufus and Shirt held on to it, whilst she went to assist Chalky with the drinks. The four back around the table, a lot of catching-up took place. Dufus had not been down to London for almost a year (see CDS…Invasion VI), and in the meantime had successfully battled serious illness. It soon became clear that nothing had changed, not only had Dufus and Shirt shown their usual lack of a sense of direction, but halfway through the conversation, Dufus managed to upset his pint of cider all over the table and surrounding area. He later claimed that he did so to get the attention of the two girls at the table opposite, but no-one believed this. The spill mopped up by Tigger using a handy newspaper, conversation continued. Finally the four made their way back to their respective cars.
"I hope I'm not over the drink-drive limit", said Dufus, forgetting that he had wasted almost half of his pint.
"No, you're not. But let's hope they don't breath-test my trousers", quipped Shirt, indicating his cider-soaked jeans.
Chalky and Tigger were parked outside the theatre. Saying his goodbyes to them, Shirt walked slowly towards the car park. Dufus meanwhile was conferring in hushed tones with Chalky and Tigger about Shirt's presents for the next day, before running to catch Shirt up. Taking no chances, the two drove out of the car park, sounding the horn at Chalky's car, before following it until they reached the outskirts of where Shirt lives, miraculously managing to find their way home from there.
<![if !supportEmptyParas]> <![endif]>
<![if !supportEmptyParas]> <![endif]>
The next day, Dufus and Shirt rose mid-morning, jumped in Dufus' car, and hurried to the cinema in Sutton, where they arrived just in time to get tickets for the noon showing of Simon Pegg/Nick Frost comedy, "Hot Fuzz". The screen was almost empty so the two had a great choice of seats, as they settled down for two hours of comic policing. Shirt laughed uproariously, whilst Dufus stuck to his laughing 'internally'. Leaving the cinema, they walked over to the High Street. Whilst in a jigsaw shop (for Dufus to pick up a present for his sister-in-law and two New Series jigsaws), Dufus' newly turned-on mobile rang. It was Chalky, he had been contacted by Enigma, who was being violently sick and therefore would be unable to make that evening's entertainment. Turning his mobile back on (having turned it off in the cinema), Shirt listened to a message from Enigma, excusing herself and Scooby, between retching sounds. Needing at least six suspects, replacements were needed. Maple was otherwise engaged. Thinking fast, Shirt telephoned his sister and brother-in-law, Etta and Arak. Luckily, they were free that evening, but were unable to produce anything more than vague costumes for their characters at such short notice.
<![if !supportEmptyParas]> <![endif]>
This problem solved, Dufus and Shirt moved to the local MHV, where Dufus singularly failed to warn Shirt of the presence of Servalan, co-ordinator of the local group that the three friends had left without warning several years before (see CDS...Visit a Local Group for Local People ). Therefore, Shirt ended up standing next to her (in the TV drama section, where else) before realising. Embarassed conversation then took place, with neither mentioning the sudden severance of contact. It also seemed that she had no recollection of Dufus (is that possible?) as she seemed to be ignoring him, speaking only to Shirt. After a few minutes, Shirt mumbled goodbyes and moved off with Dufus. Time getting on, and following a brief detour for Dufus to buy Shirt a "Jonathan Creek" Series 3-4 boxset for Christmas (two months late) and to look for new series action figures, they returned to Dufus' car. On the way back, they briefly stopped at a local supermarket for Shirt to help Dufus find a Comic Relief red nose with a "Doctor Who" chocolate in it.
<![if !supportEmptyParas]> <![endif]>
Back at Shirt's, final preparations were made for that night. This involved Shirt transporting the majority of his Sherlock Holmes collection to the dining room, and starting the cooking. However, time was still found for them to swap "Battles in Time" cards. The room as Shirt wanted it, and food cooking nicely, Etta and Arak arrived. A sharing of family presents and cards, and Shirt found himself the proud possessor of some DVDs, sci-fi CDs, "The Devil in Amber" by Series 1 &2 author Mark Gatiss, and a board game. Having set the video for "Primeval", Shirt dashed upstairs to get ready. Returning in cravat, open-necked shirt, jeans, boots and borrowed leather jacket, he waited with Dufus (who was now dressed as a Vicar, with moutache) for his guests to arrive.
<![if !supportEmptyParas]> <![endif]>
This they did, all arriving together, as Chalky and Tigger had picked Lupine up from the bus-stop. Unfortunately, Lupine got off at the wrong crossroads, and so finding him was initially difficult. Having all commented on each other's outfits, they moved into the dining room, sitting in their marked places. The game's introductory section was played on the small television, and the game was afoot !!
<![if !supportEmptyParas]> <![endif]>
The clock span back to the night of 21 March 1905, which saw a full moon rise over the remote Hampshire village of Thor Bridge. Here there were still some prepared to celebrate the coincidence of the old pre-Christian festivals of Eostara and Lady Day. For weeks the village had been rife with rumours of pagan rituals, tales of the spirits and demons that would stalk the Earth. But even on this haunted and mysterious night, no one could have predicted the form that evil was to take. Until the body of Maria Gibson was discovered. The Brazilian wife of the millionaire who lives in the big house, she had been shot dead with a single silver bullet.
<![if !supportEmptyParas]> <![endif]>
And now Sherlock Holmes had gathered the suspects together to uncover the truth of what happened that terrible night – J NEIL GIBSON (Lupine) - The American gold-mining tycoon who moved into Thor Place live years ago with his exotic wife ; REV MARLOW BATES (Dufus) - The vicar of Thor Bridge, an authority on the Old Religion and its most implacable foe; GRACE DUNBAR (Tigger) - The beautiful young governess who looked after the two children of the Gibsons; CHASTITY DARLING (Etta) - A childhood friend of Grace who had come to visit her in the old manor house;  JUAN PINTO (Arak) - The younger brother of the murdered woman, he wais visiting England from his home in Brazil; COUNT VON ORLOCK (Chalky) - A Hungarian nobleman who had known J Neil Gibson for many years; JACK E JACKSON (Shirt) - A South African gold miner who had made and lost his fortune many times over.
<![if !supportEmptyParas]> <![endif]>
Once everyone had introduced themselves, carrot and coriander soup was served by Etta who insisted on taking over responsibility for all the food. Everyone also filled their glasses with wine, and chattered to one another. This course over and the bowls cleared away, it was time for the first round of questioning, followed by a video summing-up. This took longer than expected, and the vegetables served with the chicken casserole were slightly over-done. Lupine however said that his pasta and cheese was perfect. Plates cleared away, and there was a second round of questioning followed by summing up. Attempted accents caused great hilarity with Shirt's South African and Chalky's Hungarian being of particular note. Arak refused to attempt a Spanish accent, but Lupine's American South accent was most impressive.
<![if !supportEmptyParas]> <![endif]>
Dessert was a birthday cake prepared by Tigger, with a familiar silhouette on it. Despite feelings that it was too good to cut, once it had been photographed for posterity, Shirt cut it into pieces, sharing it out amongst the guests.
<![if !supportEmptyParas]> <![endif]>
<![if !vml]>
<![endif]>
<![if !supportEmptyParas]> <![endif]>
A final round of questioning, a final summing up, and over coffee and mints all considered who might have committed the foul deed. Having declared their suspicions, the solution was viewed. The great detective proved to be Lupine who was the only one to identify the true perpetrator, winning a small Sherlock Holmes toby-jug for his trouble. The investigation finished, Etta and Arak left the scene of the crime, having taken photos of the suspects first.
<![if !supportEmptyParas]> <![endif]>
Next cards and presents were produced, with both Chalky and Dufus' cards featuring a cartoon based on the previous day's trip  (the latter being a talking Dalek card). The presents had been bought by all the other four collectively, and comprised action figures – two Autons, a Dalek with Mutant, a Space Pig and a Slitheen – and even more excitingly a ¼ scale remote-controlled K9.
"How did you know ?", asked Shirt ironically, having been dropping less than implicit hints about the K9 for weeks.
It also turned out that Chalky had had to almost wrestle the Space Pig and Slitheen from a woman who had picked it up when he had put it down for a few seconds in the shop.
<![if !supportEmptyParas]> <![endif]>
This completed, the other three slowly wended their ways home, whilst Shirt and Dufus made a preliminary effort in tidying up. All agreed that it had been an excellent evening, and it was agreed to undertake a similar evening again to allow 'Aunt' Beru, Enigma and Scooby to attend next time.  Shirt mused on another wonderful birthday weekend.
<![if !supportEmptyParas]> <![endif]>
<![if !supportEmptyParas]> <![endif]>
<![if !supportEmptyParas]> <![endif]>
<![if !vml]>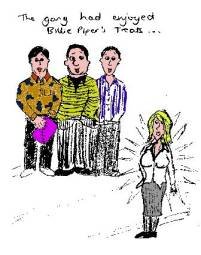 <![endif]><![if !vml]>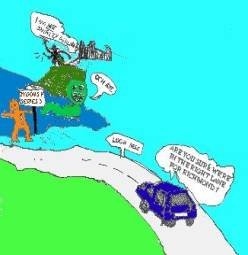 <![endif]>
<![if !supportEmptyParas]> <![endif]>
<![if !supportEmptyParas]> <![endif]>
[PL]