Home
Resume
Media
Feedback
Links
Contact Us
FEEDBACK RECEIVED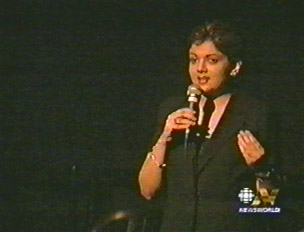 ---

Hi Chrystal - Although you may already have seen this video, I watched it again this afternoon and was struck by the similarities of its message of hope and the one you shared with all of us at the AGM today.

THANK YOU for being such an important part of our meeting and celebration. TAKE CARE.

Finding a Purpose in Life... an Inspiration to others! www.youtube.com/watch_popup?v=W5mbldTkruM&feature=share

Darlene Dubbin
Chair, Board of Directors
ESS Etobicoke Services for Seniors


---

Dear Chrystal,

Thank you for sharing your thoughts & feelings so openly & lovingly. You have been given a wonderful gift of being able to touch people through your words. You made such a strong impact on everyone who was lucky enough to be present for your presentation. You were the " Icing On Our Cake" & I pray that you will find a way to continue to deliver your message of hope with humour & dignity.

Please stay in touch with me.

My warmest regards & prayers,

Dolores Ellerker
C.E.O.
ESS Etobicoke Services for Seniors


---

Hello Chrystal:

Thank you for all your correspondence to the agency and to me.

It was a pleasure for me (and all of us) to meet and listen to you as your life experience made you real and endeared all to you. We certainly shared in your journey.

I have been asked by several attendees for your contact information re speaking at various seminars, events, etc. Could you let me know if you wish to be contacted and the best way, ie. by email, phone, etc.

Many thanks to you for providing our membership with a true insight on "Perspectives". You truly placed the "icing on our cake"!

Warm regards,

Lucy Bonyun
Executive Assistant
ESS Support Services


---

...Thanks once again. Everyone really had high praise for you and how you have handled your life. Keep it up. God Bless you.

J. Nunes
Conros Corporation Christmas Party


---

Hi Chrystal,

You were a great success. Thank you.

S. Barreto
Mississauga Newcomers Club Christmas Party


---

Hi Chrystal,

I want to thank you so much for the wonderful performance and heartfelt message you gave at our Golf Tournament on August 20th, 2008. It was a pleasure to meet you again.

Alex has asked me to do a testimonial for you and it is with pleasure that I write the following:

Chrystal, on behalf of the Multiple Sclerosis Society York South Chapter and our Golf Committee, I wish to thank you for joining us at our 21st Annual Golf Tournament. All proceeds from this event go towards medical research.

The entertainment you provided before dinner was eloquent, tasteful and humourous.

Chrystal, you were also able to convey an important message to everyone attending the tournament. "The importance of fundraising events such as this to support the MS Society and MSers." In addition, your ability to touch people with your own personal experiences with MS.

I would be delighted to have you speak at the York South Chapter again and would encourage others to have you speak at their events.

Joyce Tarek
Director of Fundraising
Multiple Sclerosis Society
York South Chapter
416-226-2207


---

I just wanted to thank you again for coming to our tournament. You did a great job! A fantastic job actually!"

B. Anderson
Golf Tournament for the York South MS Society Chapter


---
An appearance by our own Goan comedienne Chrystal Gomes was an excellent touch after dinner. A superb stand-up by any standard.

Tim de Mello
May Queen Ball
(Goan Voice Canada www.goanvoice.ca


---

Chrystal Gomes presented at our 14th Annual First Canadian Humour Conference in Hamilton, Ontario. She received rave reviews and all comments were very positive. Chrystal's timing and humour were perfect! Her presentation is suitable for all audiences and I highly recommend her.

Sharron Orovan Johnston, Conference Co-Chair
14th Annual First Canadian Humour Conference
St. Joseph's Hospital, Hamilton, Ontario>


---

You were excellent on Saturday. Funny and inspirational.

Norman Gilbert, Chairman of the Bored
The International Save the Pun Foundation
(Attendee at 14th Annual First Canadian Humour Conference - at St. Joseph 's Hospital in Hamilton, Ontario)


---

Thank you for your wonderful performance. I heard so many positives about you. You were a hit!

Sharron Orovan Johnston,
(Conference Co-Chair of the 14th Annual First Canadian Humour Conference - at St. Joseph 's Hospital in Hamilton, Ontario)


---

I want to borrow some of your lines! Thank you for a very entertaining evening.

Howard Hampton, Leader - Ontario NDP


---

Chrystal: You're FAB!

Suhana Meharchand, Anchor, CBC Evening News


---

For Chrystal who made me laugh. Thank you.

Barbara Hall, Former Mayor of Toronto


---

Dear Ms. Gomes!

Thank you for travelling all the way to Knoxville, Tennessee to brighten up our MS event. The crowd enjoyed your stand-up comedy routine and especially the testimonial about you and your daily management of living with MS.

You are a perfect fit for any corporate healthcare event dealing with coping with illness and keeping a smile on one's face while maintaining an upbeat lifestyle.

We'd love to have you help us out in the future! Keep up the great work!

Thanks again!

Mark Craycraft
General Manager
The Comedy Zone Comedy Club
Knoxville, Tennessee


---

To Whom It May Concern:

For the first time with the Multiple Sclerosis Society of Canada, Manitoba Division, Chrystal Gomes presented a half hour inspirational talk to our members during our first Getaway Weekend on Sunday, June 19, 2005. Her presentation to 150 people was as touching and moving as it was inspiring and enlightening. Her true story was well received by members of the audience.

Chrystal also performed her comedy act and mingled with our members and staff, introducing herself and sharing her experiences in a warm and sincere manner. She was a pleasure to have at our event - truly an inspirational person. We thank her for everything she did to make our first Getaway Weekend so memorable!

Darrell Hominuk
Client Services Resource Coordinator & Program Planner
Multiple Sclerosis Society of Canada - Manitoba Division
Tel.: 1-800-268-7582


---

Hi Chrystal

I hope you had a nice trip home. I just wanted to thank you again for sharing your story with our members. Many people are continuing to talk about it and how inspirational you are. You helped us to make the first Getaway Weekend a success. I wish you all the best in your career and with your health. You are a very special person.

I hope we have the opportunity to work together in the future.

All the best,

Tracy Brown
Director of Client Services
Multiple Sclerosis Society of Canada - Manitoba Division
Tel.: 1-800-268-7582


---

Chrystal Gomes, Recipient of the Multiple Sclerosis Society of Canada's 2004 Ontario Division Award of Merit - Member.

Chrystal was shy as a child and young adult. She was diagnosed with MS in her mid-twenties. Her neurologist at the time told her that her career choice was unrealistic. Frightened and depressed, Chrystal spent much of the next five years retreating from life, afraid that any stress would cause an exacerbation.

Then she signed up for a series of courses that celebrates personal strengths and creativity. In the end she found a new passion: stand-up comedy. Over the past five years, Chrystal has developed her comedy routines and has appeared at several comedy clubs in the greater Toronto area and in New York City. She has also used her new talent to help educate and entertain on behalf of the MS Society of Canada.

For several years, Chrystal has attended chapter and division functions to mix her comedy routine, part of which deals with life with multiple sclerosis, and her inspirational story about a shy girl who found a new, thrilling (and some would say terrifying) passion partly because of her MS diagnosis.It never fails to leave the audience, many of who are people with MS, thinking about their own lives in a new way.

Chrystal has made several appearances at chapter functions, division AGMs, staff orientation sessions and educational sessions. Several media outlets have interviewed her, including the Toronto Star and TVO. In her interviews, Chrystal speaks very positively about the MS Society and the support she has received from our organization. Chrystal was one of the spokespersons for the Toronto Super Cities WALK for MS in 2003, and took part in an interview with Dr. Brenda Barnwell and Mary Ito of TVO. She has participated in the Super Cities WALK for MS along with family and friends for a number of years.

Her enthusiasm and her outspoken support of the MS Society make Chrystal a very valuable member of the MS team. Her outstanding efforts have not only helped raise awareness about MS and the MS Society, but it has been an inspiration to others.

Excerpt taken from the Multiple Sclerosis Society of Canada - Ontario Division's 2004 Awards Luncheon Programme.


---

Dear Ms. Gomes: On behalf of the National Multiple Sclerosis Society South Florida Chapter, we would like to thank you for participating in our 5th Annual Women's Retreat: Celebrating the Essence of You. The participants were very appreciative of the opportunity to learn about the important tool of laughter and its use in the management of their illness and its symptoms.

We are proud that the weekend was tremendously successful! One hundred and fifty women with multiple sclerosis had an enriching, informative and joyful weekend. You were part of our success and we hope that you will join us next year.

The National Multiple Sclerosis Society is the only voluntary health agency that supports an international program of scientific research aimed at ending the devastating effects of Multiple Sclerosis. At the National Multiple Sclerosis Society we are committed to delivering programs that enhance the quality of life for individuals with MS. We thank you, once again for joining us in this endeavor.

We look forward to working with you in the future.

Sincerely,

Marjorie Carvey, M.Ed., NCC
Program Coordinator
National Multiple Sclerosis Society
South Florida Chapter
(Re: July 16-17, 2004 Women's Retreat in Miami)


---

I wish to state how pleased I am with the performance and participation of Chrystal Gomes as the guest speaker for the 2003 Annual General Meeting of the MS Society, Mississauga Chapter.

Chrystal is a well spoken individual who carries with her all the grace, charm, and laughter, that any guest speaker could muster.

Chrystal brought genuine entertainment to our event. She is eloquent and tasteful, and is humourous without being either offensive or urbane. She also has the wonderful ability to touch people in a genuine way with her own personal experiences.

It is my pleasure to recommend Chrystal as a public speaker with class and sophistication; a person who is certain to make any function a more enjoyable and memorable experience.

We wish to thank Chrystal Gomes once again for her participation.

Nancy Milne
Executive Director
Mississauga Chapter
MS Society of Canada


---


Chrystal Gomes is a spokesperson for the Multiple Sclerosis Society of Canada. As the National Vice-President for Client Services, I am very pleased to write this letter of recommendation on her behalf. In her role with the Society, Chrystal has been very generous in sharing her time and talent. She is a gifted speaker with a genuine ability to connect with an audience, large or small, in a way that is honest, hopeful and inspiring.

Most recently, I had a chance to work with Chrystal at a national health education event called Living Well with MS: Managing Fatigue. Chrystal carefully prepared for the event, ensured that her talk would be the right fit for what we needed, and then delivered a presentation on her experience of living with MS fatigue that clearly touched the 250 people in attendance. Afterwards I received many, many words of thanks to pass along to her. In fact, one person said to me, "I could have listened to her for hours!"

Whether on subjects humourous or serious, I'm sure others would find that Chrystal has much to offer to any organization or event.

Jon Temme
National Vice-President, Client Services
Multiple Sclerosis Society of Canada


---

To round out the evening, extraordinary comedienne and friend to the MS Society, Chrystal Gomes, treated us to a session of good, old-fashioned, stand-up comedy. Between the hysterics and tears of laughter, members were also treated to a unique perspective of life with Multiple Sclerosis and how laughter really IS the best medicine.

Excerpt from a Report on the AGM, in the December 2003 Newsletter
Mississauga Chapter of the Multiple Sclerosis Society of Canada


---

SEPARATION OF CHURCH AND STAGE:

The major social event in Toronto on Thanksgiving weekend in Canada is the Tanzanite Ball. This year was no exception where a sold-out crowd of 750, with many from abroad, came to renew friendships and enjoy themselves. The highlight of the evening was a performance by a young Tanzania-born comedienne, Chrystal Gomes who delighted the inter-generation crowd with her comedy. However, over the past week the Tanzanite newsgroups were abuzz on what happened when the young comedienne descended from the stage to be berated with a sermonette by a visiting Goan cleric. Many there found his comments offensive and un-called for by a man of the cloth.

The Goan public hold a special place in their hearts for Chrystal who conquered a lot of adversity in life, and survived the pain of Multiple Sclerosis. A documentary about Chrystal and her battle with MS has been aired many times on TV with articles in numerous papers. Her interview with host Paula Todd of TVO's Face-To-Face is a program all Goans should view, as it reveals just as much about us, as Chrystal did about herself.

Goan Voice Canada Website, November 1, 2002 Issue


---

We would like to take this opportunity to thank you for the excellent entertainment show you provided for our 5th International Golf Dinner on July 6th, 2002. All the guests found your performance humorous and lively...We wish to advise you that we will not hesitate to recommend your show to anyone...Thanking you once again and wishing you all the very best in your future endeavours.

Joe Nunes, Organizing Committee
International Golf Tournament, Conros Corporation


---

In recognition of your example, your performance and for providing an inspiration to all, you truly are, living proof of The Benefits of Humour. With gratitude from the...

Kingston & Area Chapter of the Multiple Sclerosis Society of Canada


---

On behalf of the Multiple Sclerosis Society of Canada, I would like to thank you for your generous contribution to the 2000 Brampton to Guelph MS Bike Tour! Your act was hilarious and we heard many positive comments about the show! You helped to make the day a huge success!

Jen Weldon, Coordinator, Fund Raising Events
Multiple Sclerosis Society of Canada


---

Chrystal Gomes provided comedy entertainment following the opening ceremonies for the 21st Annual Business and Professional Women's Clubs of Ontario Convention on May 29, 1999 at the Howard Johnson Hotel in Scarborough, Ontario....Her poise and self-deprecating humour were delightful.

She provided a fitting beginning to our weekend proceedings. All who attended enjoyed the programme immensely...Chrystal spoke about the challenges of starting up a stand-up comedy career. She also provided some of her comedy routines for the January, 2000 meeting of the North Toronto Business and Professional Women's Club. We continue to watch her career progress and would highly recommend her services for entertainment purposes or for personal inspiration.

Kristine D. McDonald
Co-Convenor, 1999 BPWO Provincial Conference


---

Your presentation was wonderful!! Thank you for helping us and being a 'bright spot' in our evening!!

Terry Thompson, Executive Director of ShareLife Trust


---
Home || Resume || Media || Feedback || Links || Contact Us