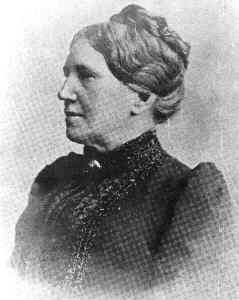 Henriette Schrader-Breymann 1827-1899
A student of Friedrich Froebel, she was with him at Bad Liebenstein in Thuringia, when Baroness von Marenholtz-Buelow met Froebel for the first time.
The German word, Oheim is a term of respect for a male relative, which lacks an precise equivalent in English. It is often translated into English as uncle creating the impression that Henriette was Friedrich's niece. In fact Henriette Schrader-Breymann's mother was a cousin of Friedrich Froebel.
The Pestalozzi Fröbel Haus dates back to 1874 when Henriette Schrader- Breymann founded the "Berliner Verein für Volkserziehung". She had already worked as a Kindergartner (Volkskindergarten) and a lecturer when she started to educate women for working with children. The Pestalozzi Fröbel Haus was one of the first institutions which gave the opportunity to women to get a professional training in Berlin and one of the first in Germany which started to train early childhood teachers (Kindergartners, Erzieher).
Schrader-Breymann opposed the mechanical training of children, and tried to change the Kindergarten into a more home like place, without strict discipline. She also used domestic work as a new part of the curriculum, together with play, work and learning as three important ways to develop the child. The first Swedish Kindergarten teachers were trained by Schrader-Breymann at Pestalozzi Fröbel Haus in Berlin.
---
Henriette Schrader-Breymann: "Uber den Geist der Mutterlichkeit und die Aufgabe der Frau in der Familie" (Twellmann, S. 267-284), was part of week nine, Emanzipation? of the course: German Cultural Studies: Female Education and Socialization in Germany 1850-1918 by Laura Tate Department of German University of Wisconsin-Madison
Course Description and Goals
This course introduces students to issues related to the education and socialization of women in the late nineteenth and early twentieth century. In so doing it provides an opportunity to discuss broader issues of relevance to this period, including the impact of industrialization on German society, self-representation of the bourgeoisie, shifting social and gender roles, and the development of a national culture. In addition it addresses the significance of class differences for women's educational opportunities, attitudes, and reform goals.
The course is designed for students of German in the fifth semester and beyond, with weekly reading assignments of under twenty pages. Readings for the course consist almost exclusively of primary source materials, which include autobiographical excerpts, programmatic statements, excerpts from popular 19th century advice books, speeches, letters and essays which will give students a sense of the parameters of the vivid debate on the methods and purpose of women's education in the nineteenth century as well as the role of the women's movement in bringing about educational reform. (The sources for the texts, which are listed below, should be readily available in college libraries or from the publishers. The individual assignments could be collected as a "reader" and purchased by the students.)
The course is designed to appeal to students who are not literature majors as well as those who are. Students of literature will profit from the course by gaining insight into, among other things, German women's relationship to literary traditions and culture as well as the literary marketplace in this period. Their understanding of shifting conceptions of gender in the late nineteenth century will be enhanced, so that they may better analyze depictions of women in German literature. source
---
---
Copyright © 1998-1999 Froebel Web All Rights Reserved. froebelweb@yahoo.com
http://FroebelWeb.tripod.com/images/niece.html