LARSEN CEMETERIES PAGE
This page contains information about the death's and burials of Larsen family members. Included are maps of cemeteries and photos of headstones. Links at the bottom of the page will provide additional information.

Cemeteries:
     Logan Cemetery (address: 12th East, 10th North)
     Richmond Cemetery (address: 400 North, 200 East)
     Spring City Cemetery (address: Utah Highway 117 - 1 1/2 miles west of Spring City)
     Franklin Cemetery (address: 5400 South, U.S. Highway 91)


---




LOGAN CEMETERY HEADSTONE LOCATIONS




NAME
DEATH DATE
LOCATION OF HEADSTONE
PHOTO
Darrel Verne Eppich
15 May 1970
A-35-16-3
Ethel Dorothy Larsen Eppich
9 Sep 1976
A-35-16-4
Ariel Wilford Hansen
23 Jul 1928
A-410-18-1
Gertrude Adele earl Hansen
7 Oct 1971
A-410-18-2
Anna Charlotte Anderson Larsen
7 Jan 1978
C-10-120-3
X
Annie Elizabeth Olson Larsen
18 Dec 1968
A-350-60-7
Anna Margreta Larsen
31 Jul 1870
A-20-52-?
Barbara Dorthea Jensine Olsen Larsen
19 Aug 1919
A-20-52-7
X
Barbara Dorthie Larsen
4 Feb 1902
A-20-52-6A
Brigham Lewis Larsen
19 Aug 1900
Christian John Larsen
15 Sep 1915
A-20-52-8
X
Clarinda Larsen
28 Sep 1887
A-20-53-3
Clarinda Hannah Goaslind Larsen
2 May 1942
A-20-53-2
Elias Severene Larsen
14 May 1941
A-20-53-1
Hyrum Christopher Larsen
18 Mar 1953
A-35-16-6
Ingeborg Louisa Ellefsen Larsen
26 Sep 1905
A-20-52-6B
Inger Margretta Peterson Larsen
19 Aug 1911
A-20-53-5
John Christian Larsen
27 Apr 1943
A-390-7-3
X
Joseph Abraham Larsen
8 Dec 1873
A-20-52-?
Joseph Franklin Larsen
5 Nov 1900
A-20-52-?
Joseph Reuben Larsen
11 Apr 1971
C-10-120-2
X
Joseph Reuben Larsen Jr.
17 Feb 1989
C-10-120-6
Karleen Stanford Comish Larsen
5 Jan 1949
A-35-16-5
Lafay Larsen
9 Apr 1923
C-10-120-?
X
Mary Ellen Titensor Larsen
24 Jul 1944
A-390-7-4
X
Oliver Thomas Larsen
27 Oct 1881
A-20-52-5
X
Susannah Titensor Larsen
9 Oct 1931
A-390-7-2
X
Anne Katrine Christiansen Jensen Olsen
5 Apr 1921
A-70-51-4
Joel Ricks
23 Nov 1944
B-30-6-8
Suzette Cardon Ricks
2 Jan 1919
B-30-6-7
Harriet Camilla Ensign Smith
15 Mar 1930
A-250-7-7
Isaac Samuel Smith
30 Mar 1914
A-250-7-8
Bernarr Chase Trimble
25 May 1924
A-390-7-1
X
---
Headstone Photos John Christian Larsen (Logan) Susannah Titensor Larsen (Logan) Mary Ellen Titensor Larsen (Logan) Christian John Larsen (Logan) Rube & Charlotte Larsen (Logan) LaFay Larsen (Logan) Thomas Edward Titensor (Richmond) Lars Johansen (Spring City) Nash Family (Franklin) Comish Family (Franklin)
---
LOGAN
To see an aerial photograph of logan cemetery, Click Here:
---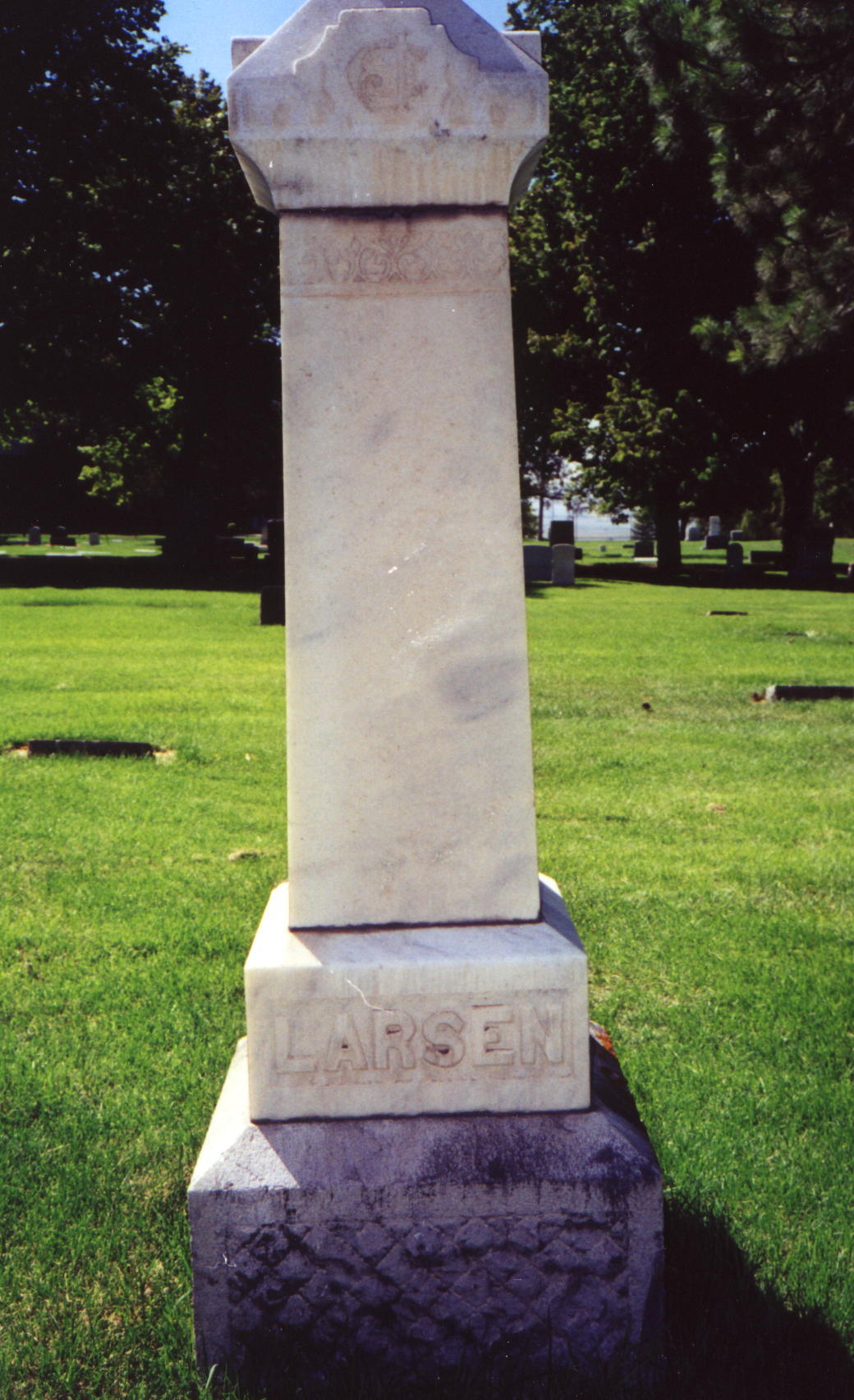 Marker for Christian John Larsen (Location 8, Lot 52, Block 2, Plat A) Buried September 18, 1915 Gravesite of Barbara J. D. O. Larsen (Location 7, Lot 52, Block 40, Plat A) Buried August 21, 1900 Marker is a marble shaft about 8"x8"x5 feet. The initials "CJ" are carved in the top with the name "LARSEN" at the bottom. There are no other names or dates on the marker. There are no individual headstones. Nearby is the headstone of a grandson, Oliver T. Larsen and a headstone for a Clarinda Larsen. This marker, no. 3 on above map, is about 85 feet from west road and 215 feet from south road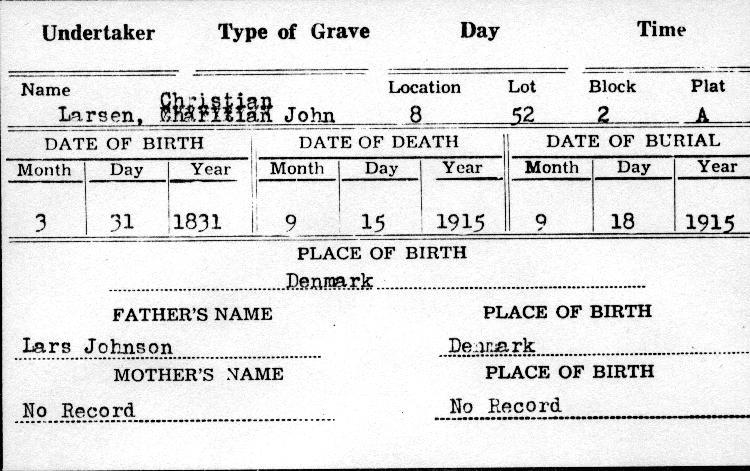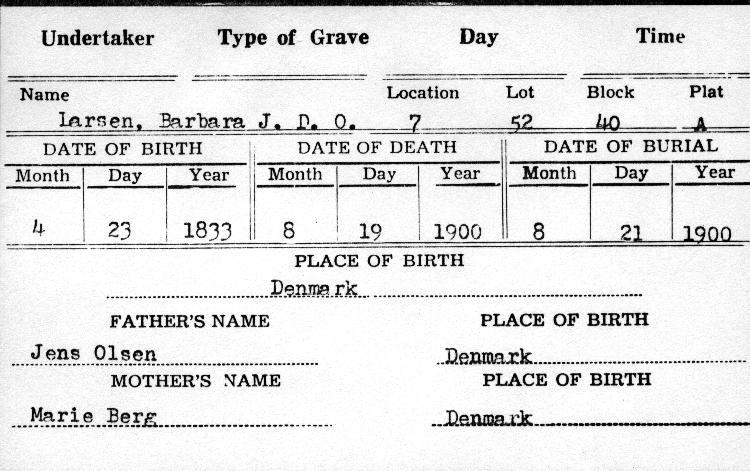 ---
---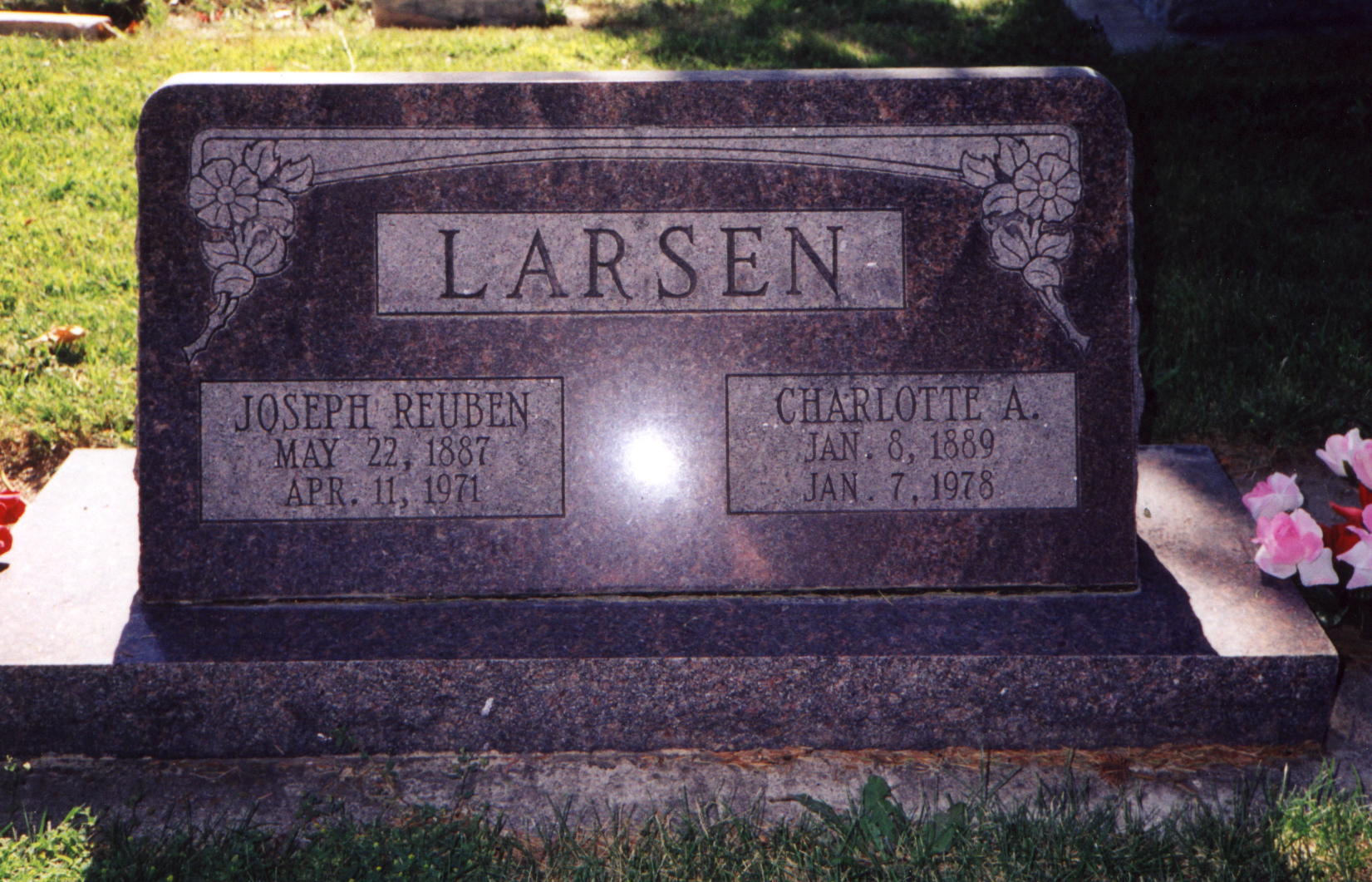 Headstone of Rube & Charlotte Larsen
---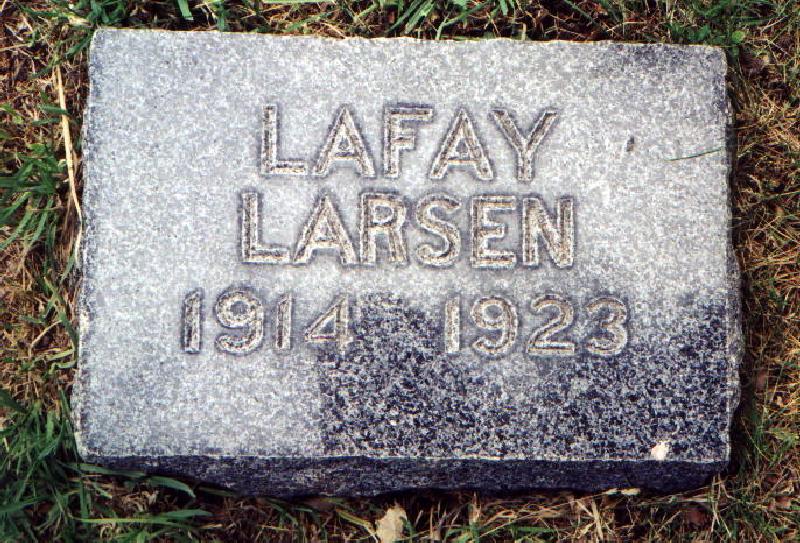 ---
RICHMOND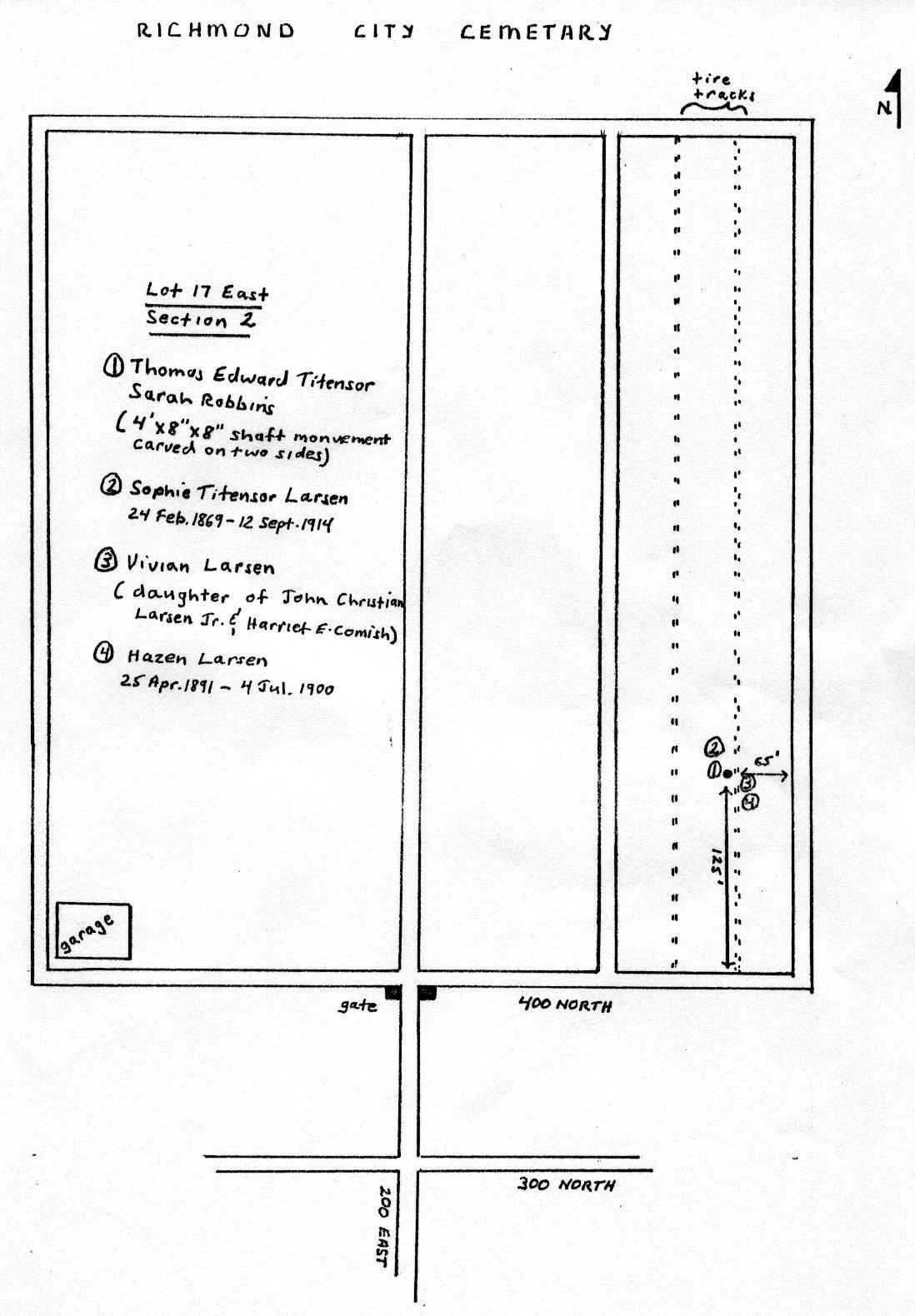 To see an aerial photograph of Richmond Cemetery, Click Here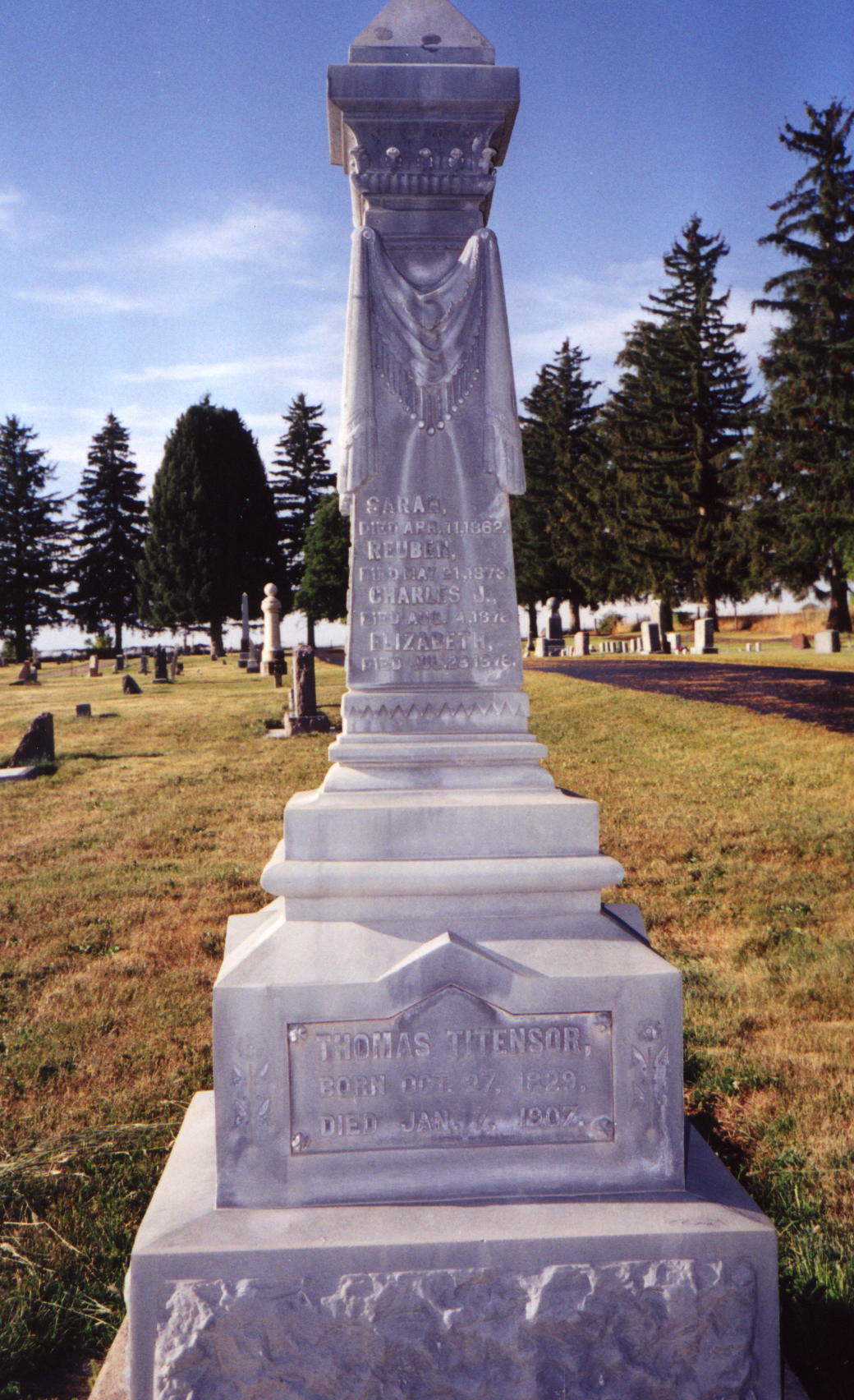 Marker for Thomas Edward Titensor.
---
SPRING CITY

To see an aerial photo of Spring City and Cemetery Click Here
---
FRANKLIN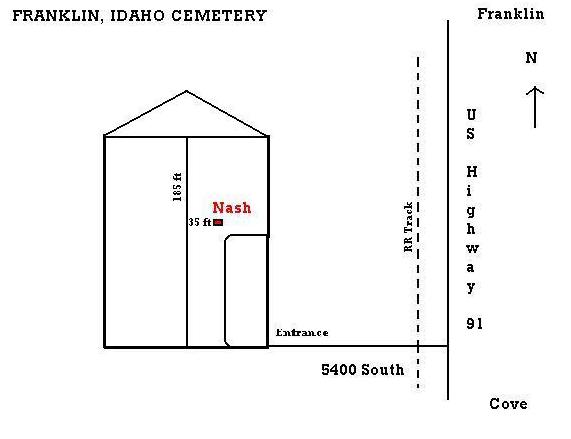 To see an aerial photo of Franklin Cemetery Click Here
---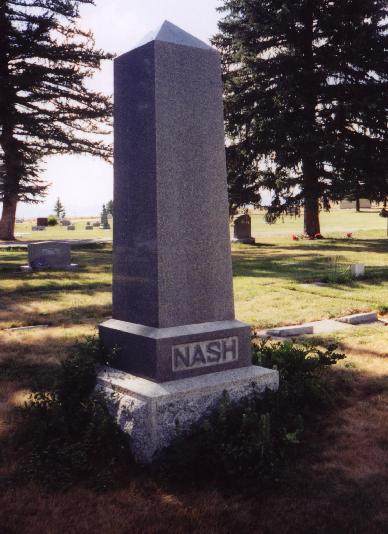 ---
Newel Comish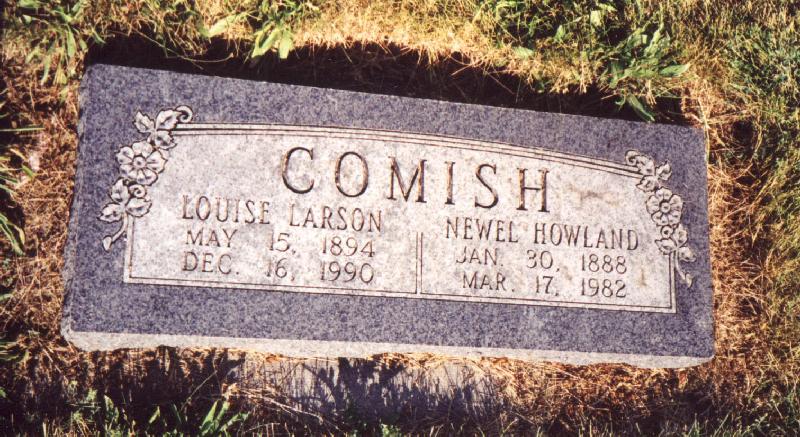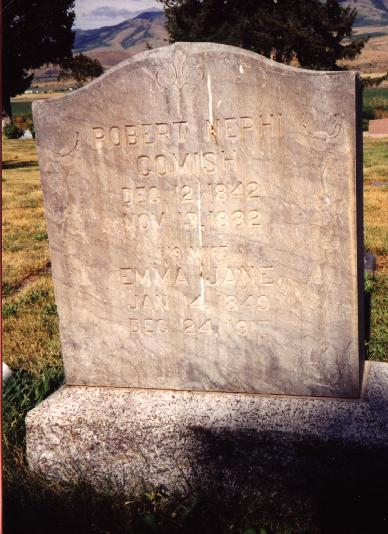 Robert Nephi Comish
---
AGE AT DEATH
Age at death for 4 generations
     1st Generation
          Joseph Reuben Larsen - 83
 
     2nd Generation
          John Christian Larsen - 88
          Susannah Titensor - 76

     3rd Generation
          Christian John Larsen - 84
          Barbara Dorthea Jensine Olsen - 67
          Thomas Edward Titensor - 77
          Sarah Robbins - 73

     4th Generation
          Lars Johansen - 90
          Anna Margrethe Sorensen - 76
          Christian IX, King of Denmark - 87
          Marie Dorthea Berg - 41
          Edward Titensor - 60
          Mary Rogerson - 29
          George Robbins - 76
          Susannah Sutton - 85
---
---
LINKS
RETURN TO LARSEN HOME PAGE:
CyndisList: Cemetery How To...:
Utah State Historical Society Burials Database:
Map Page:

---
Dennis Larsen
utahdlarsen@sisna.com
10890 Bohm Place
Sandy, UT 84094
United States
---