Big As TEXAS: Hoedown


Big As TEXAS: Hoedown began on Friday evening, March 16, with a buffet dinner that included grilled talapia with cilantro lime sauce and tender beef tips with a hearty demi glaze sauce. (No one can ever say Big As TEXAS feeds people the infamous rubber chicken!). Each table had a host to introduce newcomers to old timers.


On Friday evening, we began with an opening buffet. Each table had a host who decorated their tables with a theme. Photo by Terry.

This year, the opening program was a game called "The Dates in our Lives..." There were also announcements, door prizes, and a general welcome. Later in the night, the heated pool was open for a group swim.
On Saturday, there were five workshops. The day began with the traditional Movement Activity led by Melissa. This year we had Yoga.








Melissa doing the Movement Activity: Yoga for Large Bodies. Photo by Terry.


The second workshop, led by Terry, was an information session on the 2013 Big As TEXAs cruise. More about that later.
The Health Workshop, also led by Terry, was Stronger Joints for Happier Jaunts, where we discussed simple exercise to build up knee and ankle joints.







Terry talking about Stronger Joints for Happier Jaunts. Photo by Jay.


Fourth up was the Activism Workshop - Adoption and the Larger Parent, led by Kathy, who was ably assisted by her sons Isaiah and Damar.

Kathy and her sons, Isaiah and Damar, at the Activism Workshop: Adoption and the Larger Parent. Photo by Terry.

The fifth and last workshop was our Creative Workshop: De-clutter that Mess! Elizabeth and Melissa gave practical information to clean up the clutter that holds us back.








Elizabeth and Melissa at Creative Workshop: Declutter that Mess! Photo by Terry.



Saturday's dinner was a plated affair, followed by the viewing of the documentary movie America the Beautiful II.







Folks enjoying the Saturday evening plated dinner. Photo by Terry.


The Sunday closing brunch, which included Belgian waffles and eggs Benedict (see what you miss when you don't come!?), was followed up by a closing panel discussing Activism on the Run. Our panel discussed how to be prepared for the unexpected opportunity, which naturally took us into how we might prepare for activism on the cruise!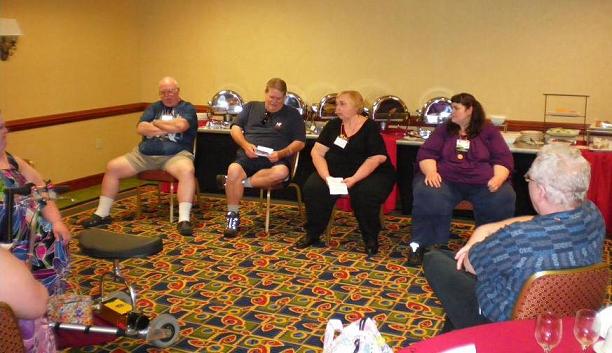 Centered Sunday's closing panel: Activism on the Run. Photo by Terry.(if known).

Next year's last Big As TEXAS Assembly will take place at sea, a bit earlier than usual. Our theme is Big As TEXAS: Yo ho, yo ho. a Pirate's Life for Me! Staterooms are blocked and deposits must be in by August 1, 2012. There is a private on line group registration at bit.ly/bigastexas2013. A password is required to register, and you'll need to get that from me, so if you are interested in attending, contact me at tearly6@juno.com.



---

More photos of the event.
Return to the Big As TEXAS homepage.

6/12