Big As TEXAS: The Celebration Continues


Our sixteenth assembly, Big As TEXAS: The Celebration Continues, began on Friday evening, March 11, 2011.


Jay mans the registration table on opening night at Big As TEXAS: The Celebration Continues. This and all photos by Terry

We began with a Texas themed buffet dinner. For several years now each table has had a host or hostess who decorates the table and whose job it is to introduce any new people to old-time attendees. Because of this year's theme, the hosts decorated their tables for a party: a fiesta, a New Year's Eve party, and a birthday party.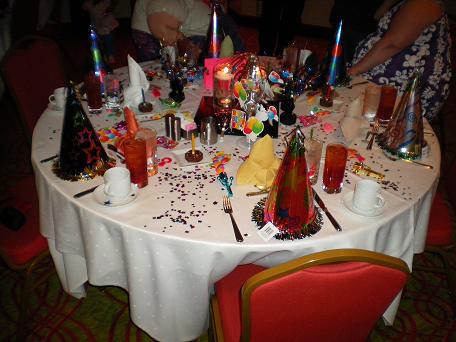 The theme for the 2011 Big As TEXAS Assembly was "The Celebration Continues!" In keeping with that theme, the table hosts decorated the tables with party themes: a birthday party, . . .


. . . a fiesta, . . .



. . . and a New Year's Eve party!




At the Friday night opening welcome, we recognized the upcoming 20th International No Diet Day, gave away some door prizes, and followed the evening up with a dip in the hotel pool.

On Saturday, March 12th, there were a total of five workshops available for attendees.

We began the morning with Yoga, and then went into the following:


Melissa W. leads the movement activity.
Educational Workshop: 16p11.2 and SH2B1--what do these gene anomalies have to do with us, and what can we do with them? Yes Virginia, it appears there is a "fat gene!" Or in this case, a brain protein and a gene anomaly that impacts a certain percentage of fat people. Why is this important? Because with various states looking at legislation that would adversely affect fat people, including the current trend in some states to make a child's weight factor into their GPAs, we need all the help we can get to protect ourselves.
Health Workshop: Medical Tests for People of Size. In this workshop, we examined "standard" medical tests that might not be so standard for some of us. Ever wonder if you will fit or if the table is strong enough to hold you? And why do MDs order tests if there isn't equipment designed to do the job on a person of size? Sadly, our facilitator discovered that there aren't easy answers for some of these questions.





Marleen B. conducts Health Workshop.



Activism Workshop: The Cost of Obesity . . . Treatments! Many articles have been written in recent years about the various costs of obesity, but very little is written about the various costs of obesity treatments, both failed and successful. These costs can be monetary as well as personal. Our facilitator led us in a lively discussion, as we worked to start tabulating this side of the medical balance sheet!






Ray H. facilitates the Activism Workshop.




Creative Workshop: Freeze Frame. In this fun and relaxing workshop, our facilitator helped us create a one-of-a-kind picture frame.





Sharon H. shows off examples for the Creative Workshop.




On Saturday evening we were served a plated dinner, following that up with a dance. This year, one of our most energetic dancers was only two years old!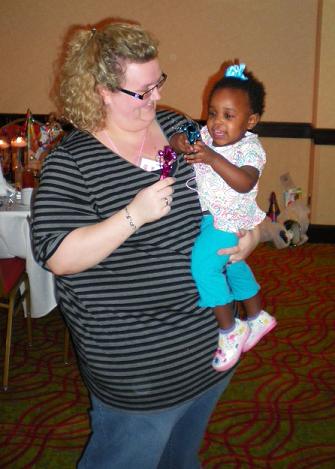 One of our youngest attendees, Katie, held by her mother Amanda. Katie was the life of the party and danced more than anyone else put together!


On Saturday, March 13th, we concluded with our traditional brunch and program. This year we had a men's panel that spoke eloquently on Everyday Activism: on the job, in the family, and even on vacation! The men making up the panel had a total of 60 years of Big As TEXAS experience! Between the panel participants' talks and the audience questions and ideas, we even came up with some great activism ideas for the next Big As TEXAS cruise, tentatively scheduled for 2013!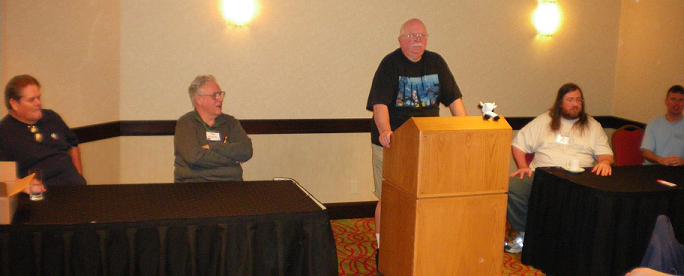 The men participating in the closing panel, "Everyday Activism," included Jay (facilitator), Johnny, Michael, Bion, and Greg. The panel was very well-received, and even came up with some future activism ideas!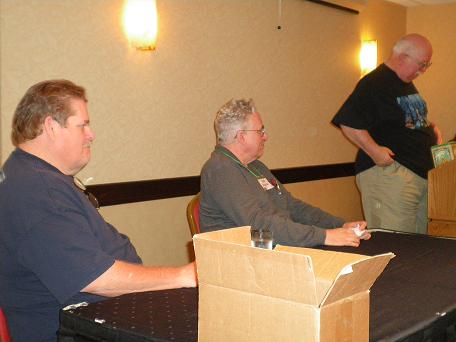 Johnny, Michael, and Jay at mens' panel.







Bion and Greg at mens' panel


If you want to get in on the fun and education next year, mark your calendars for March 16-18, 2012, when we will be in Houston Texas, for Big As TEXAS: Hoedown!


---
Return to the Big As TEXAS homepage.

6/11